Woman Delegate | Lin Dan: Leader of 'Residents' Attendants'
Editor's Note: A total of 2,296 delegates have been elected to attend the upcoming 20th National Congress of the Communist Party of China (CPC). The delegates, covering a broad spectrum, are all outstanding CPC members and have made remarkable achievements in their work. Lin Dan is one of them.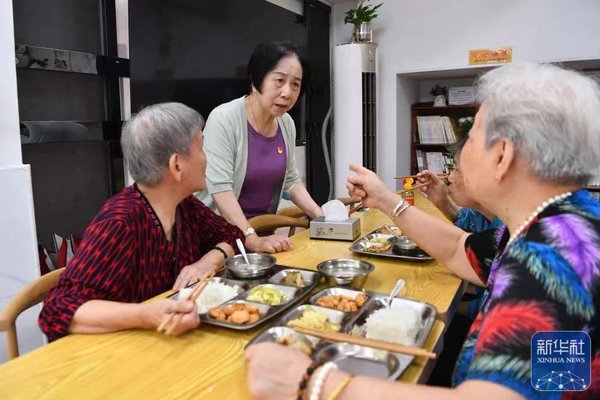 Lin Dan (2nd, L) talks with elderly people at the community's canteen on September 9, 2022. [Xinhua/Jiang Kehong]
Lin Dan, 74, secretary of the Party Committee of Junmen Community, in Fuzhou, in Southeast China's Fujian Province, arrived to work in the community in 1972. She joined the CPC (Communist Party of China) in 1985. For 50 years, Lin has always kept the concerns of residents in mind, and found ways to help the residents solve those concerns. She has worked hard to build the community into a warm home for residents. Lin said, "I love community work, and I don't want to leave."
Talk Day is an innovative approach to the management of Junmen Community. On the 10th day of each month, the community invites representatives of relevant departments to participate in Talk Day, to solve residents' problems. "The residents can first ask the community for help when they have difficulties. Talk Day is aimed at listening to residents' demands," said Lin.
More than 1,200 residents in Junmen Community are 60 or older. Lin understands the needs of the elderly. The care service center in the community includes a medical consultation center, catering, cultural entertainment and maintenance areas. It provides 24-hour services to the elderly. The center also provides comprehensive services, such as institutional care, community care and home care, for the elderly, aged 60 or older, who live alone.
Many double-income families live in the community. In 2009, Lin started an after-school service center to provide after-school care for children of double-income families.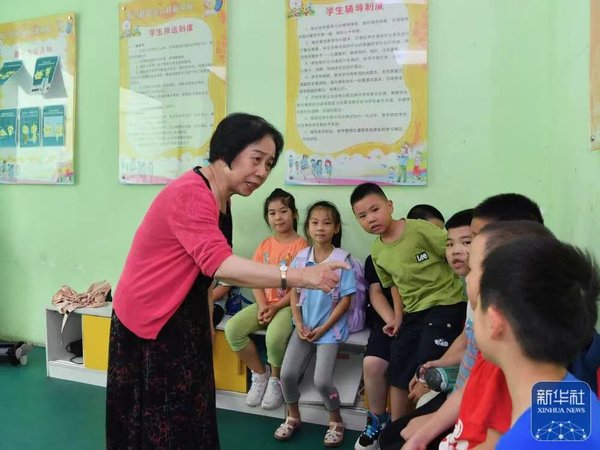 Lin Dan talks with children at the community's after-school service center for children on September 14, 2022. [Xinhua/Jiang Kehong]
Lin has taken note of the difficulties and worries of residents, and she has treated their concerns as if they were her own. "There is no best, only better, in terms of community work," Lin said. "Community workers are not officials, but residents' attendants."
Lin has been named a National Outstanding Party Member, National Outstanding Community Worker, National Model Worker and National March 8th Red-Banner Holder. On June 29, 2021, Lin was awarded the July 1 Medal, the Party's highest honor.
When talking about being elected as a delegate to the 20th CPC National Congress, she said, "It is a new task given by the Party to me, I will try my best to fulfill my duty and do better work for the community."
(Source: Xinhua/Women of China English Monthly)
Please understand that womenofchina.cn,a non-profit, information-communication website, cannot reach every writer before using articles and images. For copyright issues, please contact us by emailing: website@womenofchina.cn. The articles published and opinions expressed on this website represent the opinions of writers and are not necessarily shared by womenofchina.cn.

Comments