Blue Sky Rescue Team Captain Saving Lives — with Love
By
Zhang Jiamin
October 6, 2022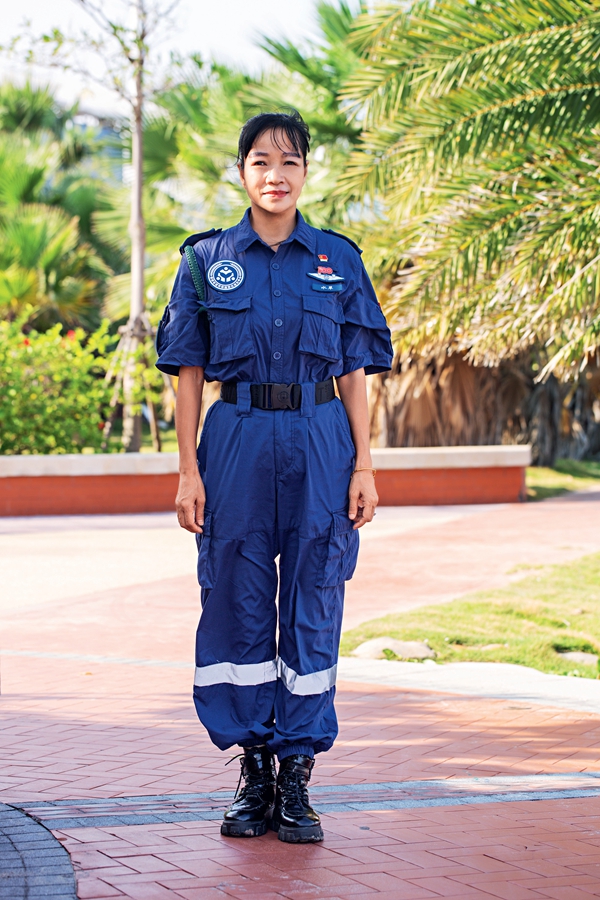 Chen Suzhen, captain of Fujian Provincial Blue Sky Rescue Disaster Prevention and Reduction Center General Team, and also captain of Blue Sky Rescue Team of Siming District, Xiamen, in Southeast China's Fujian Province, has been rescuing people for the past 14 years. During that time, she has accumulated rich experiences in rescue and relief work amid various natural disasters, including earthquakes, floods, mudslides and rainstorms. She has led her team in rapid responses during major natural disasters dozens of times, and she and her team have braved the dangers to save people's lives.
Rescuer
Chen, a native of Xiamen, ran a company before she decided to devote her life to search-and-rescue work. In 2008, after the devastating earthquake hit Wenchuan, in Southwest China's Sichuan Province, Chen decided to volunteer and help the quake-affected people. Within one month, she sent two packages of relief supplies, which she purchased out of her own pocket, to the disaster-hit areas in Sichuan. She also threw herself into the rescue efforts. It was during that time that she came up with the idea of becoming a volunteer to rescue lives.
In April 2009, she and a dozen friends formed Blue Sky Rescue Team, the first civilian rescue team in Xiamen. They placed signs along various roads with the rescue team's phone numbers, and they often patrolled beaches to rescue swimmers in trouble. Gradually, more people joined the team.
During the fledgling days, all funding to operate the rescue team came from her business. However, as the team grew bigger, and as it assumed more responsibilities, Chen became too busy with the rescue work; so, she closed her business to focus on search-and-rescue work full time.
However, the team needed money for equipment, training, and the accommodations and traveling expenses of the members on rescue missions. The bigger the team grew, the more money it needed. At first, Chen operated the rescue team out of her business office. Later, the team had to rent a venue, as it expanded and purchased more rescue equipment. Also, major emergency rescues tended to cost more than minor rescues.
The first few years were difficult for the team. Chen spent most of her savings on the rescue team. She sold some property to make ends meet. She used two of the vehicles from her former business for rescue work. To her relief, her mother and son have always stood by her.
Woman Warrior
Blue Sky Rescue, established in 2007, is an independent, highly trained public-welfare emergency-rescue organization in China. It has established 499 rescue teams in various provinces, municipalities and autonomous regions in China. As one of Blue Sky Rescue's first women captains, Chen has participated in numerous rescue missions, and she has braved many harrowing and life-and-death situations.
In November 2009, Chen received a call for help in searching for hikers who had been missing for five days in the mountains of Guangze, in Fujian Province. Chen and her team set off for Guangze. While deep in the mountains, which were full of miasma, Chen tripped over a vine and broke her two front teeth. Despite enduring severe pain, she bit a towel and continued searching for the hikers. She didn't go to the hospital until the mission was completed.
On April 14, 2010, after the 7.1-magnitude earthquake hit Yushu, in Northwest China's Qinghai Province, Chen immediately called a meeting with her team members to analyze the situation, and to make a rescue plan. They left for Yushu at 5 p.m. that day. After they arrived in the disaster-hit area, each team member suffered (to varying degrees) from altitude sickness, but that didn't stop the team from rescuing people from the collapsed buildings. That day, the team retrieved — alive — 12 students from the ruins of a school.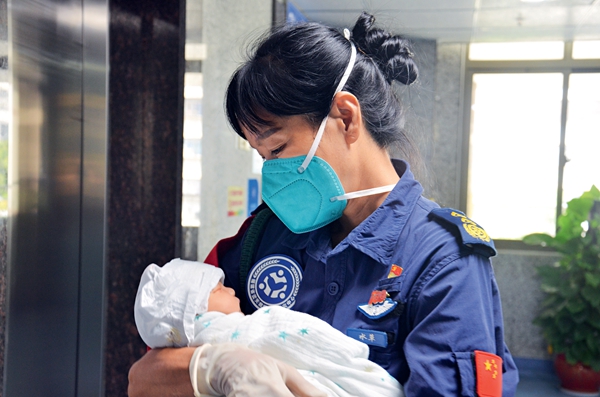 In early March 2012, after Ganzi, in Sichuan Province, was buried under heavy snow, Chen delivered relief materials worth 103,249 yuan (US $15,183), donated by her team and residents of Xiamen.
In May 2016, Chen led the team in rescuing 26 people trapped or buried by the devastating landslide in Taining, in Fujian Province. Two months later, after the team had wrapped up a flood-rescue mission in Yongtai, a county in Fujian Province, Chen led the team to flood-stricken Minqing, another county in the province, to participate in a 21-day rescue-and-relief mission. They were the first rescue team to arrive, and the last to leave.
During a rescue (on water) in Xinglin Bay, Xiamen, Chen and her team members' boat was overturned by a large wave. Everyone was tossed into the sea. Their walkie-talkies and cell phones were soaked, so they couldn't be used to call for help. The rescuers were forced to cling to their boat until they were found by other boats.
Chen says the rescue team has become a part of her life. "Every rescue is a life-and-death test, but the responsibility on my shoulders is greater than the fear," she says. Chen has been honored — as a national moral model, a national March 8th Red-Banner Holder and one of the most beautiful volunteers in China —for her dedication to rescue work.
Passing on Hope
In 2013, Xiamen Blue Sky Rescue Team officially registered at the civil affairs department in Fujian. In 2015, Siming District's government provided the rescue team with a 200-plus-square-meter venue, and more than 500,000 yuan (US $73,529) worth of new rescue equipment.
Chen also received support from Xiamen Women's Federation, and she was elected a member of the federation's executive committee. During a rescue mission in Shantou, a city in Fujian Province, Xiamen Women's Federation asked the local women's federation to provide assistance to the team. Chen has given lectures, on rescue knowledge, to women and their families during various activities held by women's federations, and she has encouraged women to join the rescue team.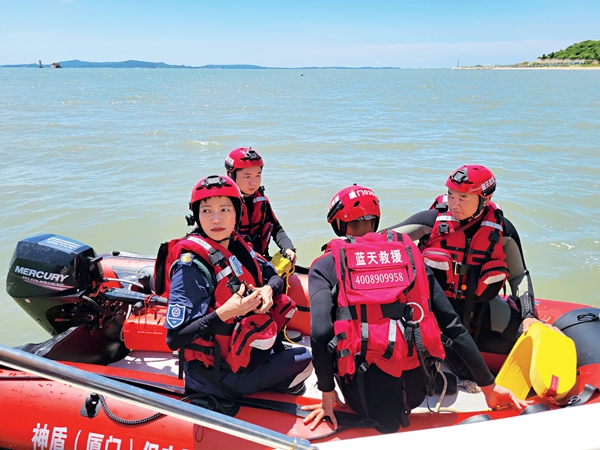 To pass on hope and love to more people, Chen in 2015 founded Blue Sky Women's Rescue Team, to provide care and assistance to vulnerable groups of people, especially the elderly who live alone and people with disabilities or severe diseases. The team has held numerous activities to help and care for such people. Chen has also called on individuals and enterprises to join the team in helping people in need.
In October 2020, she led the team in sending money and supplies, including rice, quilts and winter clothes, to children and the elderly in Liangshan Yi Autonomous Prefecture, in Sichuan Province.
After the COVID-19 outbreak in 2020, Chen established a special team, and the team donated nearly 300,000 masks and other medical supplies to other Blue Sky Rescue teams, hospitals, homes for the elderly, enterprises, public institutions and people in Fujian. She and her team volunteered for a month to take people's temperature, and to disinfect public places.
In July 2021, rain deluged many areas in Central China's Henan Province. Chen led 90 members to Henan, and they took 56 pieces of heavy equipment and a lot of supplies with them.
They res cued more than 1,000 people in Zhengzhou on July 26. The team also participated in rescue work in several other cities in Henan.
The Fujian Provincial Blue Sky Rescue Disaster Prevention and Reduction Center General Team, a highly trained team that provides psychological help and mountain-, sea- and urban-based rescues, has more than 2,000 registered members and nearly 5,000 volunteers. Members include doctors, lawyers, architects, teachers and college students. The center employs 13 full-time rescue team members.
Blue Sky Rescue Team mainly relies on donations from the public and the government's procurement of services. The team does not charge for the rescues it completes. To fund the team, Chen started a tea-selling business.
"Nothing is more precious than people's lives, and nothing is more important than saving lives. Fourteen years in rescue have given me a deeper understanding of life and mission. My life mission is to save lives," Chen says.
Photos Supplied by Interviewee
(Women of China English Monthly September 2022 issue)
Please understand that womenofchina.cn,a non-profit, information-communication website, cannot reach every writer before using articles and images. For copyright issues, please contact us by emailing: website@womenofchina.cn. The articles published and opinions expressed on this website represent the opinions of writers and are not necessarily shared by womenofchina.cn.

Comments