The 62-Year Journey of a Former Tibetan Serf, His Family
By
Duan Zhipu, Xue Wenxian and Bai Shaobo
August 11, 2021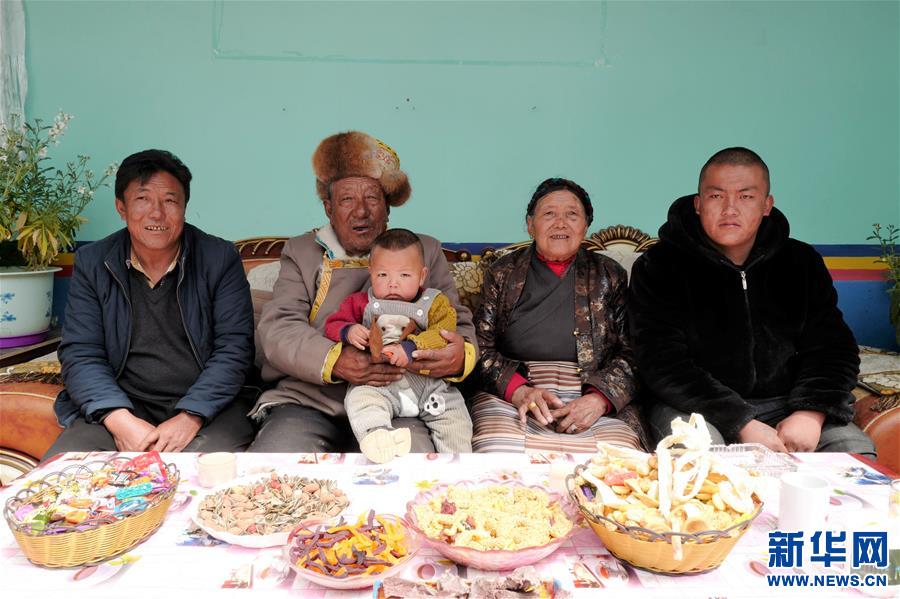 Lhawang's eldest son Tenzin Chosphel (2nd, L) with his family [Photo by Phurbu Tashi/Xinhua]
Tamshol, an Arcadia-like village in Southwest China's Tibet, was quite literally hell on earth — under the rule of serf owners — 62 years ago. The serfs and their families lived miserable lives. Now, 62 years later, Tenzin Chosphel, a former serf, says, "The CPC has shown us the right path, and the Tibetan people have embarked on a journey toward a bright future."
Tenzin Chosphel, 77, is the eldest son of Lhawang and Champa Chozom. Now, four generations — more than 70 people — of the Lhawang family are living happy and prosperous lives. The family's success reflects the dramatic changes that have taken place in the lives of millions of serfs in Tibet over the past 60-plus years.
No Escape
"Serf owner Tashi Chosphel was very stingy with the serfs ... Our family lived in a windowless, adobe house near our owner's cattle pen. At night, the room where we slept was so small that it could barely fit us all … We wore garments made of coarse cloth thrown out by others," Tenzin Chosphel says, describing his "miserable life" 62 years ago.
Tenzin Chosphel explains how his parents would look forward to an early summer, every year, so they could find wild vegetables to eat, and so they would not have to worry about the bitter cold anymore.
In Tibet, in those days, serf owners believed serfs were nothing more than working animals, which could be bought, sold and given away at will. Abuse of serfs, including beatings and torture, were commonplace.
"Why does the snow and ice never melt? Why do the devils always haunt us? Will we ever find happiness?" The serfs, who struggled to survive, passed that song down from generation to generation, as they longed for the time when their fate would change.
Way Out
One morning, in the spring of 1959, while he was on his way to work, Tenzin Chosphel was stopped by a group of men with guns. When the men pointed their guns at the rebels, who had been looting the village, he suddenly realized the armed men were CPC troops.
"I volunteered to be a guide for the People's Liberation Army (PLA)," Tenzin Chosphel recalls. He had been told by the army's translator the CPC troops were in urgent need of a guide, to help them quash the rebellion. "That's when I learned my first Chinese character — lu (meaning road)."
Things changed in 1959, when the serf owners were overthrown, and a farmers' union was established in the village. The villagers elected Lhawang as one of the members of the committee of the farmers' union. Tenzin Chosphel was elected director of security, due to his bravery and determination to steadfastly follow the CPC.
After the democratic reform, Tamshol evolved into a thriving, vibrant place. Lhawang sent his children to school, in the hope they would become educated and help build a new Tibet.
In 1962, after learning Tenzin Chosphel had joined the CPC, Lhawang expressed his pride. "Our lives would be nothing without the CPC. By joining the Party, you can do things for the benefit of the people," Lhawang said.
Prospering Along New Path
"It was the CPC that saved our family from a very bleak future, and spared us from hunger and the cold," Lhawang once said. He often told his children they had to work hard if they wanted to lead a better life.
In 1963, on the site of his former owner's original sheep pen, Lhawang built a new house, with his children. The next year, Tenzin Chosphel married Chokyi Lhamo in that house.
After China implemented its reform and opening-up (in the late 1970s), the Lhawang family contracted 1.47 hectares of land, which yielded more than 2,800 kilograms of highland barley the very next year. In 1985, after more children had been born into the family, Tenzin Chosphel decided to add a second story to his house.
In 2011, Tenzin Chosphel and his children pooled 320,000 yuan (US $49,231), from their savings, to build a villa, with 18 pillars. The house was completed within a year.
Tenzin Chosphel was constantly building new houses because Lhawang hoped the whole family would live together under one roof. As the eldest son of Lhawang, Tenzin Chosphel decided it was his responsibility to make his father's dream a reality.
Promising Path
Tenzin Lhamo, Tenzin Chosphel's eldest daughter, said her family now has 17 Party members, 14 members who work in government or public departments, and 18 members who have received college, university or technical secondary education. They work as sanitation workers, drivers, teachers, doctors, businessmen or civil servants.
"You must do as the Party tells you, and follow their lead," Lhawang told his children before he died, in 1988. His wife, Champa Chozom, died in 2014, at the age of 95.
Champa Chozom used to say, "In the old days, when we were serfs, one more day of life was just one more day of suffering. Now, every day on this earth is precious. It is thanks to the CPC that I have lived such a long life."
Tenzin Chosphel says, "The CPC has shown us a right path, and the Tibetan people have embarked on a bright road. Our children and grandchildren should always follow the CPC, and work hard to create a better life."
、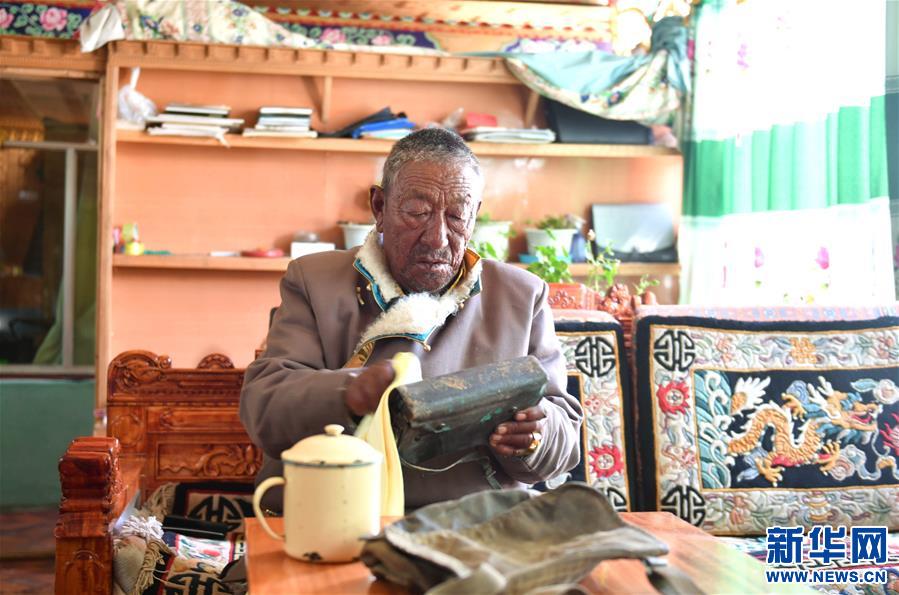 Tenzin Chosphel cleans the radio given by the People's Liberation Army. [Photo by Jigme Dorje/Xinhua]
(Women of China English Monthly July 2021 issue)
Please understand that womenofchina.cn,a non-profit, information-communication website, cannot reach every writer before using articles and images. For copyright issues, please contact us by emailing: website@womenofchina.cn. The articles published and opinions expressed on this website represent the opinions of writers and are not necessarily shared by womenofchina.cn.

Comments