Turning Barren Desert into Land of Milk and Honey
By
Liu Lijun
August 12, 2021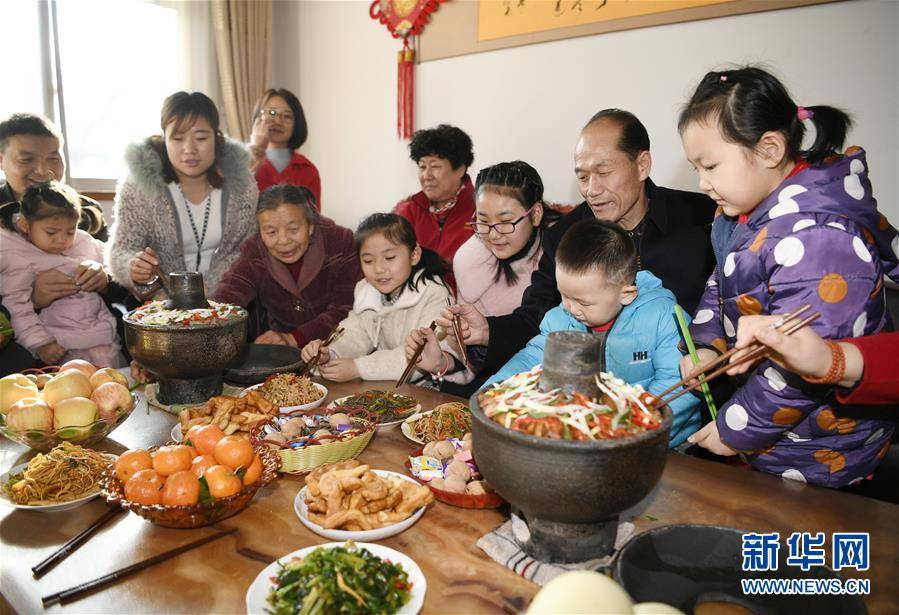 Xie Xingchang and his family enjoy a reunion dinner. [Photo by Wang Peng/Xinhua]
Xie Xingchang was born in Hongtai, a village in Wangmin Township, in Xiji County, Guyuan, a city in Northwest China's Ningxia Hui Autonomous Region. Xie had an unhappy childhood; his father died when he was six, and that left his mother to raise seven children on her own.
Xie almost had to quit school due to his family's financial difficulties. Despite this, he remained diligent in his studies, and everyone in the village witnessed how hard he worked. In 1974, Xie was given the opportunity, by the village Party branch, to study at Ningxia Guyuan Health School. He applied to join the CPC, and he was approved in 1975, at the age of 20.
After he graduated, Xie returned to Hongtai to become a village doctor. In 1986, he was elected secretary of the Party branch of Hongtai.
In October 1990, the government relocated more than 1,000 families from Xiji and Haiyuan counties, in the southern, mountainous area of Ningxia, to Yongning County, in suburban Yinchuan, capital of Ningxia.
Two economic development zones — Yuquanying and Yuhai — were established, which were predecessors of Minning Town. It was here the fortunes of both Xie's family and Hongtai Village took a turn for the better.
Destiny-Changing Relocation
In 1996, a strategic program, the East-West Pairing-up Program, was launched by the CPC Central Committee and the Chinese Government to promote poverty-alleviation cooperation between eastern and western China. Under the program, Southeast China's Fujian Province was designated to assist Ningxia.
When he arrived in Ningxia, to investigate local conditions, Xi Jinping, then Deputy Secretary of the CPC Fujian Provincial Committee, proposed the residents of places deemed "unsuitable for living" in Xihaigu (a largely mountainous region in southern Ningxia) should be relocated, and their new homes should be built on the desert land that was to be developed on the Hetao Plain, in Yinchuan. Xi personally gave the migrant village its name, Minning Village. The name Minning is a combination of "min," which stands for Southeast China's Fujian Province, and "ning," for Ningxia.
The plan inspired Xie. His family became the first household to move to Minning.
Whenever he returned to his hometown, Hongtai, for the Spring Festival, he would offer the villagers medical treatments and educate them on new government policies, to persuade them to relocate to Minning.
In 1998 and 1999, with the support of government policies, and through the joint efforts of the people, living conditions in Minning gradually improved, and more people from neighboring villages began moving into the village.
Xie says during the past 24 years, as far as he can remember, Fujian has not stopped sending aid to Minning. In 1998, Professor Lin Zhanxi, inventor of Juncao (a particular kind of herbaceous plant that can be used as the culture substrate for the cultivation of edible and medicinal fungi) technology, moved to Minning, as a member of Fujian's assistance group, to help the Ningxia region.
He and his assistant, Huang Guoyong, led a team in teaching the villagers how to build cultivation sheds, grow different mushroom strains, create fertilizer and plant mushrooms. Now, the mushroom industry is a staple industry of Minning.
In December 2001, with the approval of the government of Ningxia, Minning Town was officially established and incorporated into Yuhai Economic and Technological Development Zone. That once-barren patch of desert has since given way to clean, wide roads, well-maintained buildings, lush vineyards and bustling markets. The former wasteland has been transformed into a land of milk and honey.
Good Life for Whole Family
Today, Xie and his family live in a spacious and bright courtyard-style house, with nine rooms.
Xie's children are among the second generation of migrant villagers to root themselves firmly in Minning. "I grew up in Minning, and I want to do what I can to help it grow," says Xie's eldest son, Xie Xufeng.
Xie Xufeng has a deep affection for this land. He runs a pharmacy, and he is planning to build a migrant culture exhibition hall in the town, so people can learn about the town's history.
"I'm happy that my children are doing so well in their jobs and life," says Han Cuihua, Xie Xingchang's wife.
In the spacious kitchen, there is a large, round dining table, which she recently purchased. "This table is big enough for my children to sit around when they come home for the holidays."
At the beginning of 2021, with the broadcast of Minning Town, a hit TV show that focuses on poverty alleviation, 66-year-old Xie once again found himself in the spotlight. He is the inspiration for a character, Ma Defu, a cadre tasked with poverty alleviation.
"I am very grateful to the Party for helping me. Without the Party, there would be no Minning Town on this land today, let alone me! If Party members don't take the lead and guide the people to wealth, they are not good Party members," Xie Xingchang says.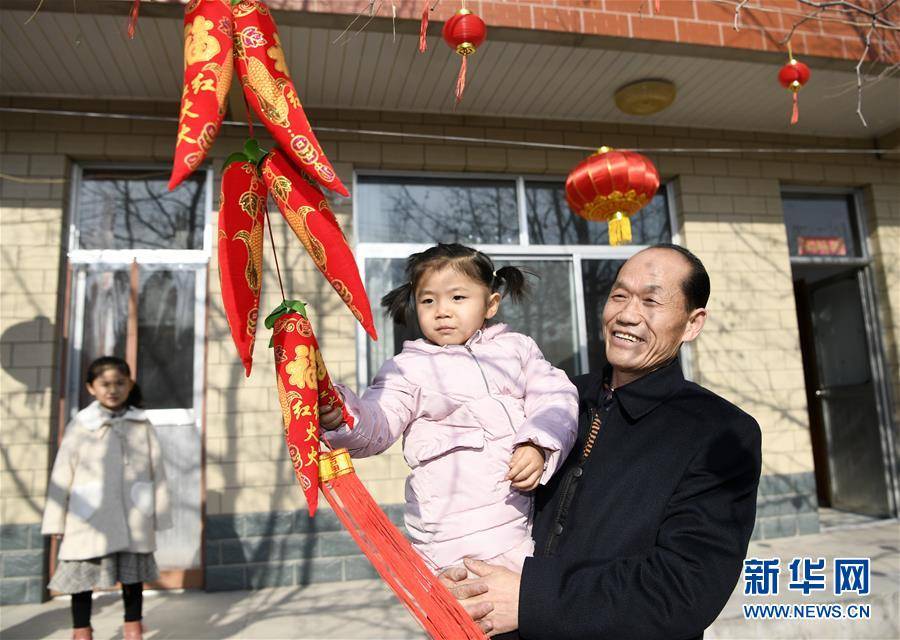 Xie Xingchang and his granddaughter hang New Yearshid's decorations in their courtyard. [Photo by Wang Peng/Xinhua]
(Women of China English Monthly July 2021 issue)
Please understand that womenofchina.cn,a non-profit, information-communication website, cannot reach every writer before using articles and images. For copyright issues, please contact us by emailing: website@womenofchina.cn. The articles published and opinions expressed on this website represent the opinions of writers and are not necessarily shared by womenofchina.cn.

Comments