Family Has Spirit of Craftsmanship, Commits to Restoring Cultural Relics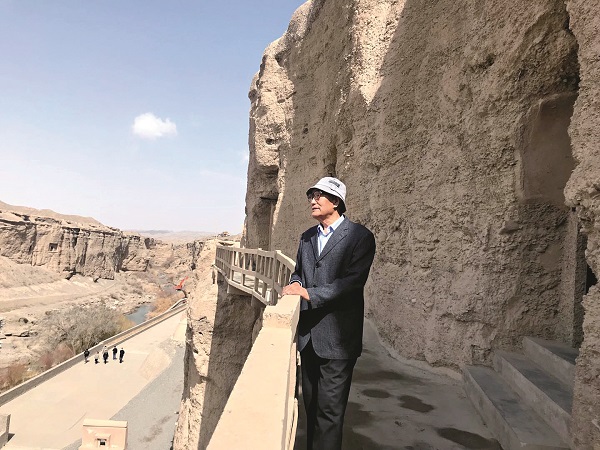 Li Yunhe in the Yulin Grottoes
The murals in the Mogao Grottoes, in Dunhuang, a city in Northwest China's Gansu Province, date back more than 1,000 years. Li Yunhe, an expert in restoring cultural relics, and his family, for three generations, have helped protect the murals.
Dedication Plus Perseverance
Li works on restoring the Yulin Grottoes, in Guazhou, a city about 160 kilometers east of Dunhuang. The Yulin Grottoes are managed by Dunhuang Academy, the national institution responsible for the management, research and protection of the grottoes around Dunhuang.
In 1956, Chang Shuhong, then-director of Dunhuang Cultural Relics Research Institute (predecessor of Dunhuang Academy), sent Li, who had just joined the institute, to deliver documents to researchers at the Yulin Grottoes.
Li has traveled many times along the narrow gravel roads between Dunhuang and Guazhou during the past six decades. He has traversed that route in all kinds of weather. He remains committed to his original aspiration — helping preserves the treasures in the grottoes as best as he can.
Cave 25 of the Yulin Grottoes is known as "the crown" of the grottoes. However, in 1974, the paintings on the north wall in the cave began falling off, which resulted in the severe cracking and curling of the paintings. The paintings — national treasures — were in urgent need of restoration.
As the cave did not have electricity, Li had to hang a barn lantern from a wooden frame, just so he could see what he was doing. The cave was so cold that he wrapped himself in a patched, cotton-padded jacket and pants.
To restore 20 square meters of murals, Li and his colleagues worked day in and day out — for four months straight — before they could see signs of the millennium-old treasure returning to its former glory.
Aspirations can only be realized through perseverance, and that is why Li is still working, quietly, in the Yulin Grottoes. For Li, the grottoes remain a fascinating place, and they will remain so as long he can continue to preserve cultural relics.
"I believe in only one thing; that is, I will always do the best job I can do. I must live up to the expectations of the Party and my country," Li says. The Mogao spirit embodied in Li's persistence and dedication is inspiring to Dunhuang's younger guardians.
From Scratch
When he first arrived in Dunhuang, in early 1956, Li did not have any professional background, but he was willing to endure hardships, and he volunteered to begin his career by cleaning the grottoes.
Research on how to restore the murals in the Mogao Grottoes was the first research of the kind to be conducted in China.
In 1957, the Ministry of Culture invited a Czech expert to oversee mural restoration in Cave 474. This inspired Li to develop his own restoration techniques. The tools and techniques Li created, and the materials he selected, are still in use today.
To improve the precision of restoration, Li learned everything he could about restoring murals and statues. His art skills gradually improved, and he soon began, officially, restoring murals.
By 1961, the murals in Cave 161 of the Mogao Grottoes were so badly damaged they would have been unsalvageable if action hadn't been taken immediately. Li spent three years restoring the murals. Within three years, Cave 161, which dated back to the Tang Dynasty (618-907), had been brought back to life.
Li has not made any mistakes while restoring the murals over the past 60 years, and he has received numerous national-level science and technology achievement awards during that period. In 2020, the cultural relic conservation team of Dunhuang Academy, of which Li is a member, was awarded the honorary title of "role model of the times" by the Publicity Department of the CPC Central Committee.
Inheriting Craftsmanship
In 1998, as he was about to retire, Li received several lucrative offers, from many cultural relic protection organizations in China, but he turned them all down. Instead, he accepted the invitation of Fan Jinshi, then-President of Dunhuang Academy, to continue working with the academy. He put great effort into cultivating cultural relic restoration professionals.
Li's son, Li Bo, has followed in his father's footsteps. "My father is amiable and kind, but when it comes to his work, he doesn't tolerate any mistakes, and he is very strict with us," Li Bo says.
Li Bo has visited the Kumutula Grottoes, in Northwest China's Xinjiang Uygur Autonomous Region, many times to help his father's team protect the cultural relics.
Based on the condition of the murals in Xinjiang, Li Yunhe decided to use metal brackets, to prevent the murals from moving, when restoring the relics. That seemed like a bold idea at the time. However, the team completed the repairs, and took measures to prevent future degradation of the murals.
Restoring the relics in Xinjiang had a strong impact on Li Bo. He learned from his father to never back down from difficulties.
Li Bo knows — and understands — the importance of being rigorous, serious and prudent in his work. He stresses those qualities to his students.
With the rejuvenation of the ancient caves at the Mogao Grottoes, the Mogao spirit — adhering firmly to one's position with dedication — is being passed down to new generations of cultural relic protectors.
In 2011, Li Xiaoyang, Li Yunhe's grandson, gave up some job opportunities overseas after he graduated from a university abroad. He returned to China, and he chose to help protect China's cultural relics.
In 2014, Li Xiaoyang and his colleagues restored the murals in Cave 360 of the Mogao Grottoes. The excessively dusty murals had suffered serious damage, such as cracking and curling. After their restoration, the murals were once again vivid, just as they had been originally.
"I love to bask in the feeling of achievement. Through our own efforts, we have really achieved something meaningful, and we have allowed more people to witness these wonderful murals. It is truly worthwhile work," Li Xiaoyang says.
He has been restoring cultural relics for 10 years. He has independently completed the restoration of three colored sculptures and five murals, for key national cultural-relic-protection organizations. He has also completed two mural-rescue projects. He has become a young leader in China's cultural-relic-protection industry.
"My grandfather always says working is like crossing a river. Whether you wade through the river or build a bridge is up to you. You have to think hard and pursue it endlessly. Even now, he is still thinking every day, and we, the younger generations, need to work harder," Li Xiaoyang says.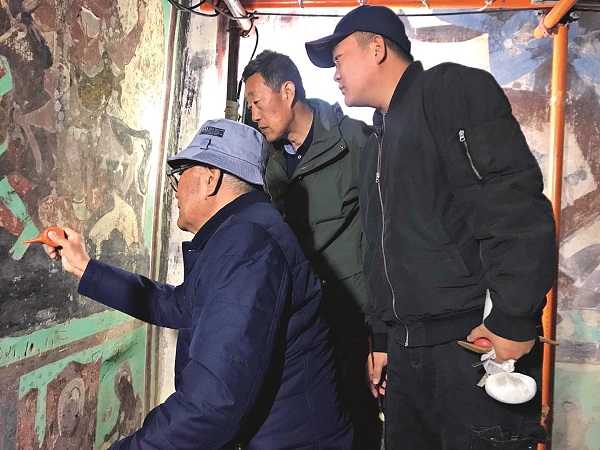 Li Yunhe (L), Li Bo (C) and Li Xiaoyang work in a cave.
Photos Supplied by Li Jie
(Women of China English Monthly July 2021 issue)
Please understand that womenofchina.cn,a non-profit, information-communication website, cannot reach every writer before using articles and images. For copyright issues, please contact us by emailing: website@womenofchina.cn. The articles published and opinions expressed on this website represent the opinions of writers and are not necessarily shared by womenofchina.cn.

Comments