Two Generations Dedicated to Africa's Development
By
Cao Desheng
August 16, 2021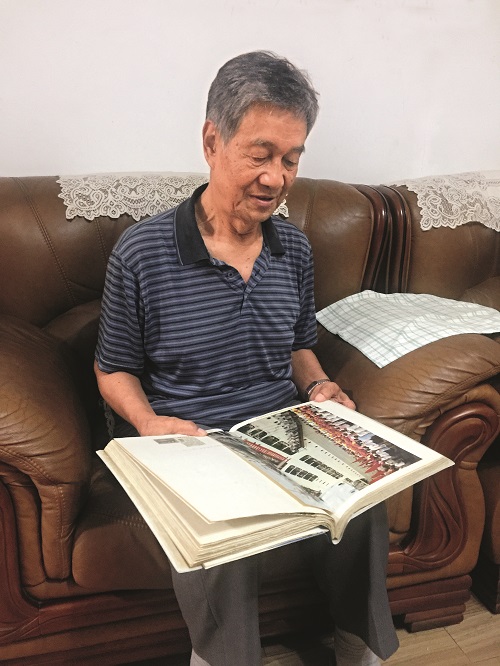 Li Yongzeng views some old photos and recalls the time he spent in Tanzania. [Photo Supplied by Cao Desheng]
Li Yongzeng, 82, lives in Hebei District, in North China's Tianjin Municipality. Before he retired, in 1998, he was an engineer with China Railway Third Survey and Design Institute. For all of his accomplishments throughout his career, there is one thing for which he will always be proud: Helping build the Tanzania-Zambia Railway, which is a symbol of the China-Africa friendship.
Li is also proud of the fact, more than 40 years later, his grandson, Li Shangyi, is following in his footsteps and doing his part to strengthen the Sino-African friendship.
Building Tanzania-Zambia Railway
Li Yongzeng and 100 other workers left China for Tanzania in December 1970. Building the Tanzania-Zambia Railway was no easy task. The institute for which Li Yongzeng worked was responsible for surveying and designing the railway. Complex technologies were used to build the 1,860-kilometer railway, and the workers had to overcome some extremely difficult construction conditions.
The railway crossed mountains, valleys, rivers and forests, in both Tanzania and Zambia. Many areas along the route were uninhabited by people, but home to numerous wild animals.
"We worked as we moved along the railway line. There would be camps at specified intervals. After completing a section of the railway, we moved to the next section. We lived and ate outside. There were Chinese workers all along the line," recalls Li Yongzeng.
The Tanzania-Zambia Railway was China's largest, single overseas construction project at that time. Some 320 bridges, 22 tunnels and 147 stations were built along the line. It took five years to complete the railway.
China sent more than 50,000 workers, in total, over the five years to help build the railway. After its completion, the railway became the main traffic artery connecting Tanzania and Zambia, and it provided a new, reliable channel to access the sea for Zambia's exports. The railway is now considered a monument to the brotherhood between China and Africa.
When Li Yongzeng saw a train full of goods travel along the line, he felt his and his coworkers' efforts had not been in vain.
While Li Yongzeng worked in Africa, his wife, Liu Bingru, remained in China, and she shouldered the family's responsibilities. She had to work and raise their young children by herself. She said both she and her husband were Party members, so when her husband responded to the call of the Party and the country to participate in the construction of the railway, she fully supported him.
Connecting TV Cables
Li Shangyi learned at a very early age that his grandfather had worked in Africa. At the time, however, he had no idea what it was like, nor did he know — let alone understand — what the experience had meant to his grandfather. That all changed the day he set foot on African soil.
Li Shangyi majored in Swahili at the Communication University of China (CUC). Swahili is the official language of Tanzania, Kenya and Uganda, and it is also used as a lingua franca in several eastern and central African countries.
After he graduated from CUC, in 2015, Li Shangyi became an employee of Beijing StarTimes Group. Soon after he joined the company, he was assigned to work in Tanzania. During his time there, he had a lot of contact with the locals, and he learned just how important China's assistance in constructing the Tanzania-Zambia Railway had been.
"I have the advantage of being able to speak the local language, something the older generation of Chinese workers in Africa didn't have. I'm confident that I can do a better job in telling the story of China, and in conveying China's spirit," Li Shangyi says.
In July 2017, Li Shangyi was transferred to his company's Malawi office. Soon after his arrival, he received news the company was about to undertake a project that would give 10,000 African villages access to satellite TV.
The project was among the cooperation initiatives raised by Chinese President Xi Jinping in December 2015, during the Johannesburg Summit of the Forum on China-Africa Cooperation.
"At the Malawi office … we were responsible for helping 500 villages gain access to satellite TV. The country is one of the least developed in the world, with a per capita GDP of US $300. The country's weak infrastructure proved to be a major obstacle to completing the project," says Li Shangyi. Both Chinese and local employees made every effort to realize the goal — enabling people in poor rural areas in Malawi to have access to digital TV.
By the end of 2019, after the project was completed, digital TV, and other devices, had been installed in 500 villages.
During the 2018 FIFA World Cup, villagers in Ngolomi 1 Village, in Sarima, were able to watch the FIFA World Cup for the first time — through satellite TV. They also watched Chinese TV shows, and they gained an understanding of the outside world that had previously been beyond their reach.
On July 16, 2018, Li Shangyi received a text message from the head of Ngolomi 1 Village, who wrote, "On behalf of all the villagers of Ngolomi 1 Village, I would like to thank the Chinese Government for its support. Without it, we wouldn't have been able to watch the World Cup. We will not take it for granted. We sincerely thank you. I believe you will help our village in many other ways in the future. Finally, I would like to wish all the Chinese people, wherever you are, good health and happiness!"
Li Shangyi believes China's assistance to Africa in the new era should not only consist of infrastructure construction and other projects aimed at improving people's livelihoods, but should also meet the spiritual and cultural needs of the African people.
Li Yongzeng and Li Shangyi served their country in different eras, but with a common mission. They helped the African people realize the "African Dream."
Li Shangyi believes his grandfather's generation laid the foundation for the China-Africa friendship. "In the new era, the younger generation should do what they can to continue the tradition of the China-Africa friendship," he says.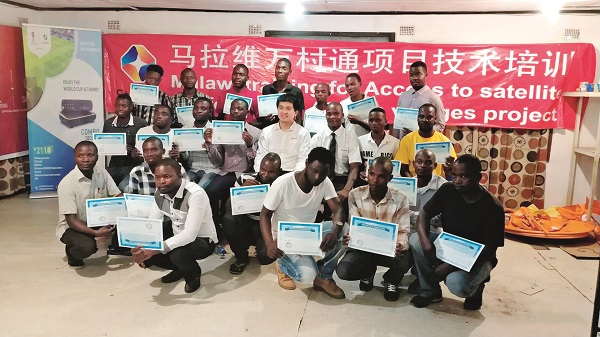 Li Shangyi (4th, R, second row) gives technical training to villagers in Malawi. [Photo Supplied by Li Yongzeng]
(Women of China English Monthly July 2021 issue)
Please understand that womenofchina.cn,a non-profit, information-communication website, cannot reach every writer before using articles and images. For copyright issues, please contact us by emailing: website@womenofchina.cn. The articles published and opinions expressed on this website represent the opinions of writers and are not necessarily shared by womenofchina.cn.

Comments