Retired Textile Worker Teaches Party's History
By
Wang Liangyun and Ding Xiuwei
April 7, 2022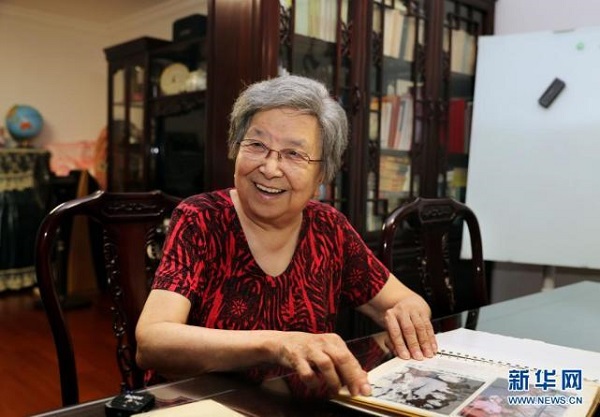 Huang Baomei [Xinhua/Liu Ying]
A community-level branch (in Yangpu District, Shanghai) of the Communist Party of China (CPC) in January received 10,000 yuan (US $1,538) in special Party membership dues from Huang Baomei, a recipient of the National Model Worker award. Huang, 91, received the July 1 Medal, the highest honor of the CPC, during a ceremony held on June 29, 2021. As a witness to and participant and devotee of national development over the past seven decades, Huang has proven herself to be an exemplary model in the modern era. "There is always a time for people to retire from work, but this is never applicable to Party membership and ideological beliefs," says Huang.
From Child Laborer to Role Model
Huang was born into an impoverished family in Pudong, Shanghai, in December 1931. As the oldest child, she had to help her mother sell salt, even though she was just 12 years old.
In 1944, Huang became a child laborer, working in a Japanese cotton mill, in Shanghai. She had to get up at 4 am, and she had to work in the plant for 12 hours every day.
Huang recalls how her waist would be sore and her fingers were often bleeding, from the yarn, at the end of a day's work, because she had to stand rigidly in front of the loom to take care of the yarn. She told herself that she must acquire some technical knowledge and skills to help her live a better life.
The cotton mill eventually became the Shanghai No. 17 National Cotton Factory, after the city was liberated from Kuomingtang rule in 1949.
The liberation of Shanghai marked a rebirth for Huang. "People like me finally became our own masters, which meant the harder we worked, more efforts we would make to serve the people," recalls Huang.
At that time, Shanghai occupied an important place in China's textile industry. Huang was an unrivalled worker, in terms of having a relatively lower rate of waste of raw cotton materials within the factory. She often reminded herself that 50 grams of wasted cotton fibre would be equivalent to three bowls of rice.
To improve her skills, and to bolster efficiency, Huang used a new work method that ultimately led to one-third reduction in labor costs during the spinning process.
In addition, Huang worked with her colleagues to design and produce a special device to reduce the waste of fibre during the weaving process.
At last, Huang emerged from among the 300,000 textile workers in Shanghai to become one of the industry's exemplary workers.
Going to College
Huang was illiterate when she started working in the factory. Later, she made her way to the night school affiliated with the factory. Huang used all of her free time to study. Thanks to her outstanding performance, she was recommended to attend a special training class at the East China Textile Institute of Science and Technology (now Donghua University) from 1960 to 1963.
Huang recalls how she had a difficult time taking notes in class, and also a hard time understanding what her teachers were talking about. She often stayed up late, and even remained on campus on weekends, to read books. She worked hard to catch up with her classmates.
Her perseverance eventually paid off. She became the only worker-turned-college student left in the special-training class, and she finally received her diploma.
Founding 'Model Worker Company'
In 1952, Huang became a Party (Communist Party of China) member, at the age of 21. A year later, she was selected by the former Ministry of Textile Industry as one of the country's model workers in the textile industry. The spinning workshop she managed was rated a collective model unit in Shanghai in the 1950s. She was again selected a National Model Worker, in both 1956 and 1959.
In February of 1956, Huang met then-Chairman Mao Zedong (1893-1976) during his inspection tour of Shanghai.
Inspired by the encouragement she received from Mao, Huang always strived to have a humble attitude, and to learn from her peers, and she also strived to achieve greater accomplishments in the workplace.
Huang was invited to play herself in a movie directed by filmmaker Xie Jin (1923-2008) in 1958. The film was based on the lives of Huang and her colleagues. Huang was nervous on the first day of shooting; as a result, one of her scenes had to be shot eight times.
With Xie's encouragement, Huang gradually became accustomed to the camera, and finished the shooting. The movie became a big hit across the nation, and many people, including moviegoers, suggested Huang could be a professional actress. However, she said humbly that her career was in the textile workshop, without which she would be nothing.
Huang retired in 1986, and she has since been committed to assisting others in the construction of their textile factories.
For instance, both Qidong, in East China's Jiangsu Province, and Northwest China's Xinjiang Production & Construction Corps invited Huang to help them build textile factories, and to develop other relevant industries, in the 1980s. She was responsible for the design and construction of workshops, the purchase of production equipment and the cultivation of talents in both places.
Thanks to her sacrifices, the textile factories in Qidong and Shihezi (in Xinjiang) became prosperous.
People have asked Huang why she has continued to work so hard since her retirement. She has always responded that, as a Party member, there will never be any time for her to enjoy authentic retirement, and that the country will become more prosperous, and stronger, when all Party members are committed to the cause of the Party and the nation.
With the support of the Shanghai Association of Model Workers, Huang took the lead in establishing Shanghai Yinghao Science and Technology Co., Ltd in 1994.
Early on, Huang and the other stakeholders, all of whom were retired model workers, agreed the enterprise would not pay any dividends, but would instead use its profits to help senior model workers who were experiencing financial difficulties. People called the company a "model worker company."
Promoting the Party's History
Since her retirement, Huang has worked closely with her neighbors to form a residential community administrative committee, and to improve their neighborhood.
Apart from working with the committee on the installation of surveillance cameras, the replacement of worn letter boxes and the expansion of emergency passages, Huang has led her neighbors in making donations to help people who are facing financial difficulties.
Huang's family was named a National Most Beautiful Family by the All-China Women's Federation (ACWF) in 2017, in recognition of the family's participation in public affairs.
As a witness to China's historic development over the decades, Huang has leveraged her life story to make the history of the Party better known among young people. She has participated in all of the education-themed activities organized by Shanghai Hundred Senior Moral Education Lecturers Group since the organization was founded in April 2000.
People who have attended Huang's lectures have said her life story is vivid. They have added Huang's patriotism is not abstract and empty, but can be touched and felt.
Huang is a hostess on Bilibili, a popular online video platform, through which she has maintained close contact with young people, and through which she has frequently spoken with them about the Party's history.
Huang always tells her online followers that people should never forget their origin, be grateful for the contributions made by the older generations in the building and development of the country, and give priority to sacrifice over demand.
When asked about the July 1 Medal, Huang says, as an ordinary worker, she never anticipated she would ever receive such an honor.
She adds she will keep working in public affairs, and she will especially strive to make the history of the Party better known, for as long as she can.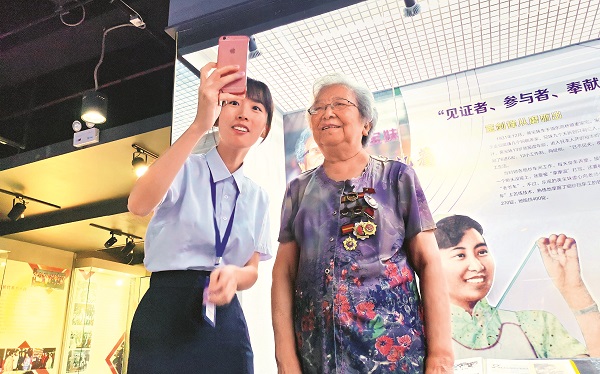 Huang Baomei shares her life story with a visitor to Shanghai Textile Museum. [VCG]
(Women of China English Monthly February 2022 issue)
Please understand that womenofchina.cn,a non-profit, information-communication website, cannot reach every writer before using articles and images. For copyright issues, please contact us by emailing: website@womenofchina.cn. The articles published and opinions expressed on this website represent the opinions of writers and are not necessarily shared by womenofchina.cn.

Comments