Dream Maker in Rice Fields
By
Zhang Jiamin
August 12, 2022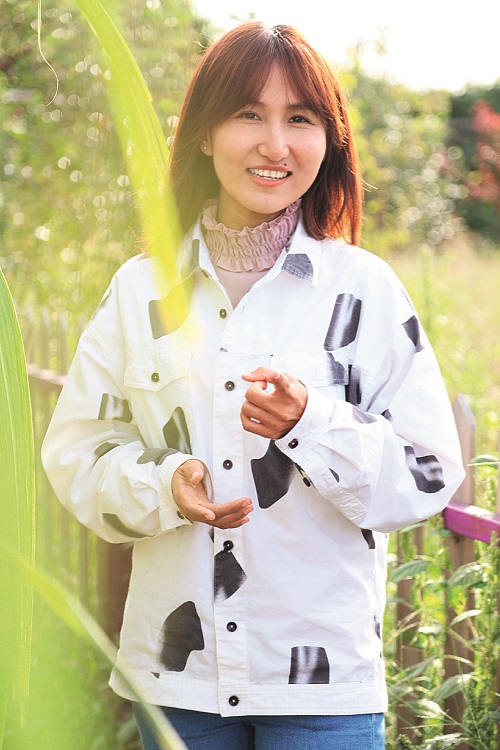 Breathtaking, three-dimensional images — featuring the themes of the Chinese dream, animals, and celebrities — in rice fields in Xibo Ethnic Town, in Shenyang, in Northeast China's Liaoning Province, have attracted countless tourists. The rice fields belong to Tanbo Art Kingdom, a pastoral complex established in July 2014. Different colors and types of rice were used to create the giant pictures on a paddy field.
Zhang Wanting, a young, ethnic Xibo woman, is one of the managers of Tanbo Art Kingdom. In 2015, Zhang returned to China, after she finished her studies in Australia. Two years later, she quit her job, as a college teacher, and returned to her hometown. She has since turned the rice fields in her village into one of the most popular tourist destinations in Shenyang.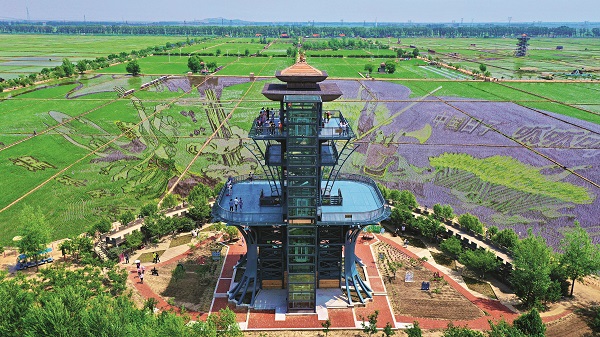 Tanbo Art Kingdom, with 20,000 mu (1,333 hectares) of rice fields, receives nearly 300,000 visitors a year. Tanbo Art Kingdom has benefited more than 2,000 rural residents in 40-plus villages. Ecological farming generates nearly 5 million yuan (US $769,230) in annual income, combined, for local farmers. "I love the land of my hometown. I hope I can turn it into a modern farm that retains the original nature and beauty through my efforts," Zhang says.
"The countryside is where our roots are," Zhang says. She has never regretted her decision to return to her hometown. She knows talent is the key to rural revitalization.
Zhang's father, Zhang Aizhong, has been living off the land all of his life. Her father's affection for the villagers, the farmland and her hometown has deeply affected her. From their family's small mill, in the past, to the establishment of a rice factory and eventually to Tanbo Art Kingdom, Zhang Wanting felt her father's pastoral dream, and she made up her mind to become a new farmer.
There were challenges in adapting to a new life, and to a new form of work, during her first days of working in the rice fields; for example, she did not know much about either agriculture or rice growing. She buried herself in agricultural books, and she conducted considerable research online. She also used the management and technical methods she learned abroad when she was developing Tanbo Art Kingdom. Whenever she got the chance, she went to the rice fields to chat with experienced farmers about planting. When the other farmers found it hard to understand and accept new things and new ideas, Zhang Wanting explained the system and benefits, repeatedly, with patience.
During the past few years, Zhang Wanting has continued to obtain agricultural knowledge, and she has worked with farmers. Together, they have made the pie bigger, and they have been making more money than before. "The new countryside should be a place where villagers truly feel happy, and that urban residents yearn for," Zhang Wanting says.
She says she is fulfilled and happy. She wakes up every morning full of energy, and the field fills her with hope. Like her father, she has found her dream in the farmland, and a rural career that she believes is worth fighting for.
Tanbo Art Kingdom, featuring the rice field art, perfectly combines modern agriculture and rural tourism. Rice field art not only shows the wisdom of the Xibo people, it also attracts tourists from across the nation, and even from other regions of the world.
Zhang Wanting believes innovation must be supported by traditional national culture. As a Xibo woman, she has made it her mission to inherit both farming culture and ethnic culture, and to help people learn about farmers, agriculture and the countryside.
In recent years, Tanbo Art Kingdom has achieved overall development of its main businesses — agricultural production, leisure tourism and leisure food production.
Tanbo Art Kingdom has cooperated with several academies and universities to carry out projects to develop ecological agriculture, such as reducing use of pesticides and fertilizers and replacing chemical fertilizer with organic fertilizer. Varieties of leisure foods have also been developed, such as brown rice ice cream, rice cake, crunchy rice candy and instant rice noodles.
In 2020, Zhang Wanting and her father renovated six residential houses into 14 rooms for homestays in the village near Tanbo Art Kingdom. Those houses can now accommodate about 50 people. During the winter of 2020, the ice and snow festival was held to entertain urbanities. A gallery of farmers' paintings opened in the village on May 1, 2021.
Zhang Wanting has witnessed the great changes that have occurred in her hometown. With the development of Tanbo Art Kingdom, many young villagers have returned from cities to work for Zhang Wanting's company. As she puts it, "We are not just walking on the road that our previous generations have walked, we are blazing a new path.
"We hope more and more young people will join us, to make our hometown more beautiful. While realizing our value in our own hometown, we are also creating a space for urbanites to enjoy the comfort and delight of the rural life. I will spare no effort in contributing to rural revitalization," Zhang Wanting says.
Photos Supplied by Zhang Wanting
(Women of China English Monthly July 2022 issue)
Please understand that womenofchina.cn,a non-profit, information-communication website, cannot reach every writer before using articles and images. For copyright issues, please contact us by emailing: website@womenofchina.cn. The articles published and opinions expressed on this website represent the opinions of writers and are not necessarily shared by womenofchina.cn.

Comments