Young Craftswoman Breathes New Life into Wood Carvings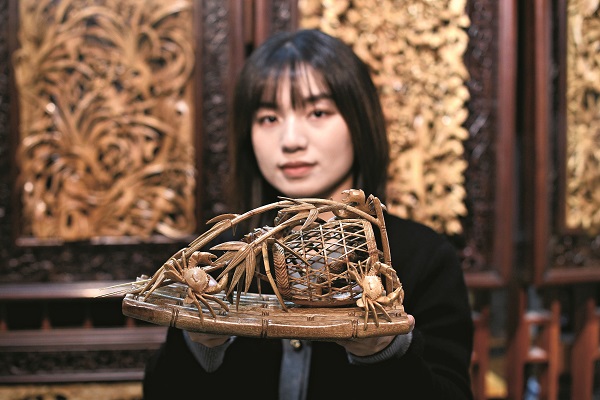 It is common for residents of Chaozhou (a city in South China's Guangdong Province) to watch a young craftswoman create wood carvings, in the intangible cultural heritage market, on Guangji Bridge (in Chaozhou). The 20-something woman always works attentively, with a mallet in one hand and a knife in the other. Many visitors are impressed by her superb carving skills.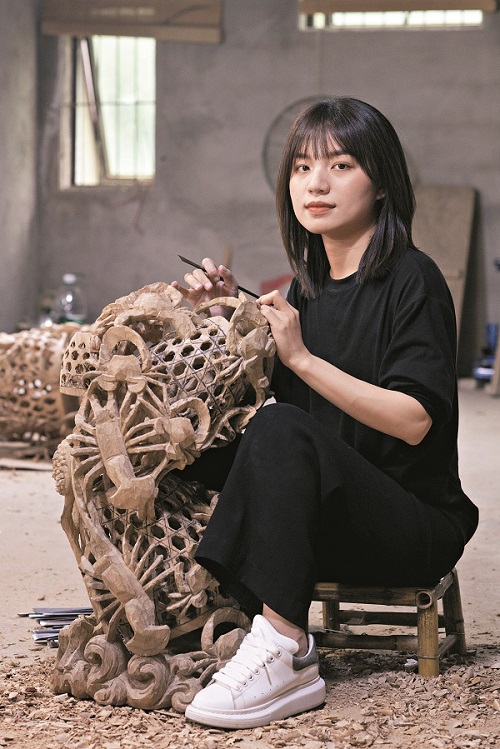 The woman is Chen Jia, who was born into a family of wood carvers. Her grandfather, Chen Shunqiang, is a State-level master of arts and crafts in China, and her father, Chen Peixi, is a Guangdong provincial master of arts and crafts. Influenced by both her father and grandfather, Chen Jia developed an interest in wood carvings during her early childhood. At the age of 14, she began studying carving skills under her father. Given her diligence and wisdom, she quickly honed her skills.
Chaozhou's wood carvings, one of the best-known woodcarving crafts in China, are on China's list of intangible cultural heritage. "Lobsters and Crabs Wrestling in and Outside a Basket," which is a common theme (of Chaozhou's wood carving), symbolizes a bumper harvest reaped by fishermen. Given her keen observation and superb workmanship, Chen Jia has created many intricate, lifelike wood carvings, which depict furious fights among lobsters and crabs.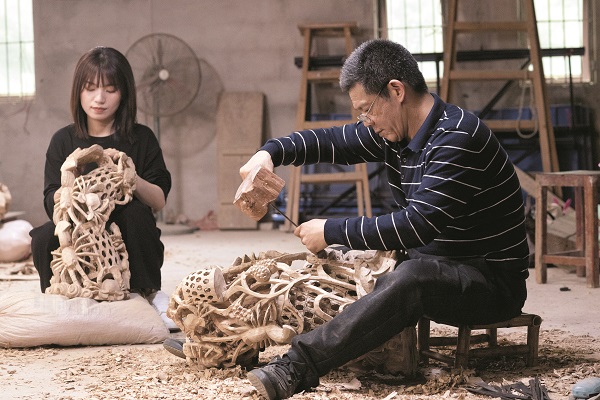 "I depict lobsters and crabs with different movements in each of my works. How? By carving, with utmost care, the 'moving' lobsters' feet and crabs' pincers ... I often observe, at a food stall, how a lobster moves its feet when it walks," says Chen Jia.
Multilayered openwork is a typical characteristic of Chaozhou's wood carvings. To achieve an ideal artistic effect, a carver must imagine what he/she wants to present in every layer of his/her carving before he/she begins the work. A carver usually uses more than 30 knives and several mallets (of different sizes) as he/she creates a work. Sometimes, the carver uses chalk and/or pencils to mark on the work. Carving figures, animals and/or landscapes, in fine details, requires tremendous patience. Wood carving is also a manual-labor task, especially when a carver has to hold a 5-10-kilogram wood blank as he/she makes the carving's base.
Broken skin, blisters and injuries on her hands have been common occurrences for Chen Jia, who has been obsessed with carving for many years. "When I was a little girl, I took delight in watching my parents make wood carvings. I also enjoyed playing with wood. I remember, when I studied in primary school, I carved a small wooden house under my dad's guidance. My maiden carpentry earned me first prize during the crafts competition in my grade. For the first time in my life, I was praised (by my teacher) for my outstanding talent ... With the teacher's encouragement, I developed a keen interest in wood carvings," recalls Chen Jia.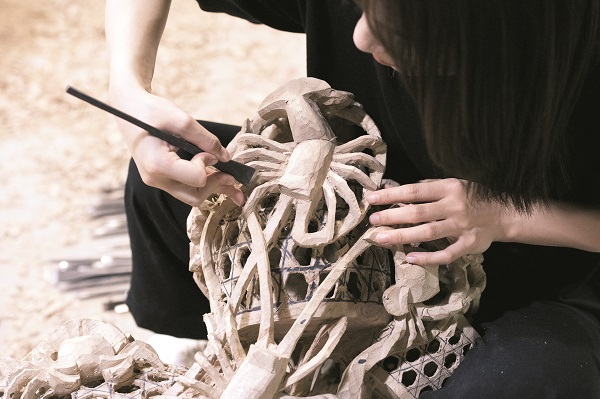 "Considering we girls are fond of delicate articles, some times I use wood fragments to carve daily necessities. It is also an attempt to help people better understand the artistic charm of Chaozhou's wood carvings," says Chen Jia. With creation and innovation, she has breathed new life into the traditional craft. She has also made innovations in creating various wood carvings with more practical uses. For example, she has created exquisite combs and various knickknacks, such as wood-carved tigers and teapots.
Chen Jia hopes she and other craftspeople will create more wood carvings, which residents may use in their daily lives, bringing new vitality to the time-honored craft (Chaozhou's wood carvings).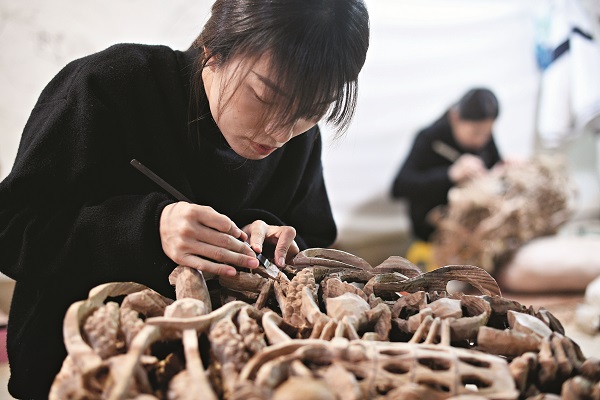 Photos Supplied by VCG
(Source: Xinhua/Women of China English Monthly May 2022 issue)
Please understand that womenofchina.cn,a non-profit, information-communication website, cannot reach every writer before using articles and images. For copyright issues, please contact us by emailing: website@womenofchina.cn. The articles published and opinions expressed on this website represent the opinions of writers and are not necessarily shared by womenofchina.cn.

Comments