Miao Woman Inherits, Promotes Family's Tea-Making Craft
By
Li Wenjie
August 1, 2022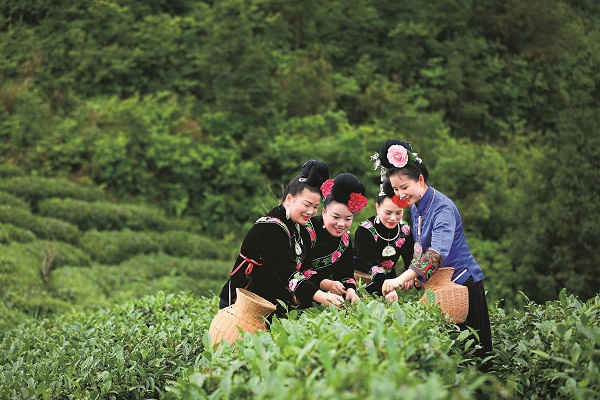 Mao Juan, a native of Leishan (a county in Qiandongnan Miao and Dong Autonomous Prefecture, in Southwest China's Guizhou Province), is the third-generation inheritor of the craft of making Leishan Yinqiu (silver ball) Tea. It has been many years, but Mao clearly remembers how excited she was when her grandfather, Mao Kexi, told her how he created the tea dozens of years ago.
In 1980, Mao Kexi, who was then a worker with the Leishan Scientific and Technological Commission, volunteered to lead residents of Juesan (a Miao village in Danjiang, a town in the prefecture) in reclaiming a tea park (in the village). Given their tremendous efforts, the park was densely covered with verdant tea trees two years later. In addition, Mao Kexi led the residents in building a new tea park in the village.
"One day, my grandpa brainstormed a good idea to make tea: Use tea's pectin to make teaballs, which was different from bulk tea, brick tea and other common tea products in the market," recalls Mao Juan. "Through repeated experiments, Grandpa created the teaballs in 1982. He obtained a Chinese patent for the tea-making craft."
When asked why her grandfather named the tea "Leishan Yinqiu Tea," Mao Juan replies, "The teaballs look like silver bells on Miao women's traditional costumes. Also, the teaballs resemble ping-pong balls. During the 1980s, China won the World Table Tennis Championships, consecutively."
Mao Juan will never forget her grandfather's last words, "My dear little girl, you should try your best to strive for the Party (Communist Party of China)'s membership. You should also promote our family's tea industry, and help more residents eradicate poverty and attain wealth by offering them employment."
Mao Hua, Mao Juan's father, took over Mao Kexi's enterprise, Guizhou Leishan Maokexi Tea Co., Ltd., in 2013, shortly after the elderly man passed away. Given Mao Hua and his employees' tremendous efforts to promote the traditional tea-making craft, Leishan Yinqiu Tea earned the company the first prize of green tea during the First Guizhou Tea Competition, which was held in Guiyang (capital of Guizhou Province) in May 2015.
As her parents grew old and frail, Mao Juan felt obliged to do something to promote the traditional craft. In 2017, Mao Juan gave up her "iron rice bowl," at Leishan Tourist Administration, and picked up the "baton" (of promoting the development of her family's tea-making craft) from her father.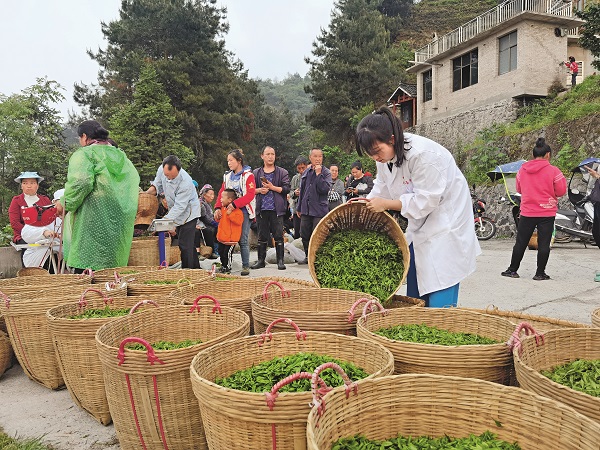 During the past several years, Mao Juan and her employees have put a lot of effort into expanding the market. For example, they have been to various regions of the country to attend tea shows, during which they have asked participants to taste their tea. Mao Juan and her employees have also promoted their tea products via new media (including Douyin [Tik Tok China] and/or live online shows), so their products might attract more customers. Many customers have been impressed by the tea's package paper, painted with patterns that embody the Miaos' traditional cultural elements.
Guizhou Leishan Maokexi Tea Co. generated more than 22 million yuan (US $ 3 million) in revenue during the past year. The company's rapid development should be attributed, in part, to the efforts of Mao Juan and her employees to promote, both online and offline, their products across the country. Given the sound development of Mao's company, many job opportunities have been created for rural residents.
In 2020, China National Intellectual Property Administration designated Leishan Yinqiu Tea as a product with geographical indicator (GI, a name or sign used on products that correspond to a specific geographical location or origin).
The following year, Guizhou's department of commerce designated the company as a time-honored enterprise in Guizhou. The tea was well received by many participants of the Fourth China International Tea Expo, which was hosted by China's Ministry of Agriculture and Rural Affairs and the People's Government of Guizhou Province in May 2021. The event was held in Hangzhou, capital of East China's Zhejiang Province.
Given the sound development of her business, Mao Juan is able to employ more than 3,000 rural residents of Leishan to cultivate tea. The company buys farmers' tea at a preferential price, and processes the tea before selling it.
In June 2020, Mao Juan joined the Party. She was pleased she had realized both her and her grandfather's dream. Shortly after that, she created serial tea products named "Grandpa's Story." She says, "I want to share Grandpa's life story with more people, so they will learn from him, who had an indomitable spirit and selfless dedication to his career. I also hope through the story, more people will understand the historical development of our tea."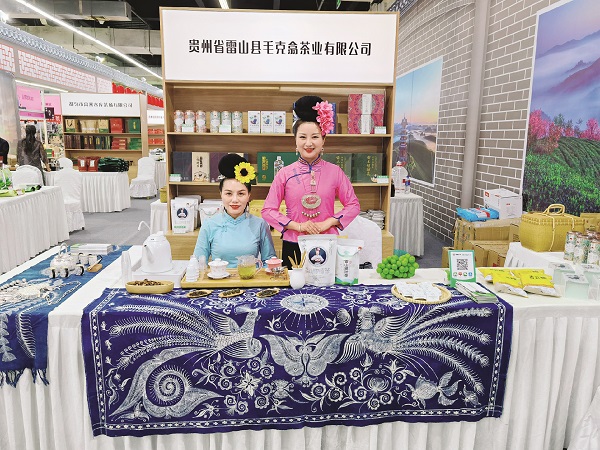 Photos Supplied by Guizhou Women's Federation
(Women of China English Monthly July 2022 issue)
Please understand that womenofchina.cn,a non-profit, information-communication website, cannot reach every writer before using articles and images. For copyright issues, please contact us by emailing: website@womenofchina.cn. The articles published and opinions expressed on this website represent the opinions of writers and are not necessarily shared by womenofchina.cn.

Comments