Advancing Rural Development Through Modern Agriculture
By
Zhang Jiamin
August 8, 2022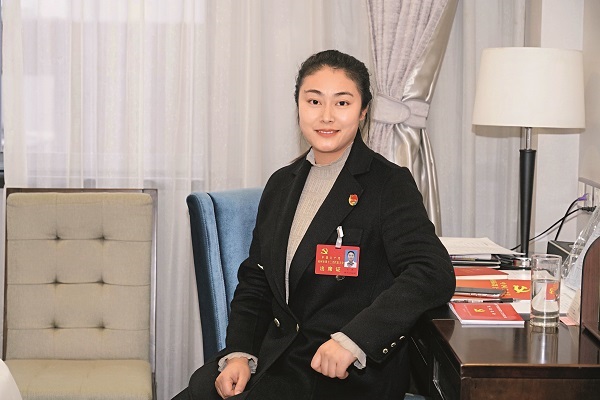 In 2010, Wang Yun, who was born in the 1990s, quit her stable job in Hangzhou, capital of East China's Zhejiang Province, and returned to her hometown, Jiande, a city near Hangzhou. Why? She wanted to help ease the burden of her father, Wang Jiankun, who operated an agricultural development company.
During the past 12 years, the company has witnessed remarkable development. It grows crops on fields covering 2,300 mu (153.3 hectares), and it has become a leading agricultural business in Hangzhou. It is also a base for training e-commerce talents. The 82 salespeople who have been trained by the company have sold agricultural products worth more than 11 million yuan (US $1.69 million) through e-commerce.
As general manager of her father's company, Wang Yun has sought new ways of integrating agriculture and tourism. With the support of the government of Jiande, Wang Yun launched a rural tourism project when Hangzhou hosted the G20 (Group of Twenty) Summit, in 2016. In addition to sightseeing, visitors could learn to recognize crops in the fields and see exhibitions of farming tools.
Wang Yun has other roles. As president of the women's federation of Putian Village, she has helped rural women increase their incomes. She has organized modern agriculture training for 8,000 women, and she has offered jobs in her company to women, especially those from households entitled to the subsistence allowance. She has been honored as one of the national talents in science and technology who gained wealth and led rural people to become wealthy. She has also been named one of Zhejiang's top 10 agricultural makers and a March 8th Red-Banner Holder of Hangzhou.
During spring plough each year, Wang Yun organizes women volunteers to hold farming contests among students and their parents. The aim is to help children learn the hardship of farming.
After Wang Yun joined her father's company, she attended many courses in agriculture management and forestry and agricultural technologies. She realized science and technology can help improve the quality and efficiency of agriculture, and she realized the company could benefit from advanced equipment and technologies.
Initially, Wang Jiankun didn't think it was necessary to spend much money to buy advanced equipment for farming. Wang Yun convinced him. In the company's demonstration fields, covering 400 mu (26.7 hectares), there are small weather stations, pest-monitoring lamps and other intelligent equipment. Staff can use their mobile phones to monitor the fields, and they can directly transmit the data collected by the equipment to the local department of agriculture.
Wang Yun has also researched technologies for raising ducks in rice fields, to reduce the use of pesticides and chemical fertilizers. This technology has improved both the quality of the rice and the efficiency of growing the rice.
Modernization and digitization have accelerated the growth of Wang Jiankun's company. "In recent years, our company has invested 5.6 million yuan (US $861,538) to buy agricultural machines. My father has been supportive of purchasing the machines," Wang Yun says.
She set up a demonstration field for the application of an intelligent rice seedling raising technology. The technology has largely improved the efficiency of growing the rice. Every year, the company helps nearby farmers raise seedlings in fields that cover 5,000 mu (333.3 hectares).
Wang Yun has shared her experiences in applying science and technology in agriculture with other farmers. She is head of the agriculture makers association in Jiande. "I know the great importance of the application of science and technology in agriculture. When members of the association have problems concerning agricultural technologies and policies, I will invite experts to help solve their problems. If their problems are solved, they will help farmers around them," Wang Yun says. "Filling the rice bowl of Chinese people mainly with Chinese grains" is her primary objective.
Wang Yun has a deep affection for agriculture. She has accumulated rich experiences in management of fields and marketing, and she is skilled at operating big machines for agricultural use. She will continue to explore the application of technologies and machinery in agriculture, and she will always strive to produce safe, healthy grains. She plans to develop more projects that will promote the integration of agriculture and tourism. She hopes this will encourage more young people to start their own businesses in their hometowns.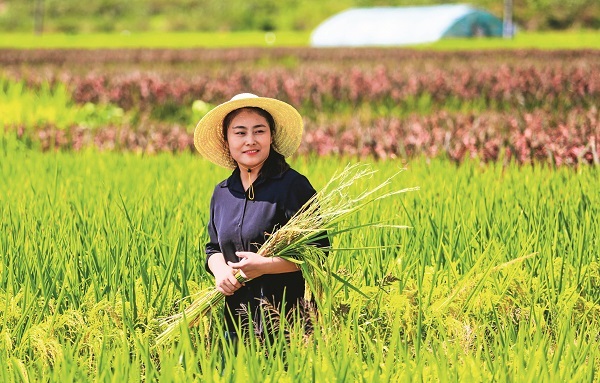 Photos Supplied by Hangzhou Women's Federation and Jiande Women's Federation
(Women of China English Monthly July 2022 issue)
Please understand that womenofchina.cn,a non-profit, information-communication website, cannot reach every writer before using articles and images. For copyright issues, please contact us by emailing: website@womenofchina.cn. The articles published and opinions expressed on this website represent the opinions of writers and are not necessarily shared by womenofchina.cn.

Comments