A Star in Her Own Right — Ye Shuhua Dedicates Life to Development of Nation, Astronomy
By
Zhang Jiamin
March 15, 2022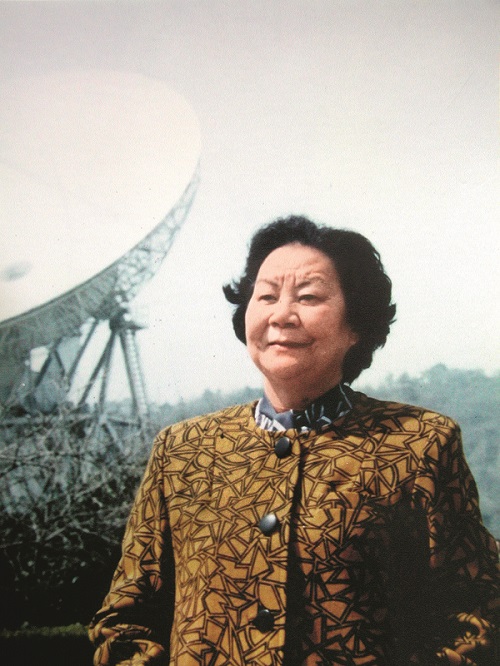 Ye Shuhua
Ye Shuhua's head has been out among the stars for as long as she can remember. From the time she was a young girl, Ye has enjoyed gazing up into the star-lit sky. Back then, though, she could not have guessed she would turn her star-gazing pastime into a career, even less so that she would become one of the world's preeminent astronomers. But that has been her life's trajectory. She has several tremendous accomplishments on her curriculum vitae; Ye was president of Shanghai Astronomical Observatory (SAO), under the Chinese Academy of Sciences (CAS), from 1981-1993, and she developed the concept of "Beijing Time," or standard time, in the Chinese mainland. Ye remains — by far — the only woman in China with sufficient experience to be SAO's president. Many people in China — even in other regions of the world — consider Ye to be a bona fide "star fan;" in fact, with the approval of the International Astronomical Union (IAU), a minor planet has been named after Ye. Clearly, Ye has lived quite a life, and she has become a star in her own right.
During the past several decades, Ye has organized and/or participated in many international research programs. She has also developed a new branch of science — Astro-geodynamics — in China. Under her leadership, many Chinese scientists have achieved remarkable results in their work, for which they have received praise from their foreign colleagues.
If you have an opportunity to chat with Ye, you will no doubt be impressed by both her agile mind and optimistic attitude. And you might also be surprised when you learn she is 95 years old. When you hear about her experiences, you might be deeply impressed by her dedication to her career.
Founder of Beijing Time
Ye was born in Guangzhou, capital of South China's Guangdong Province, in June 1927. When she was 9 years old, her family moved to Hong Kong. As the Chinese saying goes, "Many things grow in the garden that were not sown there." When Ye was young, she loved literature. However, her parents persuaded her to study natural science, as they believed it would be easier for her to find employment after graduation. In 1945, she was admitted to the department of mathematical astronomy of Sun Yat-Sen University, in Guangzhou. She had the highest entrance-exam score of all the candidates. "When I first entered university, I felt as if a door opened in front of me," Ye recalls. "I was immersed in my studies, and I discovered that space was much more romantic and attractive than one could imagine."
Ye returned to Hong Kong in 1949, after she graduated from the university. In 1951, Cheng Jitai, Ye's husband, was hired to lecture in the mathematics department of Fudan University, so Cheng and Ye moved to Shanghai. However, Ye became a victim of the prejudice — that women were not good enough to work as a researcher with an astronomical observatory — of the day. As a result, Ye was not able to get a job at the local observatory. Undaunted, she wrote a letter to Zhang Yuzhe, then-president of Purple Mountain Observatory (in Nanjing, capital of East China's Jiangsu Province), and she listed the reasons why he should employ her. Impressed, Zhang recommended that Ye be hired by Xujiahui Observatory, affiliated with Purple Mountain Observatory. Ye became the first woman researcher hired by the observatory.
During the early 1950s, just after New China was founded, China lacked professionals in the field of astronomy. When Ye began working at Xujiahui Observatory, the facility employed only four researchers (including Ye). Ye was responsible for determining time, by observing the stars and measuring the changes in their positions. She enjoyed her work, despite all of the repetition, surveys and data collection.
Given the lack of modern technologies and equipment in the country, China during the 1950s fell behind most other countries in determining an accurate standard time. Ye, as an academic leader, worked hard with some of her co-workers to develop the concept of standard time. They achieved brilliant success in their research; in 1965, China adopted Beijing Time, the standard time in Chinese mainland. The country no longer used other nations' time signals. China also leapt to second place (after France) in the world in terms of accuracy of standard time. Adoption of Beijing Time marked a milestone in the history of the Chinese nation, especially as it contributed to the promotion of both the national defense industry and the nation's economic construction.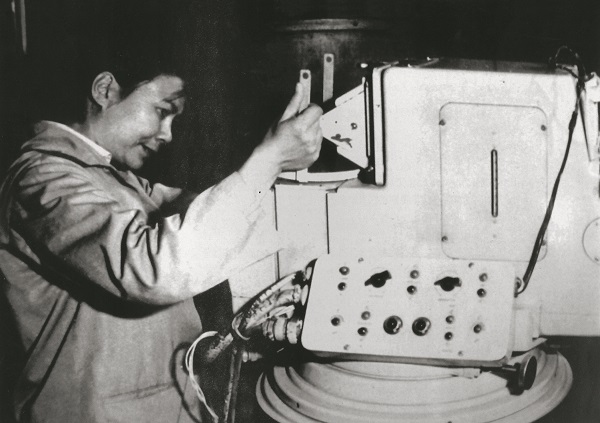 Ye Shuhua at work in 1964
Worldwide Fame
Ye in 1973 proposed the development of VLBI (very long baseline interferometry, a network of Earth-based radio antennas that combine to create the equivalent of a telescope with a diameter as the distance of the two farmost antennas, more than two-and-a-half times the diameter of Earth) technologies (in China), to provide astronomers with extremely detailed images of distant astronomical objects. Leaders of SAO accepted Ye's proposal. During the following year, NOAA (National Oceanic and Atmospheric Administration) (in the United States) invited Ye for a three-month visit to study advanced VLBI usage. Ye also invited internationally renowned experts to provide lectures to her colleagues (at the observatory).
In 1981, Ye was named president of SAO. Also that year, the observatory launched the VLBI project. In 1986, the observatory completed the proposal on the development of China's VLBI network, which outlined the general picture of the country's VLBI network. Ye was appointed general director of the project.
Given her unremitting efforts in leading the observatory's employees in improving their research, the Chinese astronomical community caught up with the international trend of space astronomical observations during the 1980s. Whenever her colleagues and/or collaborators have praised her for her farsightedness, Ye has said, "The opportunity is right in front of me. How can I not seize it?" For Ye, the nation's interests are above all else. That has inspired her to scale the heights of science.
During the 21st Conference of the International Union of Geodesy and Geophysics, held in 1995 in Boulder (the United States), Ye submitted the APSG (Asia-Pacific Space Geodynamics) Program to organizers of the conference for approval. "We had a hard time rallying support for the program … For the first time in its history, the Chinese astronomical community earned the right to host a large international program," recalls Ye.
For decades, she has left shining "footprints" behind her. With some of her co-workers, she has made brilliant achievements in her research, for which she and her colleagues have received many national prizes. In 1980, she was named a member of CAS. In 1985, Ye became a foreign member of Britain's Royal Astronomical Society (RAS), and, from 1988-1994, she served as Vice-President of the International Astronomical Union (IAU). In 1995, ACWF (All-China Women's Federation) named Ye one of China's 10 outstanding women. Ye was also a member of both the NPC (National People's Congress) Standing Committee and the National Committee of the Chinese People's Political Consultative Conference (CPPCC) for three terms.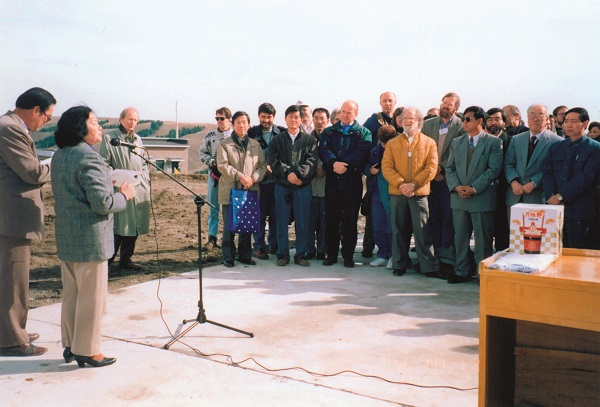 Ye Shuhua attends the opening ceremony of the 25-meter radio telescope in Urumqi.
Since the turn of the century, Ye has put much effort into promoting cooperation between CAS and Shanghai's municipal government, especially to develop the 65-meter radio telescope. The equipment has played an important role in China's deep-space exploration and astronomical research. In 2019, the telescope, which ranked third in the world, in terms of overall performance, earned Ye's research team the Shanghai Special Science and Technology Progress Award.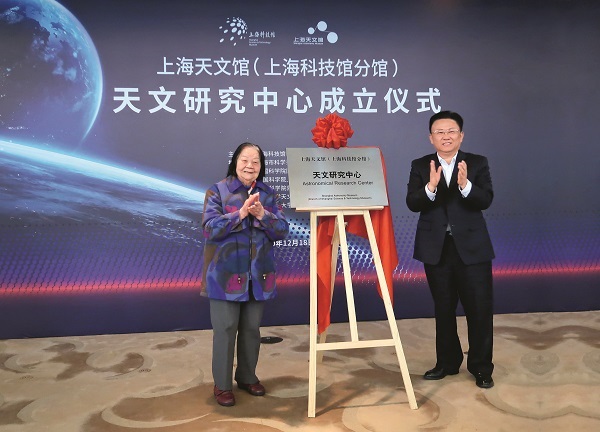 Ye Shuhua (L) attends the opening ceremony of Shanghai Astronomical Research Center.
Working for Women, Children's Well-Being
Some of Ye's friends have tried to persuade her to take care of herself, so she could live her remaining years in comfort; however, Ye has kept busy with social activities, especially events aimed at ensuring the well-being of women and children.
As a scientist, Ye supports science-education programs for children. She often takes time out of her busy schedule to guide primary and/or middle school students in conducting science experiments. She also provides lectures — via radio, film and/or television — to help residents increase their awareness of astronomy.
During a non-governmental forum of the Fourth World Conference on Women (held in Beijing in September 1995), Ye delivered a speech, in which she encouraged women, worldwide, to break the "glass ceiling," and to strive to realize their potential and contribute to the future.
Despite her advanced age, Ye from 1996 -2001 faithfully performed her duties as Chairperson of the Sixth Shanghai Association for Science and Technology. During her tenure, she organized many science and technology forums. In addition to sharing scientific and technological information, she invited government leaders, well-known scientists and Nobel Prize winners (from various countries) to give lectures on science and technology.
From 1998-2011, Ye served as President of the Women Talents' Research Society, affiliated with the Chinese Association of Human Resource Development. During her tenure, she organized various activities to promote women's development.
During the SHE Forum of the Fourth World Laureates Association (held in Shanghai in November 2021), many of the spectators were impressed by Ye's passionate speech (in English), in which she encouraged women to strive for gender equality. Many netizens said they had benefited greatly from the speech, as they had realized women should strive to achieve success in their careers, so they would have a greater say in national political, economic and social affairs.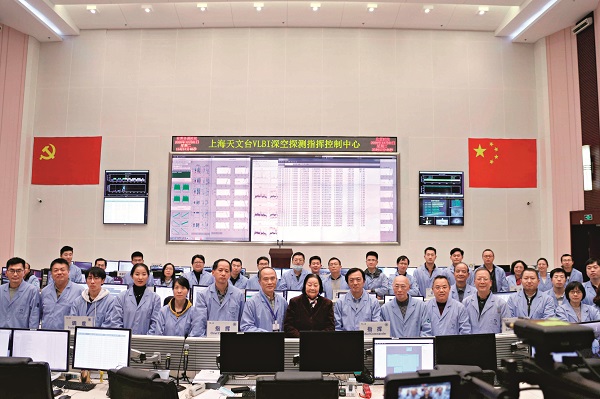 Ye Shuhua (C) poses for a group photo.
Photos Supplied by Ye Shuhua and VCG
(Women of China English Monthly January 2022 issue)
Please understand that womenofchina.cn,a non-profit, information-communication website, cannot reach every writer before using articles and images. For copyright issues, please contact us by emailing: website@womenofchina.cn. The articles published and opinions expressed on this website represent the opinions of writers and are not necessarily shared by womenofchina.cn.

Comments