Zheng Zhenxiang: A Life Dedicated to Archeology
By
Zhang Jiamin
June 30, 2022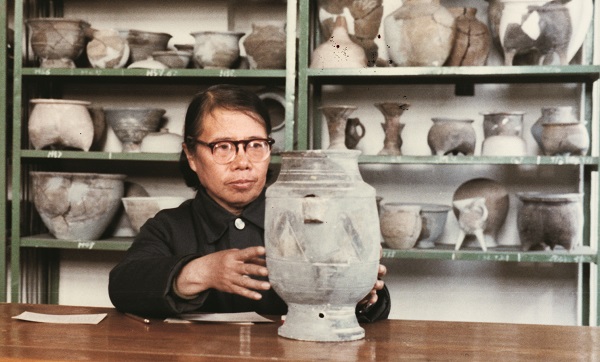 Zheng Zhenxiang, 92, is one of the first generation of China's women archeologists. She directed the excavation of the tomb of Fu Hao, a queen and general during the Shang Dynasty (1600-1046 BC). Zheng worked for more than four decades in Yinxu, one of the UNESCO World Cultural Heritage Sites, in Anyang, in Central China's Henan Province. She dedicated the best years of her life to her career.
Passion for Archeology
Zheng is a former researcher with the Institute of Archeology, under the Chinese Academy of Social Sciences. The tomb of Fu Hao was discovered by Zheng and her archeological team in 1976. It remains the most influential and fruitful archeological discovery in Yinxu since the founding of New China. That discovery has had epoch-making significance in China's archeological history — and in Shang history.
The tomb of Fu Hao is the only well-preserved royal tomb of the Shang Dynasty that has been excavated. Zheng's archeological team identified the tomb's owner, and the time of burial, by analyzing oracle bones.
Yinxu, the ruins of Yin, capital of the Shang Dynasty, is located in Anyang. Yinxu remains one of the greatest archeological discoveries in China. Many royal tombs, palaces, and prototypes of Chinese architecture have been unearthed there. Yinxu has a history of about 3,300 years. Given its historical status, it was ranked first among the 100 great archeological discoveries in China during the 20th century.
Zheng was born into an intellectual family in Dongguang, a county in North China's Hebei Province, in 1929. She had three older brothers and one younger sister. Their parents ensured each child received an education, which was rare in those days.
After Zheng graduated from Tianjin No. 1 Normal College, in 1950, she was admitted to the museum department of Peking University. Two years later, the department was merged with the history department. So, Zheng decided to transfer into the university's archeology department. She was the only girl student in the department that year.
In 1954, Zheng graduated from Peking University, with a bachelor's degree in archeology, and she began working as a teaching assistant at the university. The next year, she became a postgraduate student in the archeology department. As she had a strong interest in oracle bones, she chose to focus her research on the Shang and Zhou (1046-256 BC) dynasties.
Zheng has always remembered what her teacher, Pei Wenzhong (1904-1982), a famous paleolithic archeologist and paleontologist, had said: "The age between 20 and 40 is the prime time for an archeologist to go to the field."
After she graduated, in 1959, with a master's degree in archeology, Zheng gave up an opportunity to teach at the university; instead, she chose to work with the Institute of Archeology, under the Chinese Academy of Sciences (today's Chinese Academy of Social Sciences). The same year, she moved to Anyang, to work at Anyang Archeological Station.
Zheng became deputy head of Anyang's archeological team in 1962. During the years she worked in Anyang, she visited almost every inch of Yinxu, and she studied the layout of the ruins extensively.
"Archeologists who don't work in the field are like singers who don't perform on the stage, and such archeologists won't make achievements," Zheng once said.
Remaining true to her original aspiration of working on the front line of archeology, Zheng dedicated the best years of her life to her career. She worked in Anyang until 2002.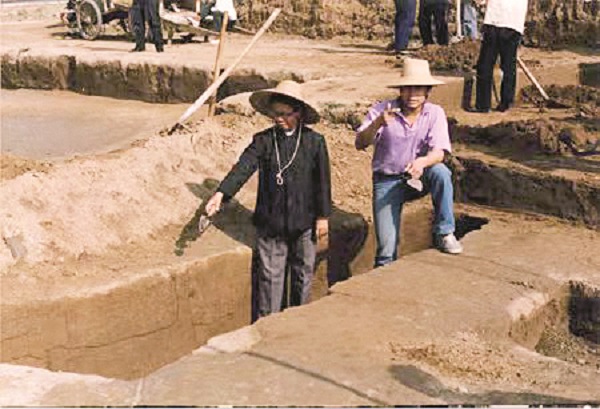 Awakening Yin History
Many people think archeology is mysterious and romantic, as it involves unearthing imperial tombs and solving historical mysteries. But, in Zheng's eyes, archeology requires great patience, care, diligence — and a passion during field work.
Zheng used a shovel — which she wore down to almost the size of a spoon — during her work in Anyang. Every time Zheng talks about the shovel, she says that archeological work is painstaking, but her passion for archeology never fades.
Anyang is where Zheng pursued her dream, and where she dedicated the best years of her life to archeology. Without Zheng, the Tomb of Fu Hao likely would not have been unearthed in 1976.
More than four decades have since passed, but Zheng still remembers the day she and her team discovered the Tomb of Fuhao. "It was May 16, 1976, a sunny Sunday," she recalls.
In 1976, Zheng organized an excavation of a palace site in Yinxu, only to find the bottom of the palace's foundation couldn't be reached. Even after they had dug five meters, nothing was found during the next month. Many experts advised her to stop, because they thought, based on their experience, there would not be a tomb near the palace. However, Zheng didn't agree. She directed the team to continue working.
Thus, a treasure trove was opened by Zheng. Approximately 2,000 articles, buried with the tomb's owner, including bronzeware, pottery and jade articles, were unearthed. Most importantly, many bronzewares were inscribed with the words Fu Hao, the name of the tomb's owner.
One of Zheng's former team members recalls, "Zheng, directing the excavation work in the field, was like a general. At that time, we didn't expect that the tomb's owner was a real woman general."
Fu Hao, a queen during the Shang Dynasty, was the first woman general in Chinese history. With a high position, she often presided over sacrificial ceremonies and directed military actions, according to inscriptions on bones and tortoise shells discovered in Yinxu.
"I knew the story of Fu Hao when I studied at Peking University. When I saw her name on the bronzeware, I felt shock and inexpressible joy. Unearthing Fu Hao's tomb is the biggest thing I have done in my life. I hope people will learn more about cultural relics and the history and culture behind them." Zheng says.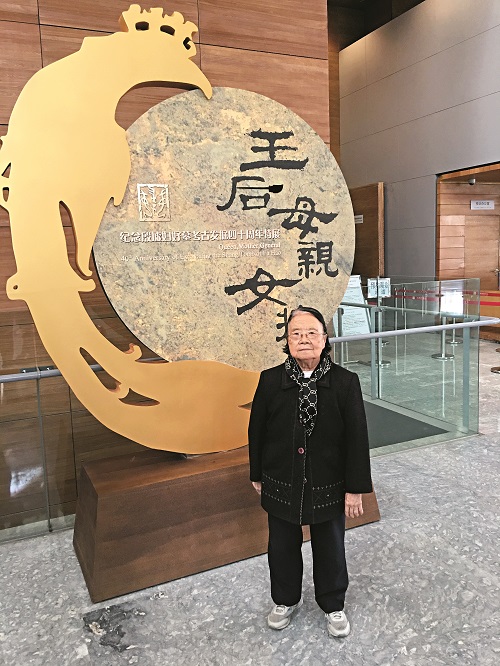 Precious Memories
Zheng lives a simple, happy life in Beijing. Her husband, Chen Zhida (1927-2017), was also an archeologist. Both were members of Anyang's archeological team. They excavated the Tomb of Fu Hao, sorted the unearthed relics and wrote research papers together. "At that time, I was head of the team, while he was a team member. I directed the excavation of the tomb of Fu Hao, and he was responsible for sorting out various materials," Zheng recalls. The couple compiled several books on archeology.
Zheng has numerous books and documents on archeology in her home. As her memory is not as good as it once was, Zheng posts a genogram of the imperial families of the Shang Dynasty on a cabinet.
"I have a strong interest in Shang culture. When I forget something, I will look at the genogram and think for a while. It has become one of my habits," she says.
Zheng also has many diaries, in which she keeps her reading notes and reflections on archeology. On the first page of a diary, she writes, "Don't wait for luck, but try your best to keep obtaining knowledge." Her diaries are her treasures. She once copied a famous saying in her diary, "Diamonds are found only in the dark places of the earth; truths are found only in the depths of thought."
A ceremony was held on October 13, 2018, in Anyang, to mark the 90th anniversary of the official start of the scientific excavation of Yinxu. Zheng and five other archeologists were honored during the ceremony for their outstanding contributions to the excavation of Yinxu.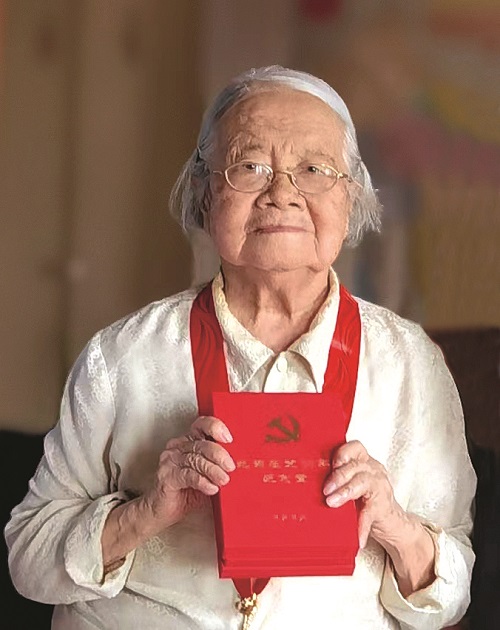 Photos Supplied by Zheng Zhenxiang
(Women of China English Monthly May 2022 issue)
Please understand that womenofchina.cn,a non-profit, information-communication website, cannot reach every writer before using articles and images. For copyright issues, please contact us by emailing: website@womenofchina.cn. The articles published and opinions expressed on this website represent the opinions of writers and are not necessarily shared by womenofchina.cn.

Comments