Entrepreneur Helps Rural Women Shake off Poverty in Northwest China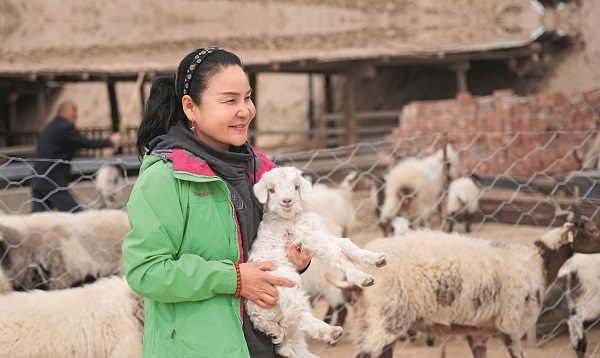 Yin Jianmin, founder and President of Lanzhou-based Xinyuan Modern Agricultural Technology Development Co., Ltd, has been helping needy people, especially rural women in Northwest China's Gansu Province, shake off poverty and achieve their personal dreams — through the cultivation of special industries and the creation of employment opportunities — for the past two decades.
Dreaming, in Western China
Yin, 62, is from a family of four children in Dandong, a city in Northeast China's Liaoning Province. Her father, a veteran CPC (Communist Party of China) member and a national model worker, often stressed fine family traditions to Yin and her siblings.
Yin recalls that her parents never complained about their harsh life, and that her parents would lend a helping hand to others, even if the people they were helping had better living conditions.
Her parents' exemplary deeds inspired Yin to become a helpful person, and to do her best to discover happiness, even amid a harsh life.
Near the end of the 1980s, Yin resigned from her job, as an electricity worker in Dandong, to try to find her fortune in South China's Guangdong Province. After several years of hard work, she finally earned a significant amount of money.
In 2000, the Chinese Government implemented the Western Development Strategy. Curious about and having high expectations for western China, Yin moved to the region later that year. She made up her mind to do something for the local people.
As she was completing an initial inspection tour in some underdeveloped areas in Gansu and Qinghai provinces, Yin fell in love with the region, in which the people still lived in poverty, although an abundance of resources was waiting to be explored.
As she stood on the bank of the Yellow River, Yin decided to make a difference in the residents' lives.
In 2001, she established Xinyuan Natural Gas Co., Ltd., in Honggu, a district in Lanzhou, the capital of Gansu. Yin and her employees conducted door-to-door visits, to identify prospective clients, and to discuss the advantages of using natural gas.
They eventually signed up their first customer, who while interested still expressed doubt about the company's ability to build a natural gas pipeline from Qinghai to Gansu.
The company eventually completed the pipeline, to much fanfare, and much praise from its business partner. Today, the company employs more than 300 people, and it has more than 1 billion yuan (US $154 million) in assets.
During construction of the pipeline, Yin visited more than 200 villages along the route. She eventually realized that only through the introduction of industry-driven, poverty-alleviation schemes will people be able to lift themselves out of poverty — and enjoy prosperous and independent lives.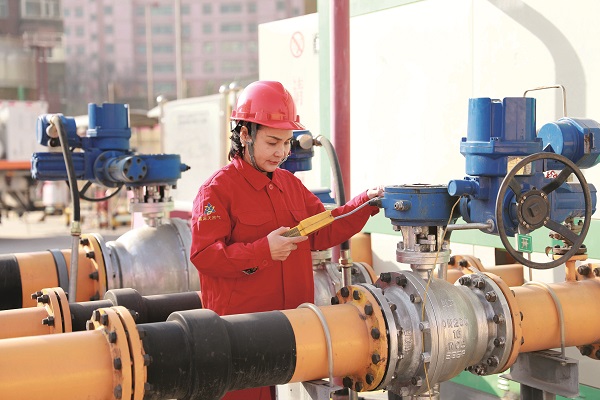 Therefore, Yin launched a business venture in Honggu; the operations ranged from sheep breeding to fruit and vegetable plantation, in a green industrial chain.
Yin has been able to create more than 1,000 employment opportunities for the villagers, and the venture's success has consolidated Yin's confidence in industry-driven poverty reduction.
In 2014, Yin founded Xinyuan Modern Agricultural Technology Development Co., Ltd, to support the Chinese Government's nationwide poverty-relief campaign.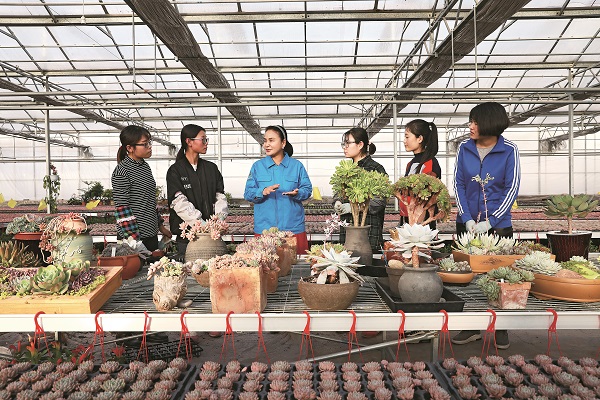 Dongxiang is a former national-level, poverty-plagued Hui autonomous county in Gansu. In 2018, Yin invested in two sheep breeding farms in Dongxiang, and she encouraged the locals to build a brand for high-quality mutton products.
As of June 2021, Yin had allocated 8.56 million yuan (US $1.32 million), in the form of dividends from her sheep-breeding business, to local impoverished families. That money helped 11,000 households escape poverty.
Thanks to her countless efforts, the Dongxiang-style mutton brand has become known nationwide, and has been the subject of China Central Television (CCTV) news reports.
Making a Difference in Rural Women's Lives
During her first trip to a village in Dongxiang, Yin realized most of the women were too shy to talk with people from outside their community. Yin concluded the county would only be lifted out of poverty if she and others provided employment opportunities to the rural women.
So, in 2018, Yin raised about 38 million yuan (US $5.85 million), which she used to establish Yinmiao Edible Fungi Technology Development Company, in Dongxiang. The company hires local women to manually harvest agaric mushrooms. The women work flexible schedules.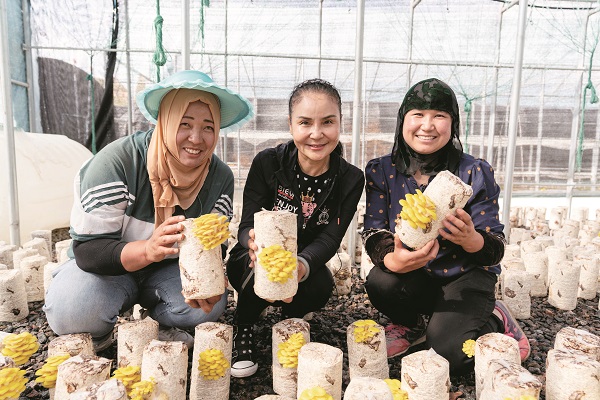 Meanwhile, Yin also encouraged the women to continue with their academic learning, and to become skilled in agricultural techniques.
Yin has brought many positive changes to the lives of the local women, who in turn regard her as a family member.
With the support of the All-China Women's Federation (ACWF), which has built a special partnership with Zhangxian, another county in Gansu, in a paired-assistance, poverty-alleviation scheme, Yin in 2021 opened an edible fungi processing plant in the county, despite the shortage of construction materials and production equipment caused by the raging COVID-19 pandemic. The business venture has created more than 1,000 jobs for women in the county.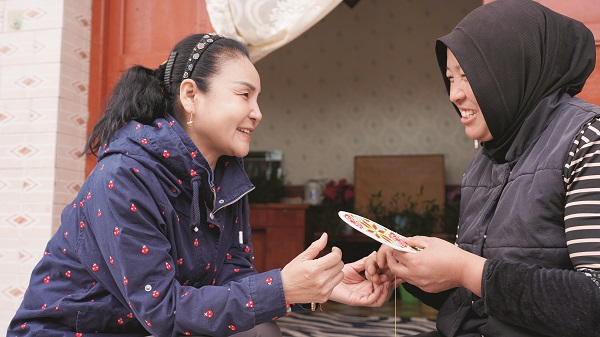 Giving Back to Society
In addition to promoting the economic development of underdeveloped areas in Gansu, Yin has been enthusiastically supporting and operating charitable events in recent years.
Ganping Elementary School is located deep in the mountains of Lintao County. In 2012, Yin donated chairs and desks to the school, and she provided 300,000 yuan (US $46,154) to rebuild several of the classrooms.
Since then, Yin has visited the school every semester, and she has delivered stationery, books and other learning resources to the students. She has also invited the students to visit Beijing, so they can broaden their horizons.
To date, Yin has supported more than 600 students. Many of those students now participate in various charitable affairs, to help in-need people.
Yin treats her employees like family members, and she helps them strengthen their sense of belonging — and happiness — in the workplace.
For instance, Yin often sends special gifts to children of her employees ahead of International Children's Day, and Yin enjoys sharing a festive meal with unmarried employees during Spring Festival, the traditional Chinese Lunar New Year.
In 2016, the Lanzhou Charity Federation set up a special fund in Yin's name, to help cover the costs of children's tuition, medical treatments and other poverty-relief needs. During the past several years, Yin has contributed nearly 24 million yuan (US $3.69 million) to the fund.
Yin has received many high-profile awards and honorary titles — including the nation's Most Beautiful Women Striver, the National March 8th Red-Banner Pacesetter, the National Model Worker, the National Poverty Alleviation Award — in recent years, in recognition of her decades-long contributions to and sacrifices for social undertakings.
Yin attributes her achievements to the support of the Party, the Chinese Government and the people.
"The life of an entrepreneur will become more meaningful when he/she integrates the pursuit of personal dreams with the dedication to helping others and promoting social development," says Yin.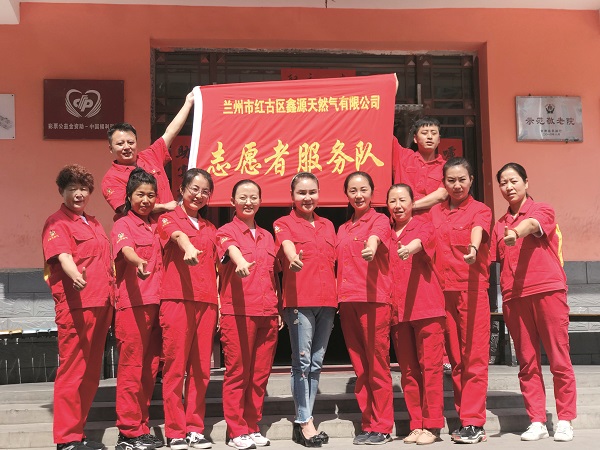 Photos Supplied by Yin Jianmin
(Women of China English Monthly May 2022 issue)
Please understand that womenofchina.cn,a non-profit, information-communication website, cannot reach every writer before using articles and images. For copyright issues, please contact us by emailing: website@womenofchina.cn. The articles published and opinions expressed on this website represent the opinions of writers and are not necessarily shared by womenofchina.cn.

Comments