Hoping for a World Without Illness
By
Yang Cheng and Ye Shan
July 25, 2022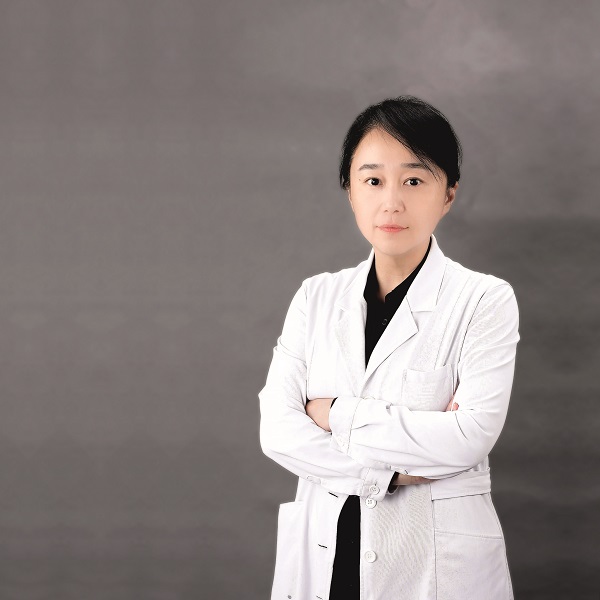 Tianjin Children's Hospital, in North China's Tianjin Municipality, has 141 years of history. The hospital's director, Liu Wei, is known for her dedication to research into rare diseases, her humanistic approach to care, and her ability to manage a children's hospital with a long history. In addition to concentrating on her work, Liu likes to draw, paint, read, write and listen to music. She has written several novels, which have won national-level awards.
Tianjin Centers for Disease Control and Prevention announced in mid-December, 2021, that it had discovered the Omicron coronavirus variant in genome sequencing of samples collected from an imported, asymptomatic COVID-19 (novel coronavirus disease) case that arrived in the city on December 9. It was the first case of the Omicron coronavirus variant reported on the Chinese mainland.
The medical team at Tianjin Children's Hospital, led by Liu, made remarkable contributions to the treatments and recoveries of Omicron-infected children. By May 17, the hospital had dispatched medical workers to support anti-epidemic efforts, including 124 people dispatched to several hospitals and/or quarantine venues in Tianjin, 140 people helping collect nucleic acid samples, 48 people helping with nucleic-acid testing, and 30 people dispatched to East China's Shanghai Municipality, to support the fight against COVID-19 there.
Liu personally wrote a letter to every worker who participated in the anti-epidemic fight. When someone's birthday or another anniversary arrived, Liu arranged her hospital's employees to take a cake to that person's home, to celebrate. She also prepared a special gift — a get-well-soon card and health-care books — for each young patient who had recovered from the disease.
'Healing, with Warmth'
As the world continues to cope with the Omicron variant, Liu reminds every medical worker, on the front line, to be vigilant and to protect him/herself against the disease. She says "healing, with warmth" requires her, as the head of a hospital, to care for and support her staff as much as possible.
Many of the young, Omicron-infected patients are preschool children. Their symptoms are mild. Liu tries to give those children some epidemic-prevention advice. "On behalf of my hospital, provide health-care books to those children. I congratulate them on winning a 'major battle' against the virus. I remind them to continue good habits, such as wearing face masks, keeping their hands clean, and maintaining a safe distance from others in daily gatherings," Liu says.
What's more, she believes, as a result of the anti-epidemic fight, the young patients have learned how to love and care about themselves and others. She hopes they will enhance their physical and mental strength, to deal with illness, and that they will better understand the meaning of perseverance.
Since its establishment, Tianjin Children's Hospital has developed into a hospital with comprehensive functions, including medical treatments, education and scientific research, disease prevention, health care, recovery and health administration. Working with her staff, Liu hopes to continue improving the hospital's quality and reputation.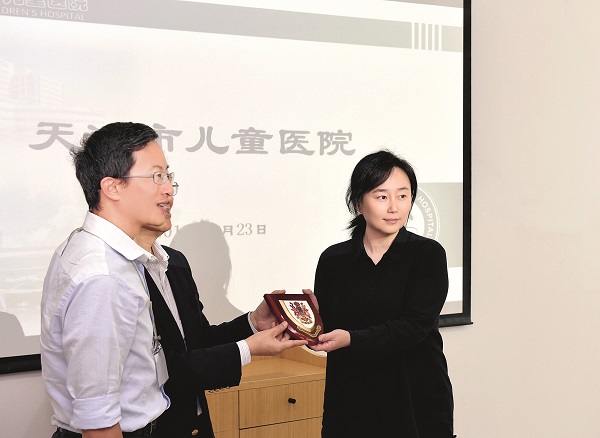 Liu Wei (R) presents a medal to representatives of a medical workers' delegation. The delegation visited Tianjin Children's Hospital on September 23, 2019.
Hobbies
Liu graduated from Tianjin Medical University in 1995. She worked as a physician and department head at Tianjin Children's Hospital from 1995 to 2010, and then she was promoted to be a department head with the Tianjin Health Commission, where she worked from 2010 to 2018. She was named director of Tianjin Children's Hospital in 2018.
In addition to her work-related achievements, Liu is fond of reading, writing, drawing, painting and listening to music. She has written three novels — The Last 24 hours, Children's Wards, and Wind and Dust on the Medical Road — that have been published. Liu says her hobbies support her career development. For example, drawing and painting help her better understand how various pathogens impact the human body. Reading, writing and listening to music offer her different ways to relieve pressure, express her emotions and deepen her understanding of life and death.
As the head of a hospital, Liu has opportunities to help other medical workers to concentrate on providing services to patients. Being a doctor, who specializes in children's diseases, Liu heals children, and she enables them to embrace life with good health. Her enthusiasm for writing gives her the drive to have books published and help guide parents take care of their children's health.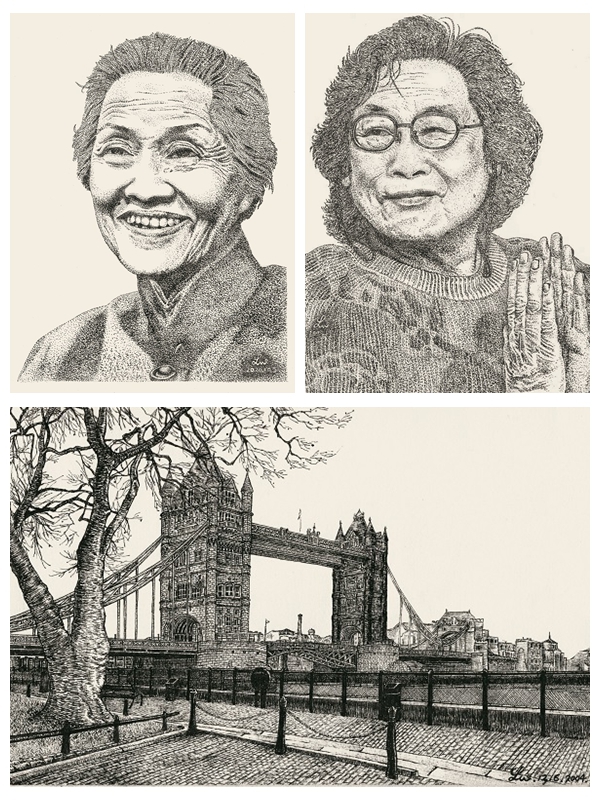 Liu Wei's drawings, with pen and ink, of Lin Qiaozhi (L, upper row), China's famous obstetrician and gynecologist, and Tu Youyou (R, upper row), a Nobel Prize winner. Also seen is Liu's drawing of Tower Bridge, in London.
'Love Is Never Rare'
Like countless medical workers, Liu hardly divides the time she spends on work from the time she spends with family. Work occupies a considerable part of her daily life. She is grateful for the understanding and support she always receives from her husband and her parents.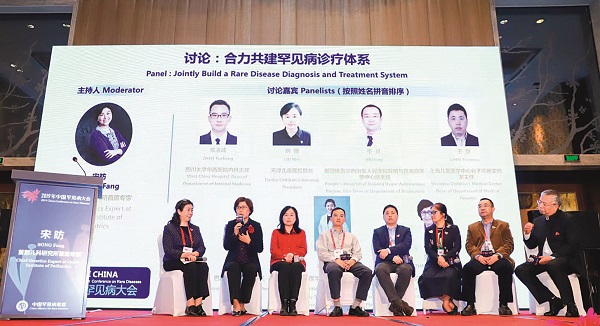 Liu Wei (3rd, L) attends a panel discussion, "Jointly Build a Rare Disease Diagnosis and Treatment System." The event took place during the 2019 China Conference on Rare Diseases.
Liu is currently focused on her research into children's rare diseases. On January 18 this year, Tianjin Children's Hospital provided timely treatment to a child who suffered from pompe disease. Pompe disease is a rare lysosomal storage disease caused by deficiency of the lysosomal acid α-glucosidase (GAA). It is characterized by glycogen accumulation, which triggers severe secondary cellular damage and results in progressive motor handicap and premature death.
Tianjin Children's Hospital became a key member of Tianjin's rare-disease-treatment organization in 2019. That same year, the hospital established its rare diseases medical center. The next year, the hospital took the lead in researching lysosomal storage disorders. Last year, Liu led her staff in compiling a book, Diagnosis, Treatment and Management of Rare Diseases in Children. This year, the hospital will establish a standardized clinical-resource database.
Based on the 121 rare diseases listed in China's first catalogue of rare diseases (released to the public in 2018), the book compiled by Tianjin Children's Hospital explains, in great detail, 106 of the rare diseases that afflict children. For each disease, the book lists its clinical manifestations, diagnosis standards, treatment methods, transfer-treatment key points and management skills. The hospital invited experts, from relevant fields, to fact check the content of the book before publication. Case studies are included in the book, to help readers understand clinical treatments.
Liu drew illustrations for each rare disease introduced in the book. "I hope this book is like a golden key, which opens a 'mysterious gate' for our readers, so they have a shortcut to understanding the many secrets of children's rare diseases. The book answers various questions our readers have. Meanwhile, it provides reference materials to medical workers, from pediatric departments, and helps them acquire knowledge and skills in a rapid way," Liu says.
While designing the book's cover, Liu drew a wing of a Teinopalpus aureus — a rare species of butterfly, and the only national first-class protected butterfly in China. Why did she draw such an image on the cover? "Rare diseases are generally difficult to be diagnosed and cured. We cherish every patient. It is very important that we have doctors who are able to diagnose rare diseases correctly, and timely. I hope Diagnosis, Treatment and Management of Rare Diseases in Children will be like a Teinopalpus aureus, a rare species of butterfly that reminds us to show love and care to our patients. We must believe that love is never rare," Liu concludes.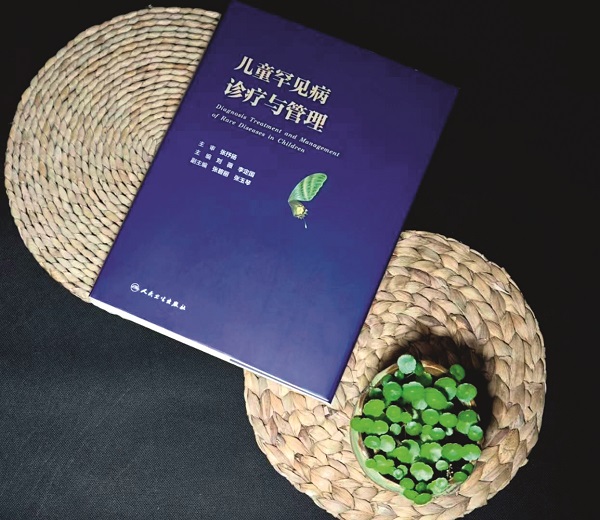 Cover of the book, Diagnosis, Treatment and Management of Rare Diseases in Children, has the image of a Teinopalpus aureus' wing. The image was drawn by Liu Wei.
Photos Supplied by Yu Bona, Xu Jing and Tianjin Children's Hospital
(Women of China English Monthly June 2022 issue)
Please understand that womenofchina.cn,a non-profit, information-communication website, cannot reach every writer before using articles and images. For copyright issues, please contact us by emailing: website@womenofchina.cn. The articles published and opinions expressed on this website represent the opinions of writers and are not necessarily shared by womenofchina.cn.

Comments