Chinese Woman Reaches Peak of Neuroscience Research
By
Xie Lin
September 9, 2022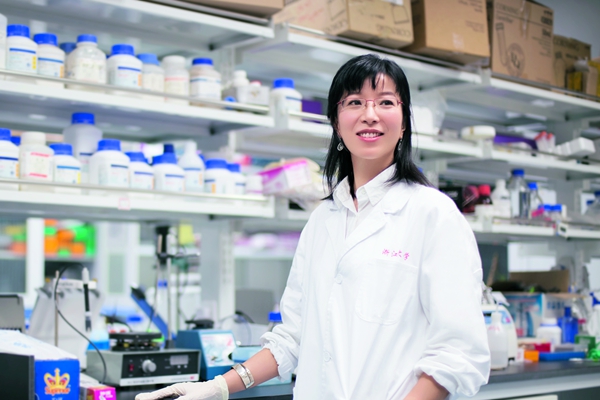 Hu Hailan, executive director of the Neuroscience Center of Zhejiang University, and four other women received the 2022 L'Oreal-UNESCO For Women in Science Awards for their ground-breaking discoveries. The award ceremony was held at the headquarters of the United Nations Educational, Scientific and Cultural Organization (UNESCO), in Paris, on June 23. UNESCO announced Hu received her award "for her major discoveries in neuroscience, in particular her work on depression, which has informed the development of next generation drugs for depression."
Hu, a professor and Ph.D. supervisor at Zhejiang University's School of Medicine, became the seventh Chinese recipient — and one of the youngest global winners — of the award. Established by UNESCO and the Foundation L'Oréal in 1998, the award has been presented annually to five outstanding women scientists in recognition of their tremendous contributions to scientific progress.
"Although the brain nerve has always been a mystery, I firmly believe mankind will eventually find solutions to help patients with mental illness overcome their suffering one day … on the basis of improved understanding and cognition of the neutral mechanism behind mental diseases," Hu said in her remarks after receiving the award.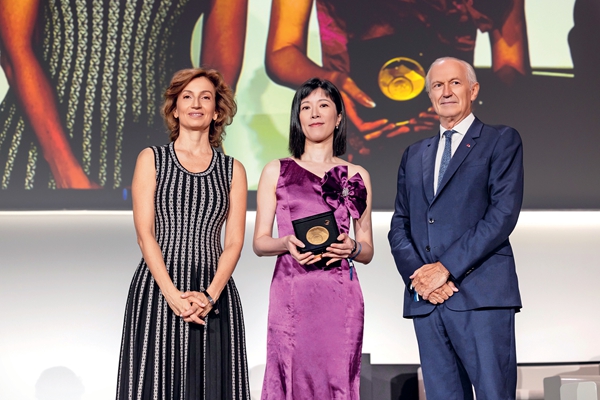 Interest in Neurobiology
Hu was born in Hangzhou, capital of East China's Zhejiang Province, in 1973. She spent six years in Hangzhou No. 2 Middle School, where she began to develop an interest in scientific research under the encouragement of several teachers.
Back then, Hu was one of the best-performing students in mathematics and physics; in fact, given her outstanding performance in a national physics competition, she received admission to the Department of Biology at Peking University in 1991 without having to write the national college-entrance examination.
While a student at Peking University, Hu fell in love with neural science as she was reading a book, From Neuron to Brain. She learned that the brain's signals are transmitted in electrical form, and they can be observed, recorded and transformed.
Hu moved to the US, where she completed her Ph.D. studies in neurobiology at University of California, Berkeley, after she graduated from Peking University in 1996.
In 2002, after she received her Ph.D., Hu began her career as a scientist in a laboratory at the University of Virginia. Two years later, she went to the Cold Spring Harbor Laboratory, in New York, where she spent the next four years completing postdoctoral studies.
At that time, Hu was determined to focus her research on neural biology, because she believed the disciplines of biology and neural science — which she considered mysterious and challenging — would become increasingly prominent in the 21st century.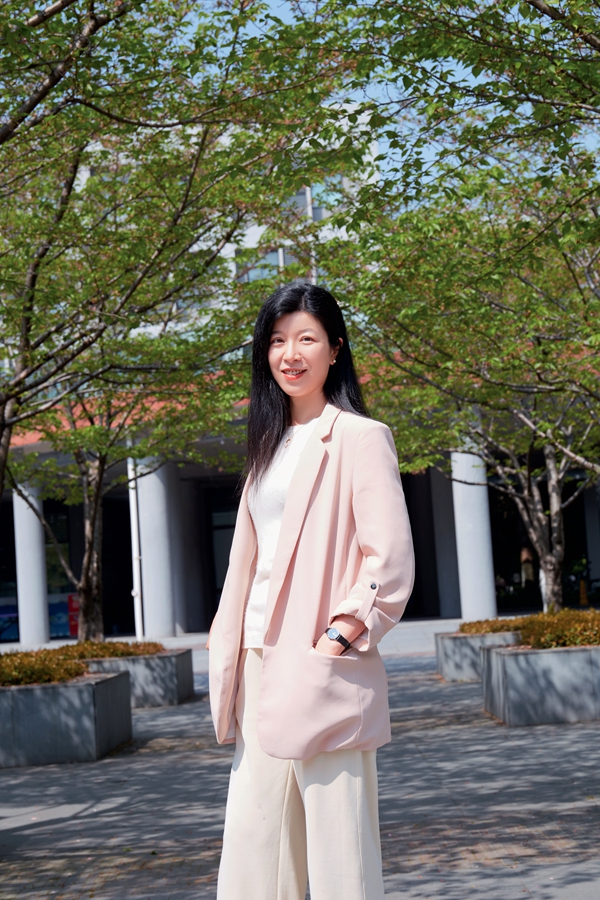 Committed to Personal Dreams
In December 2008, Hu returned to China to become Ph.D. supervisor and head of a group of researchers, studying neuronal circuit and behavioral plasticity, with the Institute of Neuroscience under the Chinese Academy of Sciences (CAS).
She returned to Hangzhou and joined Zhejiang University in 2015. Her laboratory has brought together many young aspirants — associate professors, lecturers, postdoctoral fellows, and postgraduate students.
Hu once said, during a lecture, it is relatively easy for people to locate a niche for their scientific research, and they have sufficient time to collect reliable data and verify personal findings in the early days of their own laboratory.
Hu's team is currently researching the mechanism of neural coding in mankind's normal moods, the neuronal circuit and molecular mechanism in abnormal moods (depression), and the neuronal circuit mechanism of social competition.
Hu and her teammates have adopted multilayer research methods — in the fields of electro-physiology, optogenetics, and cellular and molecular biology — to promote their scientific studies and findings in humans' emotions and social behavior.
Hu says more than 70 percent of her time in the laboratory is spent on trial and error. Therefore, she advises other researchers to adjust their pace and remain committed to their personal dreams, even if they are alone and don't know where the finish line is before making scientific breakthroughs.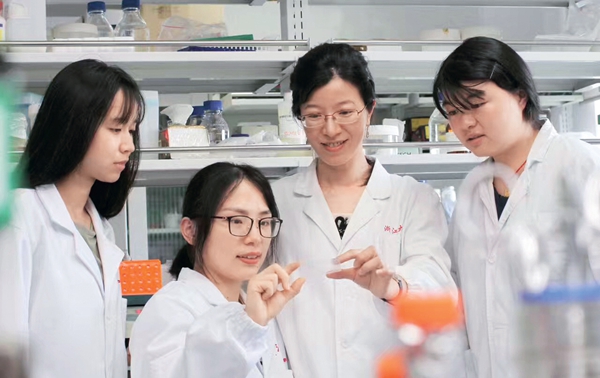 Supporting Teammates
"I have met many genius scientists who work hard in their fields. However, it is rare to find a genius without perseverance. Therefore, it is important for people to make great efforts in their scientific research, because sometimes a genius can be transformed from hard work," Hu once told a student, who had asked her whether talent or perseverance comes first.
Many of Hu's former students have found jobs in leading universities and/or research institutes, and many have even set up their own research teams.
One graduate student, working in Hu's laboratory, says she is most impressed by Hu's perseverance, attitude toward science, eagerness to learn new knowledge, and adherence to self-discipline. The student also says Hu has provided her with encouragement and confidence, and that has helped her find her path to pursue her personal dreams.
Shining on International Stage
During the past decade, Hu has received many domestic and international awards, and she has published influential papers (that highlight her scientific findings) in prestigious international journals.
For instance, she received financial support from the National Science Fund for Distinguished Young Scholars, in 2012, the Meiji Life Science Award, in 2013, and the Outstanding Academic Supervisors Award (from CAS) four times.
Hu was invited to write a review on scientific progress for Trends in Neurosciences in 2015, and she had two research articles published (in collaboration with her teammates) in Nature journal in 2018.
In 2019, Hu received the 12th IBRO-Kemali International Prize for Research in the field of Basic and Clinical Neurosciences. The IBRO-Kemali Foundation Prize Committee said in a statement that Hu was selected in recognition of her impressive work on the fundamental neurobiological mechanisms of emotional and affective behaviors.
It was the first time the prize (established in 1998) was awarded to a scientist outside of Europe and North America. The prize is awarded every two years to an outstanding researcher under the age of 45.
Earlier this year, Hu was named a National March 8th Red-Banner Pacesetter by the All-China Women's Federation (ACWF).
Science Needs Women
Hu said the trip to Paris (for the award ceremony) left a deep impression on her, because it provided her with valuable opportunities to meet and talk with other top women scientists, and to learn about the latest progress in their research.
"The world needs science, science needs women and science must be more and better open to women at critical moments in their careers," UNESCO Director-General Audrey Azoulay said, during her address at the award ceremony.
Edith Heard, a winner of the 2020 L'Oréal-UNESCO For Women in Science Awards, stressed the necessity of helping women participate in scientific research.
She noted women are still in the minority in the advanced sectors of the sciences, and she said that phenomenon deserves public attention. Heard added the world of sciences needs diversity and inclusiveness, and the inclusion of more women on scientific teams will make it possible to create better results, and for research to become more innovative.
Hu said being a scientist is the best profession, and that support from their home countries and their citizens has helped her and other women scientists chase their dreams.
Photos Supplied by Zhejiang University
(Women of China English Monthly August 2022 issue)
Please understand that womenofchina.cn,a non-profit, information-communication website, cannot reach every writer before using articles and images. For copyright issues, please contact us by emailing: website@womenofchina.cn. The articles published and opinions expressed on this website represent the opinions of writers and are not necessarily shared by womenofchina.cn.

Comments