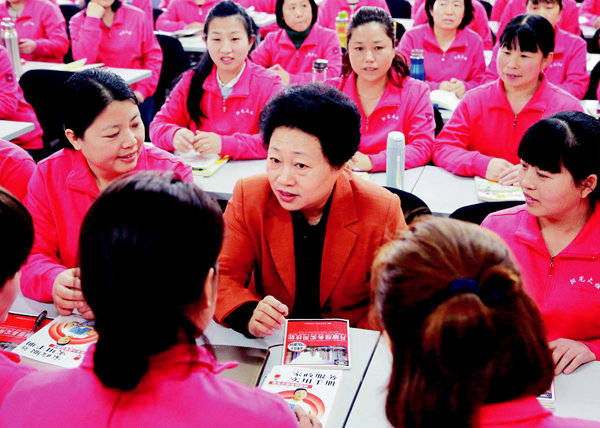 Zhuo Changli talks with domestic workers of Sunshine Sister, her domestic-service company. [For Women of China]
Zhuo Changli, who is in charge of the domestic-service company, Sunshine Sisters, in Jinan, East China's Shandong Province, has helped many domestic workers live better lives by providing quality services to customers. With more than 60,000 domestic workers, Sunshine Sisters has brought services to 2.15 million households.
In March 2018, Chinese President Xi Jinping participated in a panel discussion, attended by deputies from Shandong Province, during the first session of the 13th National People's Congress (NPC) in Beijing. Zhuo, as an NPC deputy, gave a brief report on the current situation and development of the domestic-service industry.
After listening to her report, Xi said housekeeping was a sunrise industry, and it played a significant role in providing jobs to migrant workers and catering to the needs of urban families, especially in terms of child and elderly care. Xi encouraged Zhuo to work hard in the industry, and to serve people in need.
"The President's words gave me a lot of confidence, and I was greatly inspired," Zhuo said. "I'm determined to do a better job in the housekeeping industry."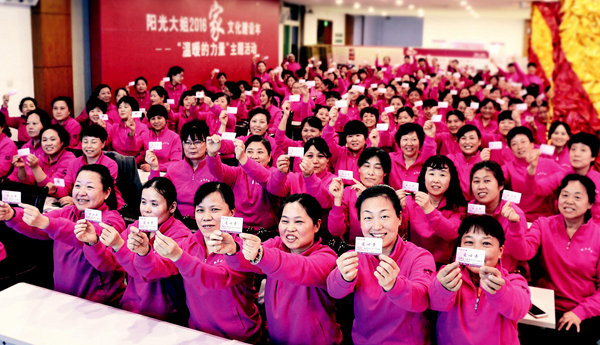 Some domestic workers of Sunshine Sister pose for a photo. [For Women of China]
Standardized Services
Zhuo began running a hotel, in Jinan, in the 1990s, after she was laid off. Under her leadership, the hotel expanded its business, and its employees improved their lives. Zhuo was honored as a model worker, in the province, for her success in managing the hotel.
In October 2001, Jinan Women's Federation established Sunshine Sisters, aimed at training laid-off and migrant workers, and college graduates, and aimed at helping them find jobs in the domestic-service industry. Two years later, Zhuo took charge of the company.
At that time, due to the lack of industry regulations, there were often customer complaints, and domestic workers were in low spirits, and such issues hindered the development of the industry.
To change the situation, Zhuo introduced an international-quality-management system to the industry. "Housekeeping should no longer be viewed as trivial jobs, like cooking, cleaning and babysitting," Zhuo said. "It should be transformed into a series of standardized services."
The management system regulates how domestic services should be provided. The standards cover small details in household services, such as how to slice a potato and how to fold a cleaning cloth. Thanks to standardized management, the satisfaction rate of customers has risen from 70 percent to more than 98 percent.
To date, the company has helped establish five national standards, nine provincial standards and more than 1,140 corporate standards.
Sunshine Sisters has more than 60,000 domestic workers, and more than 200 chain organizations. It has trained about 340,000 domestic workers, and it has provided services to about 2.15 million households. Thirty-one services are provided in four sectors — maternal and child care, service for the aged, housework service and looking after patients in hospital.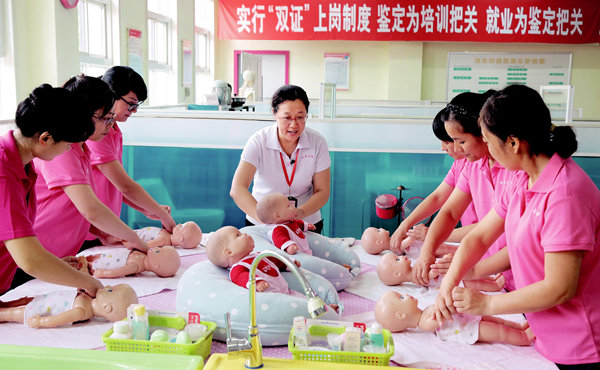 The company's employees receive baby care training, so they can offer professional and attentive domestic services. [For Women of China]
Bring Warmth to Families
"My biggest sense of achievement is that the laid-off workers and unemployed migrant workers have turned into highly skilled talents that are useful to society after they have received training from Sunshine Sisters," Zhuo said.
"People are at the core of the domestic-service industry. What we do is turn nannies into talents," she added.
Approximately 60 domestic workers from Sunshine Sisters have become chief technicians, or technicians with outstanding contributions, and they have received governmental subsidies. More than 6,000 domestic workers have acquired advanced-vocational-qualification certificates. Some of the employees have also participated in the formulation of industrial standards, the development of training courses and the compilation of teaching materials.
"Helping one person find a job, bringing warmth to two homes" has always been the mission of Sunshine Sisters. "It also embodies our corporate social responsibility. Employment and warmth are the two key words for Sunshine Sisters," Zhuo said.
"We not only provide training to our employees, so they can offer professional and attentive domestic services, we also care for their growth and help them out when they encounter difficulties. In addition, we care about the needs of our customers, and we pay attention to protecting the rights of both workers and consumers," she added.
Zhuo believes domestic service is a special industry. "The service providers enter the home of their employers, a private space. They pass their love and happiness to the family of the employers through their work," she said.
High-Tech Innovation
"A company cannot move forward without the power of technology. In the information era, we should have strong technological strength, and a strong capacity for innovation," Zhuo said.
Sunshine Sisters has cooperated with an electronic-technology company to develop a kind of domestic-service robot. "Providing customized and intelligent services is our future development direction," Zhuo said.
Based on the Internet and big-data technology, Sunshine Sisters has established an information- and integrity-management platform to ensure customers have a thorough and real-time understanding of the domestic workers.
On August 27, 2019, the company was listed by the Ministry of Education as the only housekeeping company in China that has the qualification to evaluate vocational education and training. It is qualified to issue the maternal and child care vocational-skills certificate.
"I am full of confidence in the future development of China's homemaking industry. Sunshine Sisters will make more efforts to perform better in this sunrise industry," Zhuo said.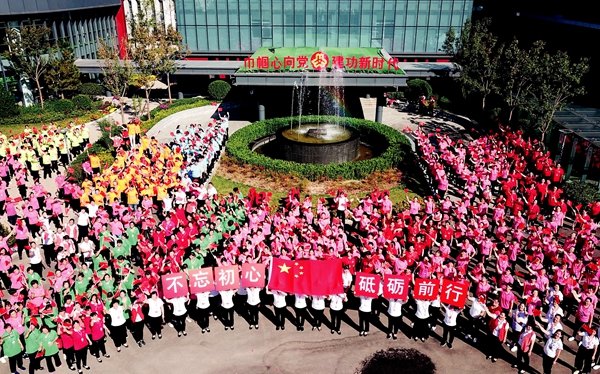 Domestic workers of Sunshine Sister pose for a photo. [For Women of China]
(Women of China)