Herbs, Hotels and Home Cooking Raise Rural Residents' Incomes
By
Hou Liqiang
September 14, 2020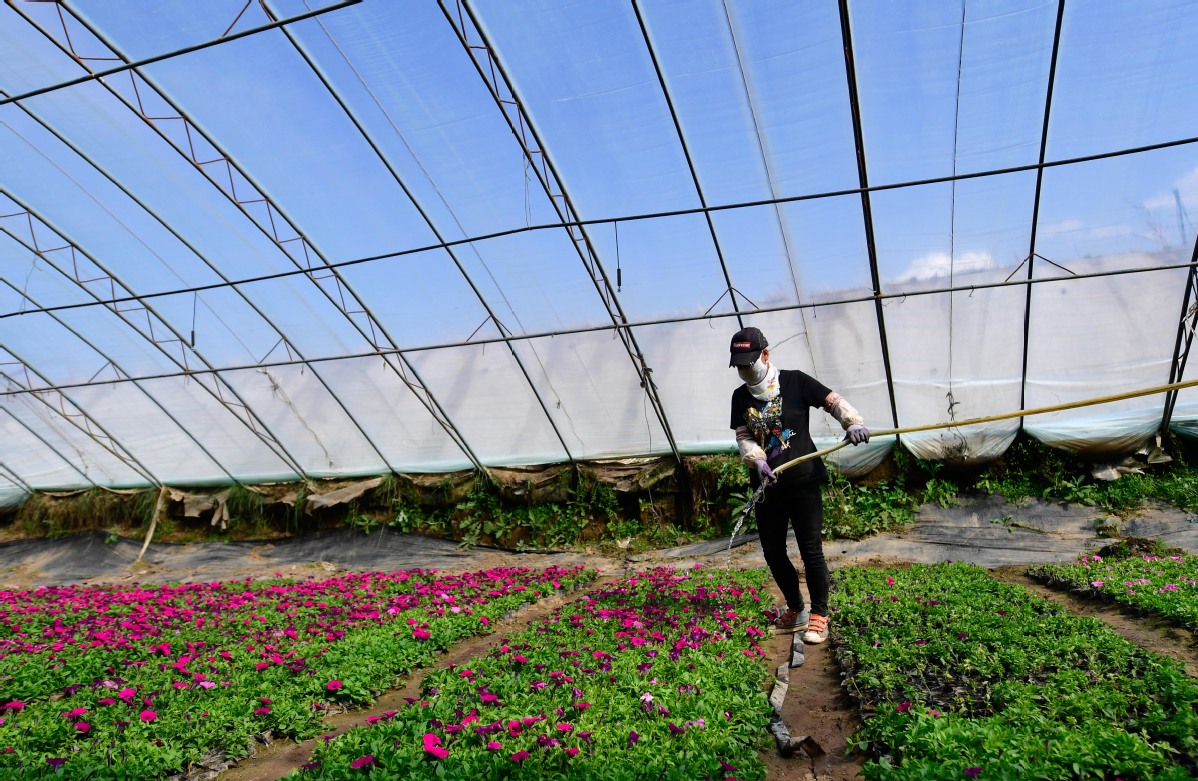 A flower grower waters plants in a greenhouse in Datong Hui and Tu Autonomous County, Qinghai Province, in May, 2020. [Xinhua]
As President Xi Jinping has stated, "Lucid waters and lush mountains are invaluable assets."
The quality of the local environment has helped Shuobei, a township in Datong Hui and Tu Autonomous County, Qinghai Province, move closer to building a moderately prosperous society in all respects by the end of the year.
By developing herb cultivation and rural tourism, many people in the township, located near Xining, Qinghai's capital, have been lifted out of poverty and some now lead relatively prosperous lives.
Thick forests cover the mountains, white clouds dot the blue sky and streams gurgle through the valleys. Occasionally, slogans printed on red boards come into sight as one drives through the mountains.
"Protect the environment like you protect your lives. Treat the environment as if it were your eyes," one of them reads.
The county's forestry coverage rate is 43.3 percent. For years, however, local people did not benefit from the high-quality environment.
Things have now changed. The beautiful scenery, fresh air and hospitable locals are attracting large numbers of tourists, especially during summer.
Zhao Wenke was one of 108 people from 36 families included in the national list of poverty-stricken residents in the township's Dongzhigou Village. Meat was once a luxury for the 39-year-old's family of six, including his two sons who are 14 and 8.
When his oldest son was almost 2, the boy told his grandfather that he wanted to eat some meat. The family was so poor that the senior could only provide a piece of pork smaller than a man's palm, Zhao recalled.
"Now, if you open my fridge, there are different types of meat, including beef and lamb. We can eat meat anytime we want," he said.
Zhao dropped out of school when he was 15 as his mother had rheumatoid arthritis and his father was recovering from a stroke.
After helping on the family farm, he left home to find a job as a migrant worker. "I could hardly make enough to cover my parents 'medical fees," he said.
Improvements
The family's finances changed in 2016. Using a local government subsidy of about 30,000 yuan and savings of 9400 yuan, Zhao bought a small truck and started buying vegetables to sell at markets.
The business was successful. He earned 50,000 yuan that year, which meant he could remove his family from the poverty list.
That was only the beginning as the local government brought in more industries to help residents lead better lives.
In 2017, with the help of the local government, Zhao began growing the herb angelica sinensis, a type of ginseng, making 48,000 yuan from the business that year. Meanwhile, his wife became a cook after attending training classes organized by the local government to help local families start homestays to serve the rising number of tourists.
Li Yingren, Party chief of Dongzhigou, said the government began to promote cultivation of angelica sinensis in 2015. That year, the 79 families who decided to plant the herb were each offered free seedlings worth 24,000 yuan.
They were also given training before they planted and experts offered regular guidance, Li said.
He added that the local government promised a minimum purchasing price of 8 yuan per kilogram.
While expanding their herb cultivation area, Zhao's family started a restaurant in 2018 to employ his wife's cooking skills.
He has hired three local people to work in the restaurant, which can seat more than 100 people, and earns over 100,000 yuan ($14,633) a year from the eatery.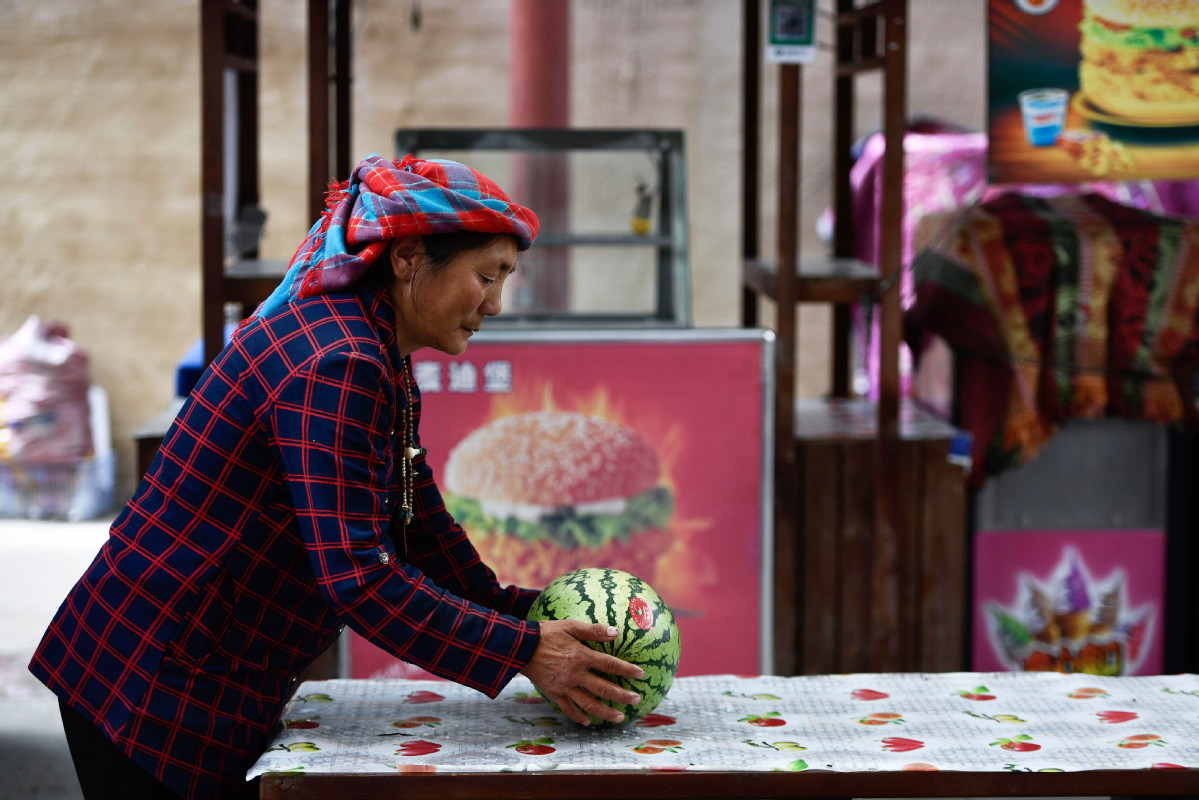 A resident prepares to cut a watermelon for tourists in Deji Village, Jainca County, Qinghai, on Aug 11, 2020. [Xinhua]
Tourism
Bai Chenghua, a 40-something Xining native, visited Dongzhigou last month with more than 20 relatives and friends after a strong recommendation from a friend.
"I was lured by my friend's description of the area as having a pleasant environment, fresh, high-quality food and hospitable people," she said. "I am excited and happy to be here."
Everyone in the village was taken off the poverty list by the end of 2016, thanks to the development of herb cultivation and tourism.
Dongzhigou is just a microcosm of the business development in Shuobei that has helped many local people lead better lives.
According to the township government, 72 percent of its more than 19,000 population used to live in poverty.
Now, none of the residents is impoverished.
In 2017, the Datong government invested over 140 million yuan to help develop tourism in an area covering 10 of Shuobei's 19 villages.
After the local infrastructure improved thanks to the investment, 70 households started restaurants and another 15 opened hotels, it said.
Tourism has helped 765 people take themselves off the poverty list as their incomes keep rising.
Last year, tourism helped the 10 villages earn combined income of almost 1.1 million yuan, the government said.
Zhao said he had looked forward to seeing his sons grow up so they could go outside and make money with him as migrant workers.
Now, he hopes they will enjoy a good education and he never worries about what they will do in the future.
"I make more money in one day than I made in one month as a migrant worker," he said.
"I am satisfied with my life. Before, I never dared imagine I could ever lead such a good life."
(Source: China Daily)
Please understand that womenofchina.cn,a non-profit, information-communication website, cannot reach every writer before using articles and images. For copyright issues, please contact us by emailing: website@womenofchina.cn. The articles published and opinions expressed on this website represent the opinions of writers and are not necessarily shared by womenofchina.cn.

Comments