Anti-Poverty Work Makes Life-Changing Progress on High
By
Palden Nyima
September 1, 2020
Editor's note: With China set to meet its goal this year of eliminating extreme poverty before next year's 100th anniversary of the founding of the Communist Party of China, this series looks at the efforts of different areas of the country to erase poverty and improve livelihoods.
Major Investments in Infrastructure, Industry Help Lift Tibetan Communities
Fresh water supply used to be a major concern for Tibetan villager Migmar.
She had to travel once every two days on a tractor for a 40-minute round trip on rough terrain to haul the precious resource home. Taking showers and doing laundry were a luxury for the community leader and her fellow villagers in Saga County in Southwest China's Tibet Autonomous Region.
Fast forward three years, Layak village, which is 180 kilometers away from Saga County in the southwestern part of Tibet, now have taps that readily provide potable water at the "top of the world".
"Our village had no proper roads or safe drinking water before 2016. But now, all the families have access to tap water and the village is connected by paved roads," said Migmar, 49, director of the village.
The roads and pipelines have helped lay the groundwork to improve the villagers' lives significantly, with their village, one of the latest places to benefit from the country's drive to alleviate poverty in recent years.
Measures to boost the income of villagers by helping their transition from traditional herding and farming have also reaped encouraging rewards, Migmar said.
"To make the shift, village officials organized a great deal of training for the residents to help them learn different skills such as cooking, welding and driving excavators and loaders. That has also helped villagers change their views on work and income."
Tibet has been one of China's main battlefields against poverty ever since the central government launched a nationwide effort in 2016 to improve the lives of the poor.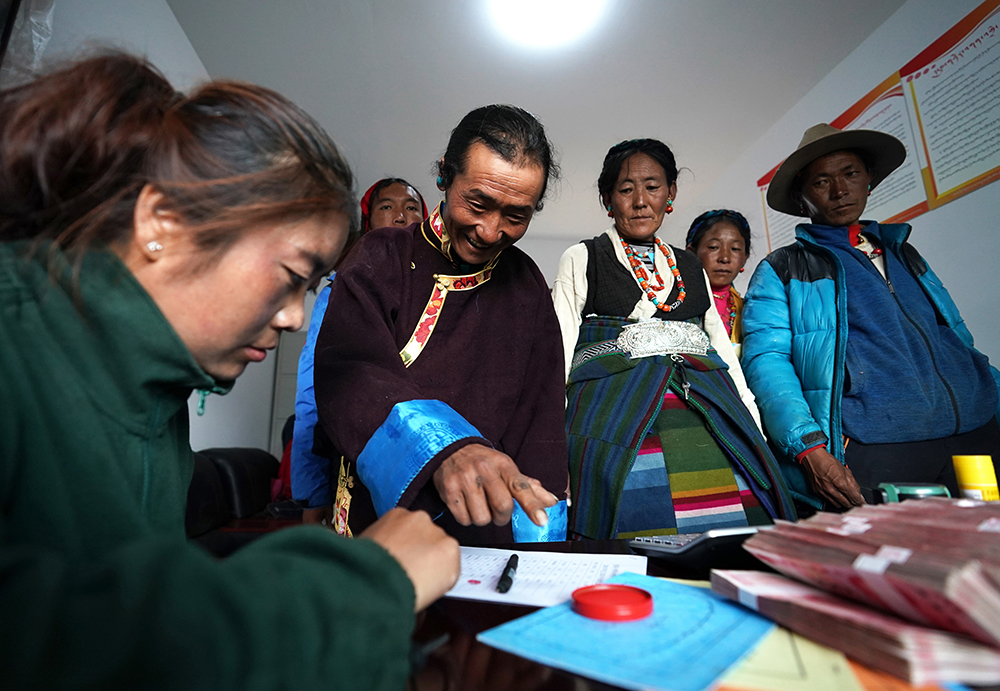 A herdsman receives his salary from the village animal husbandry collective in Bangbug, Tibet Autonomous Region, in July. [Xinhua/Zhan Yan]
Major Milestone
Last year marked a major milestone in the region's poverty alleviation push, with its Party committees and governments at all levels marking progress in the key priority.
Pu Zhengxue, head of the Policy and Regulations Department of Tibet's Leading Group Office of Poverty Alleviation, said that the region's 628,000 impoverished people from its 74 counties and districts have since been lifted out of poverty.
"To date, the region's 150,000 impoverished people in 19 areas had completed all the necessary work for poverty alleviation," Pu said.
Dadron Lhazom, an e-commerce entrepreneur in the region's Namling County, one of the last 19 areas to rid its poverty label in 2019, said she has been receiving various forms of support from the government. Her business also helps needy residents of her county work toward a better life.
Established in 2018, Dadron's company sells Tibetan ethnic handicrafts and local specialties such as Tibetan carpets, cushions, blankets, honey, leather bags, and incense.
The entrepreneur has a production line based in her home village in the county's Dana Township. The workshop has 12 local employees, including five from impoverished families, and two college graduates.
Her company sells products all over the country via the Taobao e-commerce platform. It also operates a business account on social media platform Douyin.
In 2019, Dadron's company reaped more than 420,000 yuan ($59,254) in accumulated income.
Role Model
The local county government has held up her business as a model for the county's poverty alleviation efforts. Last year, with help from the government, a store selling her locally made products was set up at the county seat and the rent waived.
"Without the support of the government, my family and my friends, I could not have gone as far as I have. I feel grateful to all of them, especially the county government," Dadron said.
She plans to expand her business to benefit more fellow villagers. "I hope to encourage more villagers to learn skills to make carpets, tapestries and blankets. I hope more college graduates get involved in entrepreneurship and e-commerce," she said.
The regional authorities have also focused on moving communities to better homes to improve their lives.
A total investment of 18.92 billion yuan has been allocated to the effort, with more than 260,000 people moving into new homes in the past three years, accounting for more than 98 percent of the targeted population.
Samdrub Tsering, a villager of Kyilung in Namling County, said the new homes have allowed his community to benefit from modern amenities and technology.
Before moving in 2016, his fellow villagers faced a harsh environment, with the average altitude above 4,100 meters. Medical treatment, transportation and schools were inadequate, he said.
"Before 2016, I did not know that a mother could get subsidies and support when giving birth in a hospital. I did not know it could be safer for both mother and child," Samdrub Tsering said.
The township center also used to be inaccessible for many villagers, with the nearest household about 10 km away. Some families were 200 km from town, with no telecommunication networks available. Road conditions were terrible, he said.
Thanks to the government's poverty alleviation measures, livelihoods have since improved tremendously over the years, Samdrub Tsering said.
"Before 2016, I did not plan to send my children to school because it was too far. I worried about their journey there," he said, adding that everyone now wanted to send their children to receive education "as early as possible".
In the past, villagers also had to ride horses and yaks to go to hospital or get supplies, but now "we can drive or take a bus, it takes only a few minutes", Samdrub Tsering said.
Similarly, information about the latest policies and job opportunities to help residents move ahead are readily available in their new neighborhoods, a far cry from the remote, mountainous areas of the past, he said.
Free Vocational Training
"Local government of Shigatse City provides free vocational training programs to us as a poverty alleviation project. We can learn different, useful skills; those that will help us get jobs, from cooking, tailoring, to construction."
According to Samdrub Tsering, three of his villagers who took two 60-day cooking courses, opened restaurants in the Namling County in 2018.
"Over the years, their annual family income is between 20,000 yuan and 40,000 yuan," said the 35-year-old.
Samdrub Tsering is learning to drive a truck at a driving school, and he has passed the first two levels' exams of the 4-level course.
"My plan is to get the truck driver's license as soon as possible, so that I can find a truck driver's job on a construction site. This way, I can get a better salary," Samdrub Tsering said.
(Source: China Daily)
Please understand that womenofchina.cn,a non-profit, information-communication website, cannot reach every writer before using articles and images. For copyright issues, please contact us by emailing: website@womenofchina.cn. The articles published and opinions expressed on this website represent the opinions of writers and are not necessarily shared by womenofchina.cn.

Comments