Villagers Prove Harsh Environment no Impediment to Transforming Lives
By
Cai Hong and Yang Jun
August 4, 2020
Editor's note: With China set to meet its goal this year of eliminating extreme poverty before next year's 100th anniversary of the founding of the Communist Party of China, this series looks at the efforts of different areas of the country to erase poverty and improve livelihoods.
In the year 2000, Li Tianliang, a farmer in Lengdong, a village in Qianxinan Buyei and Miao Autonomous Prefecture in Southwest China's Guizhou Province, hired eight strong men to carry his 180-kg pig to a market at the foot of the mountain.
He was hoping the pig would fetch him at least 1,200 yuan ($171). As the pig was bruised during the tough ride, it didn't get him the expected price. Li managed to get only 400 yuan.
The inaccessibility of the village, which is located deep in the mountains, made life difficult for the villagers.
The village, with an area of about 730 hectares, is home to several ethic groups such as Han, Miao, Buyei and Yi.
The villagers made a living through farming, livestock breeding or taking up jobs outside of the village.
After graduating from high school, Zhu Changguo left Lengdong to work in factories and construction sites.
In 1995, Zhu returned to the village and took the initiative to raise funds for building the infrastructure to supply electricity to every home in the village.
In 2001, he served as the Party head of Lengdong Village, encouraging villagers to build roads, cellars and reservoirs, to grow honeysuckles, a shrub with flowers that change from white to yellow and red berries, and to set up factories.
Responding to the call, the villagers worked hard, transforming the mountain slopes into paddy terraces. They also grew corn. A total of 53.3 hectares of land were brought under cultivation.
With villagers building a reservoir, 286 ponds and 386 cisterns, drinking water and managing of livestock was no longer an issue.
Guizhou is a region with a karst landscape, where the dissolving of the bedrock has created sinkholes, sinking streams, caves, springs and underground rivers. It's called a fragile zone because it is not suitable for habitation due to poor soil cover and rapid water loss.
About 73 percent of Guizhou's total area is made up of karst landscape. For this reason, it is called a "karst province."
Due to the extremely fragile environment and a large number of underground caves, it is difficult and expensive to build roads and highways in the region. Therefore, Guizhou had remained a "closed province" for a long time, and its development was affected.
Mounting Pressure
On the other hand, a large human population in the karst areas of Guizhou was putting pressure on the province's ecology.
As a result, Guizhou had long been one of the poorest provinces in the country.
Lengdong, with 505 households (1,962 people), is located in one of the karst areas. People from the village used to fetch water from caves that were 4 kilometers from the village. The water they used to wash their face was reused to wash their feet. It was again used to cook fodder for pigs.
Despite the poor soil cover, villagers managed to grow corn on the mountain slopes.
In 1976, each villager had less than 100 kg of grain. Their per capita income was less than 600 yuan in 2000.
In the 1980s and 1990s, the villagers moved to other places where they could grow grains to fill their stomachs. The local people felt the impoverished village could change for the better "if only the stones flowered."
All villages in the region, including Lengdong, sit on stone-covered mountains, where only bushes grow.
With young women marrying men outside of their village, some villages were full of poor bachelors whom no women wanted to wed.
At a conference held in 2010 to highlight the plight of Lengdong farmers who worked hard to improve their living conditions, Liao Fei, deputy Party head of Qianxinan Buyei and Miao Autonomous Prefecture, said: "It is possible to find ways to control rocky desertification (a process of land degradation characterized by soil erosion and bedrock exposure) when we are aware of what plants are suitable for the karst areas."
Honeysuckle and Dendrobium officinale, an orchid plant, were chosen to be grown in Lengdong and other villages in the karst areas, helping villagers to improve their sources of income.
It was found that honeysuckle grew well in these areas. Since the shrub has well-developed roots, it also helps conserve water, say experts.
According to some experiments conducted in Dewo, a town in the prefecture, one honeysuckle plant can conserve up to 200 liters of water. It also has branches and leaves that protect karst slopes against erosion.
Simple techniques and management are needed for its cultivation. While it is a low-cost species, it also has high value as one of the most important ingredients in the traditional Chinese medicine.
In 2003, Lengdong started growing honeysuckle on an area of about 133.3 hectares. In 2009, the villagers built factories to process the honeysuckle flowers, setting aside more land to grow honeysuckle and selling the seedlings to other villages.
The honeysuckle in Lengdong yielded an output that was worth 8.30 million yuan in 2019. The village also has a honeysuckle value chain, selling more value-added products.
A cooperative and some companies buy the honeysuckles that the farmers grow and sell them across China and in Southeast Asia.
In 2019, Shoucao Group, a Chinese company based in Xingyi, a county-level city administered by the prefecture, invested 3 million yuan in a 20-hectare garden to grow Dendrobium officinale, which is used as an ingredient in TCM.
People from the poverty-stricken families in the village were employed by the company to work in the garden. The company also ran a cooperative that trained villagers on how to grow Dendrobium officinale.
Lengdong was lifted out of poverty in 2019. Now, the villagers have a per capita annual income of more than 10,000 yuan from livestock breeding.
Guizhou has been one of China's main battlefields in poverty alleviation. In 2015, the province had a poverty-stricken population of 6.23 million, the highest among all provinces, representing 8.9 percent of the total population.
It had a poverty headcount ratio of 18 percent, higher than the national average by 10.8 percent.
Guizhou's poverty alleviation efforts are a fulfillment of China's goal of building a society that is moderately prosperous in all respects.
President Xi Jinping, determined to alleviate poverty in Guizhou, pointed out at a symposium with local Party leaders in 2015 that the success of poverty alleviation programs depended on whether targeted assistance can be provided to beneficiaries.
During the 19th National Congress of the Communist Party of China in October 2017, Xi joined a panel discussion with a delegation from Guizhou and directed officials from the province to stick to economic development and ecological protection to create a better future for the colorful Guizhou so that people are rich and ecosystems are beautiful.
First Centenary Goal
Xi said, "We must win the battle against poverty to achieve our first centenary goal. We have entered a countdown and can't afford to hesitate or slacken. It's time to launch a general offensive".
To fight poverty, Guizhou relocated people from inhospitable areas and improved the infrastructure facilities, including roads.
In 2015, Guizhou became the first province in Western China to extend expressways to every county. It went on to make every household in the rural areas accessible through country roads. In 2017, it completed the construction of roads connecting all villages in the province.
It is now committed to extending the roads to "unincorporated villages" by end of this year.
Water conservation is the lifeline of agriculture and access to safe drinking water is a fundamental requirement for poverty alleviation.
Guizhou has launched safe drinking water projects in the most underdeveloped areas so that all rural residents of the province can have access to safe drinking water.
In order to find new sources of water, Lengdong invited experts from provinces in East China, such as Fujian, Shandong and Zhejiang. But all these efforts failed. People from the village tried hard and ended up with one water source deep in the mountains.
Backed by experts, the villagers finally drilled a well up to a depth of 276 meters, which has provided water for people and livestock in Lendong and adjoining villages.
A total of 1.24 million rural residents of Guizhou cast off poverty in 2019, bringing down the poverty rate to 0.85 percent, the provincial government said.
Li Xinggang, 68, lived with his wife and three children in a 60-square-meter tile-roofed house in the village in 1985. He had to fetch water from a river that was 5 km from his home.
Farming was his mainstay, but it was at the mercy of the weather. Whatever he harvested could barely feed his family for six months. Li had to do odd jobs so he could buy foodgrains for the family.
"When hens laid eggs, we sold all of them and bought salt and grains," Li said.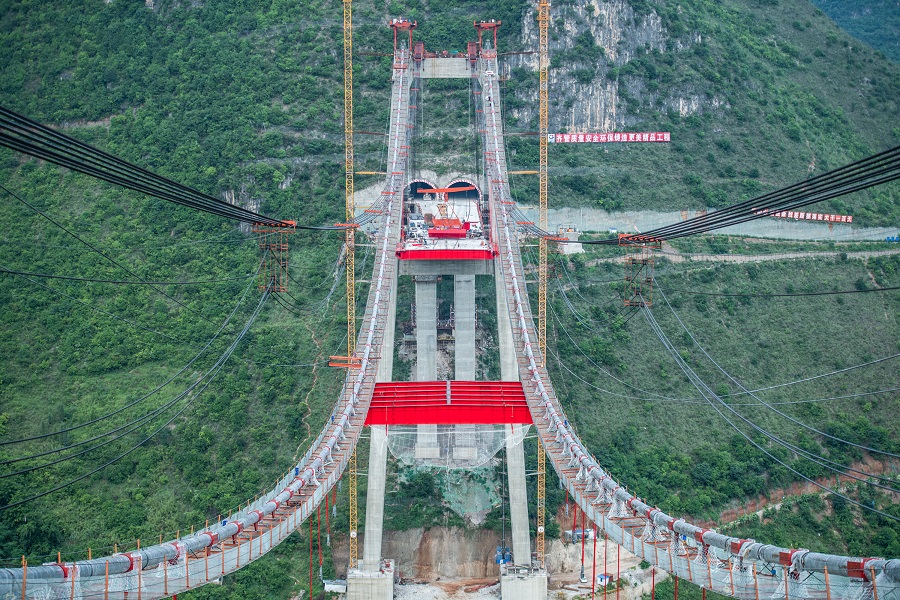 Workers are engaged in the construction of a bridge on an expressway in Xingyi, a county-level city in Guizhou Province, in June. [Xinhua/Tao Liang]
Tough Living Conditions
The tough living conditions forced the family to move to a farm more than 100 km away, where corn was grown on wasteland for 10 years that was sufficient to feed them for the whole year.
In 1996, Li learned that Lengdong had electricity and the villagers were using electrical appliances. He moved his family back to Lengdong.
"Thanks to a subsidy of 1,400 yuan from the local authorities, we built a cellar that is the source of our drinking water," Li added.
His family joined the village's campaign to improve the barren land. Now, the family has enough grain to eat besides a surplus for raising pigs.
In 2004, Li started to grow honeysuckle, which has become another source of income for the family.
"Now our life is getting much better," Li said with a smile.
(Source: China Daily)
Please understand that womenofchina.cn,a non-profit, information-communication website, cannot reach every writer before using articles and images. For copyright issues, please contact us by emailing: website@womenofchina.cn. The articles published and opinions expressed on this website represent the opinions of writers and are not necessarily shared by womenofchina.cn.

Comments