Coming out of Traditional Mold and Giving Life a New Beginning
By
Aybek Askhar and Mao Weihua
July 24, 2020
Women of Uygur Ethnic Group Embrace New Roles As Jobs Help Villagers Overcome Poverty

Editor's note: With China set to meet its goal this year of eliminating extreme poverty before next year's 100th anniversary of the founding of the Communist Party of China, this series looks at the efforts of different areas of the country to erase poverty and improve livelihoods.
Gulbahar Baykem, 26, who came from an impoverished village of Shule County in Kashgar of Northwest China's Xinjiang Uygur Autonomous Region, used to be a housewife who never left the family and the place where she grew up.
But in 2017, she began a new life, working with a guesthouse affiliated to a State-owned petrochemical company in Urumqi, the regional capital.
Gulbahar now earns about 2,100 yuan a month from her job, and she has also roped in her husband, who was offered the position of a security guard by her company.
The couple earn nearly 5,000 yuan a month together, and the woman who has freed herself from the traditional role as a housewife is planning to settle down in Urumqi with her husband.
Her experience is certainly not unusual in southern Xinjiang. According to figures from a major survey on Xinjiang women's social status, while about 70 percent of the women interviewees aged 18 to 64 held paying jobs, only 10 percent of them engaged in nonagricultural work.
Marhaba Wulayim, 25, also a Shule villager, dropped out of a high school seven years ago. She remembers drifting from job to job, all of them part time and unstable with minimal pay.
"It was difficult for me to hold a regular job with stable income. I spent a lot of time at home, doing housework. But, unlike a cleaner in a restaurant, I did not even get paid for washing the clothes or mopping the floor at home," said Marhaba, whose family could not make ends meet for years.
Increasing employment in the nonagricultural sector for those with similar experiences to Marhaba's is also one major indicator of achieving the Millennium Development Goals of the United Nations to help promote gender equality and empower women.
When President Xi Jinping last visited Xinjiang in 2014, he stressed that development remains key to addressing challenges in the region, with the aim of improving people's livelihood, benefiting local communities and enhancing unity among ethnic groups.
According to latest census figures, Xinjiang has a permanent population of about 21.8 million people. Southern Xinjiang, where most inhabitants are members of the Uygur ethnic group, holds 48 percent of the population.
To that effect, southern Xinjiang has been a focus of the country's poverty alleviation drive, with increased government funding and social resources.
According to the latest work report of the regional government in 2020, nearly 120 billion yuan ($17 billion) has been invested in Xinjiang from 19 provinces and municipalities, central and state organs, and State-owned enterprises since 2010, the year the central government launched a new round of assistance program to the region.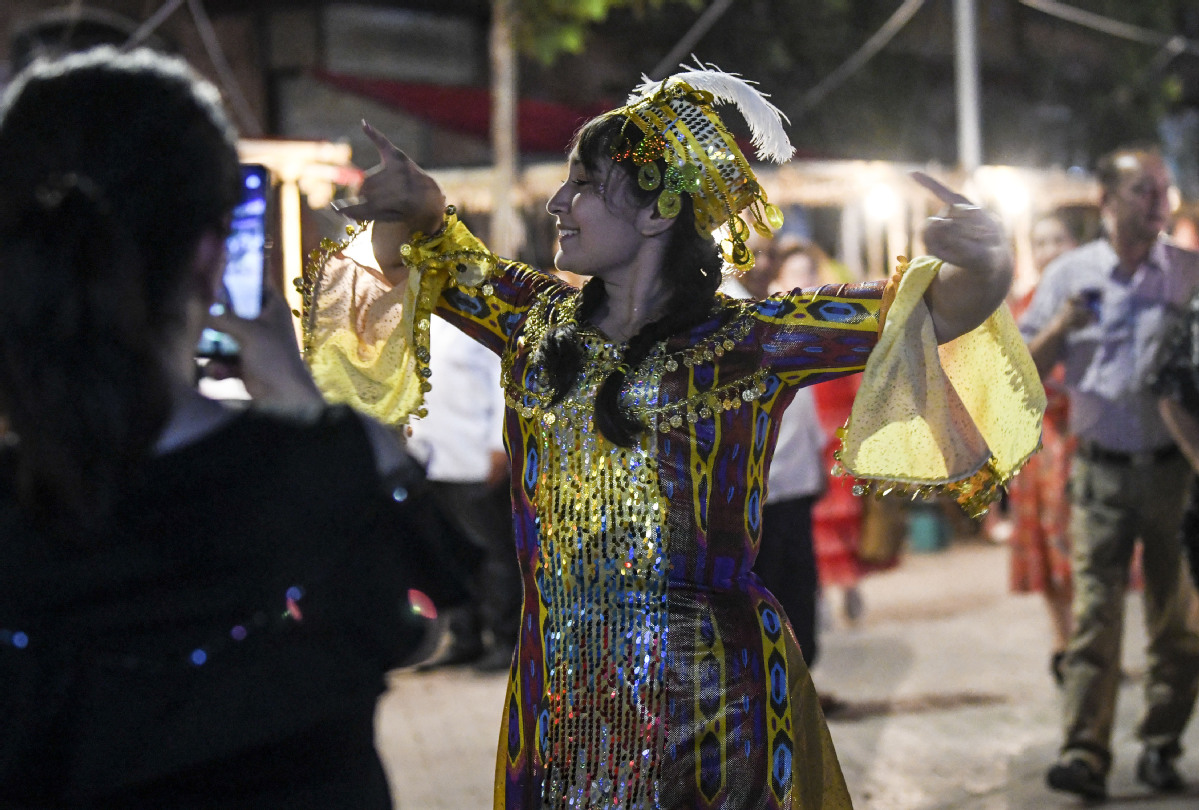 A girl in an ethnic costume dances at the night market in Kashgar on August 12, 2019. [Xinhua]
Offering Support
Employment-based poverty reduction measures include the promotion of tailored industries and relocation of impoverished villagers.
To better understand the situation and encourage employment at the grassroots, officials and employees from the regional government, public institutions and State-owned enterprises have been dispatched to the impoverished and remote areas in southern Xinjiang.
In June 2017, an assistance team from the Urumqi petrochemical company headed to Shule County. It was then that Gulbahar heard about its recruitment of staff in the regional capital.
"We have offered positions in the guesthouse or logistics department of our company. We have three-year contracts with more than 2,000 yuan in monthly pay, with contract renewals," said Zhang Yingjun, deputy head of the human resource department of the company.
Gulbahar said that while the job at the company was attractive and there was support from the team, the hardest part was persuading her "stubborn husband".
For many impoverished households in the south, men are the traditional breadwinners while women are expected to be solely mothers and wives.
"Male members of my family are quite conservative in their thinking and many women in my hometown are conditioned into doing housework. It is hard for them to imagine a woman with a paying job outside the home," Gulbahar said.
"He did not want me to work in Urumqi, he said the city is too far. He asked, 'how can a married woman leave her husband home to work outside?'," said Gulbahar, whose family lived more than 1,400 km from the regional capital.
Gulbahar said she could never bring herself to ask her husband for money. They barely made ends meet from farming.
When Gulbahar suggested getting work to help support the family, her husband would again point to the traditional role of a woman, to help the husband at home, she said.
"I understood his feelings. Maybe he wanted us to stay together, but I did not want my family to live in poverty. I need to work. So when the company came to my village, I turned to them," she said.
Gulbahar's parents were the first people to be convinced of her decision to work — company staff and local cadres came to their house, vouched for the job and presented samples of the contract and related certification. Accompanied by her parents, Gulbahar told her husband about her decision.
"This time, my parents endorsed my decision and persuaded my husband. He did not refuse directly. Without saying 'yes' or 'no', he finally acquiesced," Gulbahar said.
In Urumqi, Gulbahar's company provided staff with meals and accommodation so she sent much of her wages home.
Gulbahar's colleagues included about 100 people from impoverished villages in Shule and most of them were women. Eighty-three of the first 90 employees the company recruited in 2017, including Gulbahar, renewed contracts with the company this year.
When Gulbahar worked for the company's guesthouse, she also found out that the company was recruiting security guards and told her husband.
"He was surprised by the salary and working conditions, and more importantly, I think he realized something after receiving the money I sent to him every month. So in 2019, he came to Urumqi to work in our company," Gulbahar said.
"I hope we can save more money and buy an apartment in Urumqi. If we have children in the future, I want them to grow up and go to school in the city. I will do everything I can for my family to have a better life," Gulbahar said.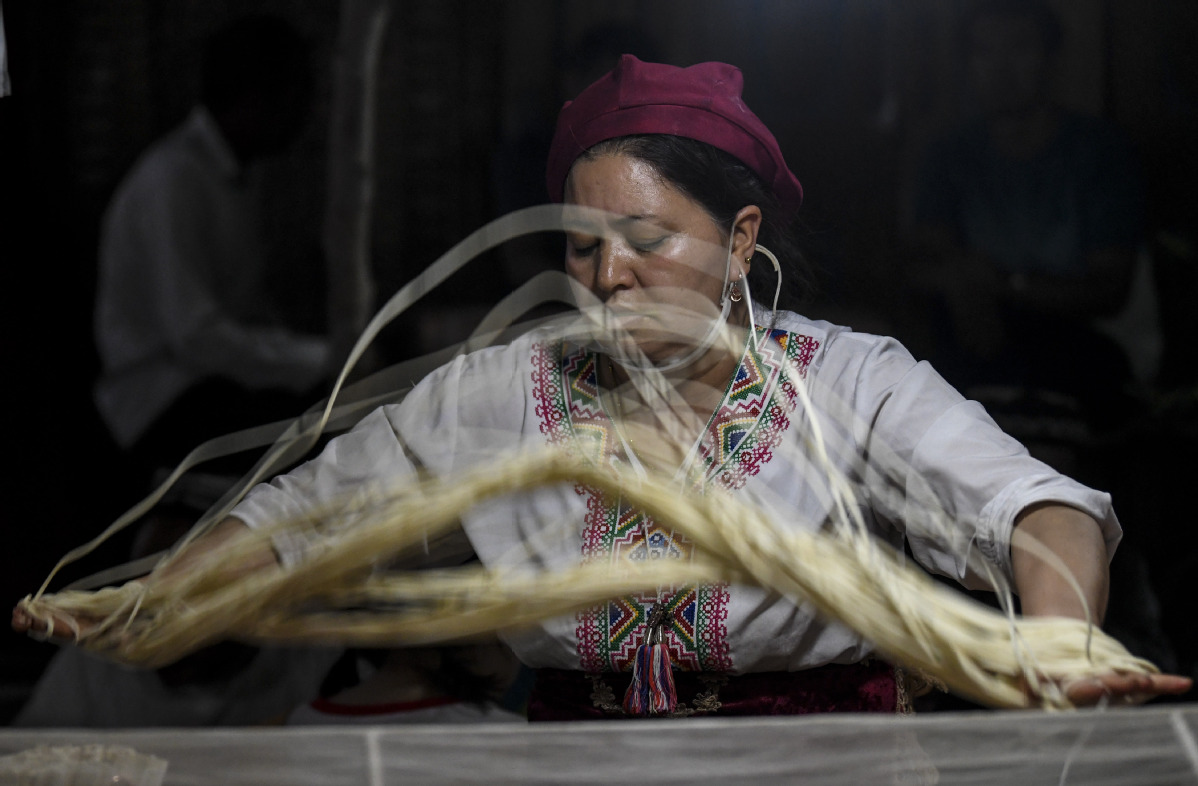 A chef makes noodles in front of a stall at the night market in Kashgar in August 2019. [Xinhua]
Improving Lives
According to the regional government, about 1.4 million women in Xinjiang have shaken off absolute poverty in the past five years. There are 165,800 people who are still living below the poverty line in the region and they are set to be lifted out of absolute poverty at the end of this year.
The central government also established an economic development zone in Kashgar at the first National Symposium on Work in Xinjiang in 2010. Since then, 18 billion yuan has been invested in building infrastructure facilities in the zone. More than 2,600 companies have moved to the zone, offering 12,000 jobs to those ranging from poverty-hit residents to young graduates.
Shule villager Marhaba Wulayim herself came across the recruitment notices put out by a newly opened village textile mill affiliated to a company in the zone, so she applied for the job through the internet and passed a subsequent interview in May 2017.
"Before I signed the contract, my father dissuaded me from the job, because he thought a 22-year-old woman should stay at home and wait for a man to marry her. I was pretty upset until several local cadres came to my house and convinced my father that I would be safe and earn more money in the mill," Marhaba said.
Like the 269 other female employees from the poverty-hit families in Shule who are working in the textile mill, Marhaba received pre-job training once she arrived at the mill. She learned how to use textile machines in Kashgar and now, after working in the mill for three years, she is able to earn more than 2,700 yuan a month.
"For me, the biggest change is not the salary but independence. I'm starting to dress up, buying some beautiful clothes through online shopping and, more importantly, I am about to marry a man who loves and respects me," Marhaba said.
Becoming Self-Reliant
More women in southern Xinjiang are gaining confidence and becoming more self-reliant, as they move from doing chores at home and other traditional roles toward paid work and improved lives.
Aynur Akhat, a 27-year-old from nearby Bahqi village, said she works from 10 am to 7 pm, Monday to Saturday, in the textile mill. She is single now, but if she finds a boyfriend he will have to adapt to her work schedule, Aynur said.
"Some of the women in my village were shocked when they heard that I plan to choose for myself someone among the men who may be pursuing me. I told them this is the result of self-reliance," Aynur said.
In July 2017, Aynur's neighbor told her that the mill was recruiting weavers. As a junior college graduate who also had work experience in the nursing department of a local hospital, Aynur was subsequently employed by the mill.
"We found Aynur to be smart and studious after she came here. After she worked at a workshop for two years, we sent her to Yinchuan, capital of the Ningxia Hui Autonomous Region, where we had a management training center. She stayed there for several months. We gave her a promotion, as head of the workshop, after she came back," mill manager Di Xiuhua said. "Now she is one of the best employees here."
Aynur earns a monthly salary of more than 3,500 yuan. Her family shook off poverty last year, and she gave her parents financial support when they had their house renovated. She said that though her parents want her to marry soon, she is not in a hurry.
"My job gives me a strong sense of fulfillment," Aynur said. "It has made me more self-reliant."
(Source: China Daily)
Please understand that womenofchina.cn,a non-profit, information-communication website, cannot reach every writer before using articles and images. For copyright issues, please contact us by emailing: website@womenofchina.cn. The articles published and opinions expressed on this website represent the opinions of writers and are not necessarily shared by womenofchina.cn.

Comments