Shanxi Lifts Villagers out of Poverty Through Poverty Relief Efforts
The recent poverty relief efforts by Shanxi Province include: make road networks access to rural villages, relocate rural residents to better housing, afforest barren lands with green trees, and stimulate employment by developing tourism. Without these, the province's many plateau and mountain villages would have remained impoverished due to lack of decent roads and arable lands, plus the ensuing loss of labour force and industrial diversity. By February 2020, a total of 7,993 villages in all of the 58 impoverished counties in Shanxi have shaken off poverty, with the incidence of poverty dropping to less than 0.1 percent.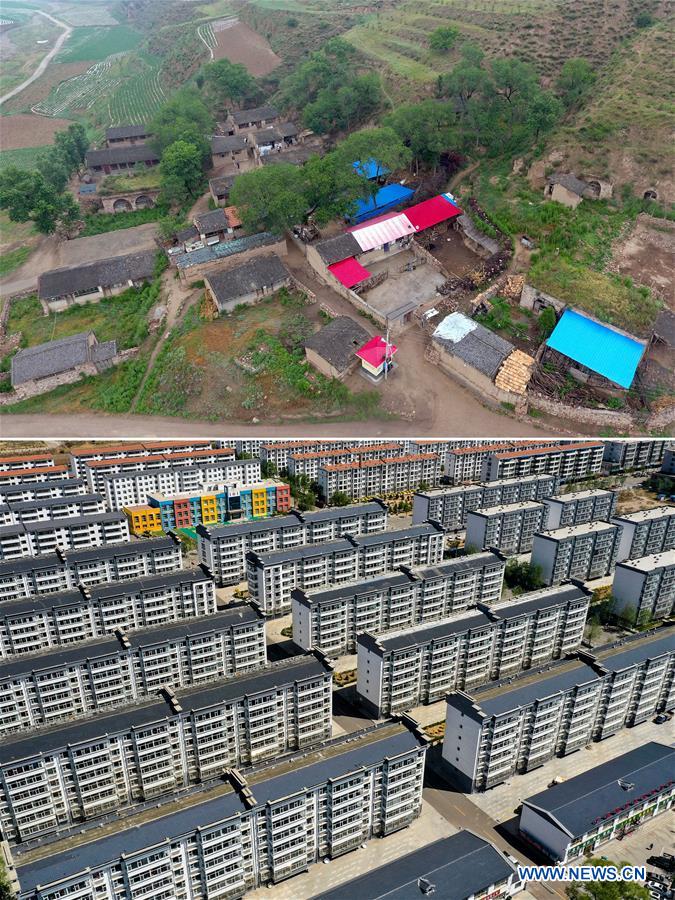 Combination photo shows old houses in Zhaojiawa Village of Kelan County, Xinzhou, north China's Shanxi Province (top, aerial photo taken on June 22, 2017); and the Guanghuiyuan relocation community where some Zhaojiawa Village residents moved in (bottom, aerial photo taken on May 20, 2020). Zhaojiawa Village had 21 villagers who lived in an extreme poverty due to scarcity of resources and barren soil. Thanks to a poverty relief relocation program, the 21 villagers on Sept. 22, 2017 moved to the Guanghuiyuan relocation community where they are not only enjoying amenities but also living in a much better life ever since. [Xinhua/Cao Yang]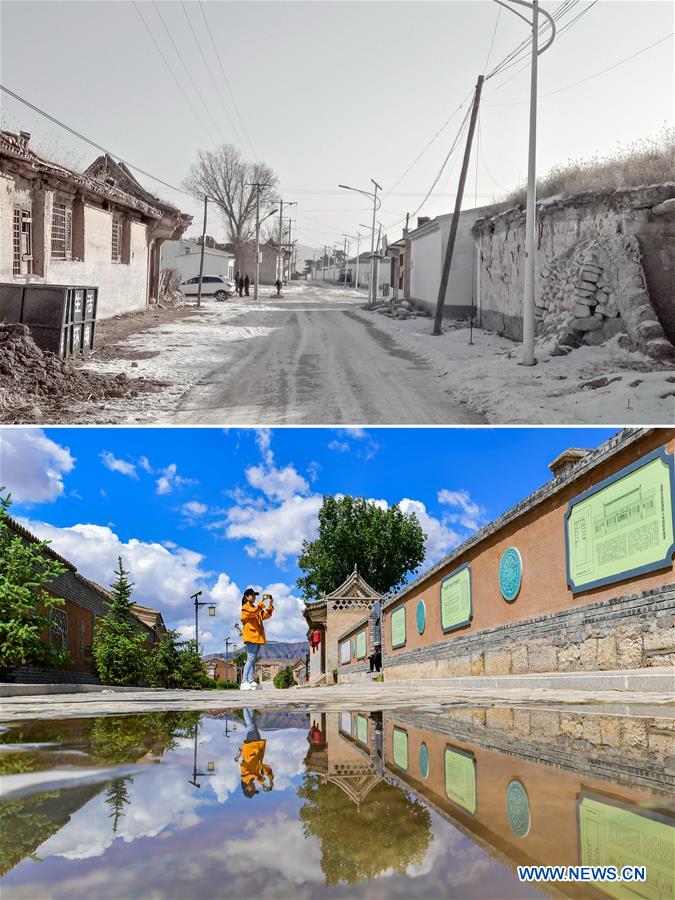 Combination photo shows an adobe road in Jianxi Village, Huquan Township, Guangling County, Datong, north China's Shanxi Province (top, undated file photo); and a tourist visiting Jianxi Village on May 26, 2020 (bottom, photo by Cao Yang). Jianxi Village once saw its villagers in poverty due to inconvenient transport, single industrial structure and loss of labor force. In recent years, the village puts efforts on developing tourism industries and providing job opportunities to poor residents while improving community appearance and living environment. The villagers have all shaken off poverty by 2018. [Xinhua]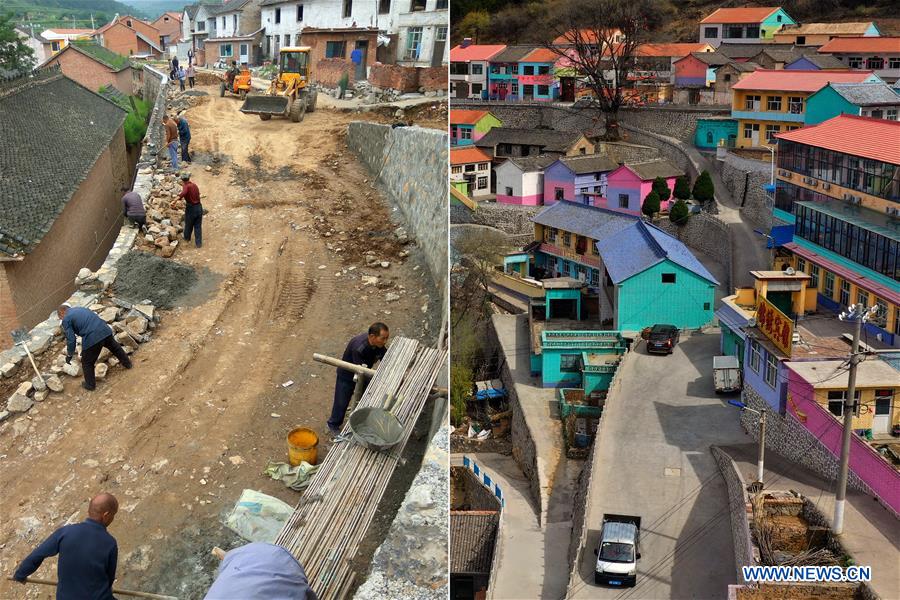 Combination photo shows villagers renovating infrastructure in Nanpingtouwu Village of Shipo Township, Huguan County, north China's Shanxi Province (L, undated file photo); and an aerial view of Nanpingtouwu Village on April 21, 2020 (R, photo taken by Cao Yang). Residents in Nanpingtouwu Village scraped a living due to underdeveloped infrastructure, limited natural resources and low productivity. Life in the village have improved when cash crops and herbs are planted, and local handicrafts are turned into products. Since 2016, the village started to seek development in geo-tourism, taking advantage of the scenery of the nearby Taihang mountain valleys. Its colour-painted houses have also become a new attraction for tourists looking for an artistic tinge. [Xinhua]
(Source: Xinhua)
Please understand that womenofchina.cn,a non-profit, information-communication website, cannot reach every writer before using articles and images. For copyright issues, please contact us by emailing: website@womenofchina.cn. The articles published and opinions expressed on this website represent the opinions of writers and are not necessarily shared by womenofchina.cn.

Comments