China's Poverty Alleviation Efforts Bring Impoverished People Better Life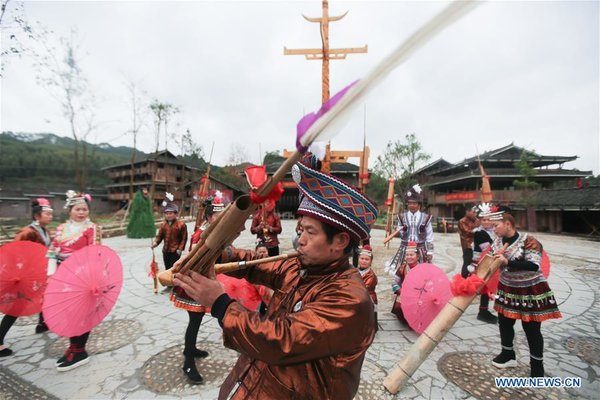 Pan Jiehui plays Lusheng, a reed-pipe wind instrument, at the Shuanglonggou Forest Tourist Resort in Rongshui Miao Autonomous County, south China's Guangxi Zhuang Autonomous Region, January 15, 2019. Working as staff members at the Shuanglonggou Forest Tourist Resort, Pan Jiehui and his wife increase their income by giving folk custom performances to visitors. The tourist resort is a poverty alleviation project providing cosy dwellings and job opportunities for impoverished households. [Xinhua/Chen Junqing]
More than 93 million rural people in China shook off poverty from 2013 to 2019. For seven consecutive years, China had lifted more than 10 million people out of poverty annually. China has set 2020 as the target year to eliminate absolute poverty and complete the building of a moderately prosperous society in all respects. In this battle against poverty, China's efforts have brought impoverished people a better life as they enjoy a growing sense of fulfillment and happiness.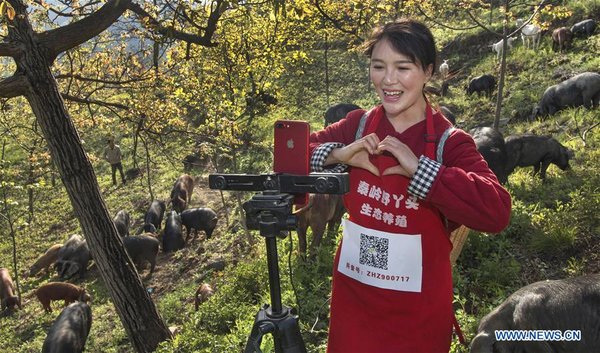 Zhou Hongzhen introduces pig-raising through a live webcast on the smart phone in Dongwan Village of Baoan Town, Luonan County, northwest China's Shaanxi Province, April 27, 2020. In order to help customers have a comprehensive understanding of her pig raising, Zhou gave a live on-line introduction every day showing the breeding environment and growth of pigs, and promoted sales of pigs through the Internet. At the end of 2018, the first batch of pigs were put on the market and sold out through the Internet. Zhou has not only embarked on her road to prosperity, but also helped three poverty-stricken households in the village out of poverty. [Xinhua/Tao Ming]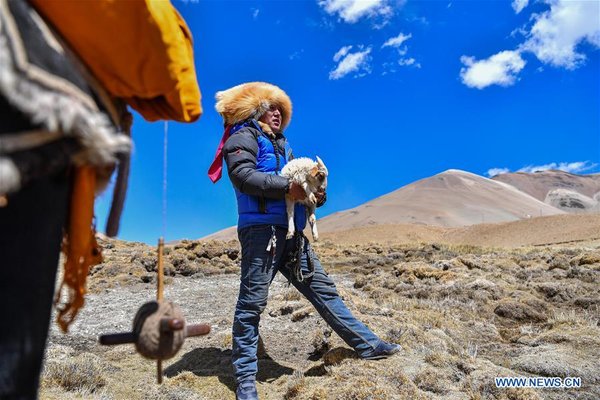 Herdsman Zhaxi holds a lamb in his arms at Zangpu Village in Zhaxizom Township of Tingri County, southwest China's Tibet Autonomous Region, April 23, 2020. In 2015, Zhaxi and his family got a chance to move into a new house built by the local government for low-income families in Zangpu Village. The village also set up a cooperative to integrate local herdsmen's yaks so as to provide yak services to mountain climbers. With his hard work and local poverty alleviation efforts, Zhaxi's family has shaken off poverty. [Xinhua/Jigme Dorje]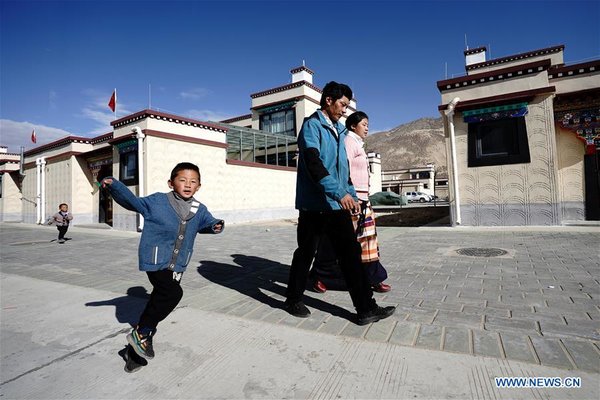 Gedor and his family walk to their teahouse at a relocation site in Gangdoi Town of Gonggar County, southwest China's Tibet Autonomous Region, April 16, 2020. In late 2019, with the support of local authorities, Gedor and his family moved to a relocation site in Gangdoi Town of Gonggar County. The site has easy access to roads and various facilities including market, hospital and school. The convenience of new life has encouraged Gedor and his wife Rolpai to open a Tibetan butter teahouse for neighboring residents to spend leisure time. Now, Gedor and his family live a better life as their teahouse has been a popular spot with decent income, and with the allowance from local authorities. [Xinhua/Zhan Yan]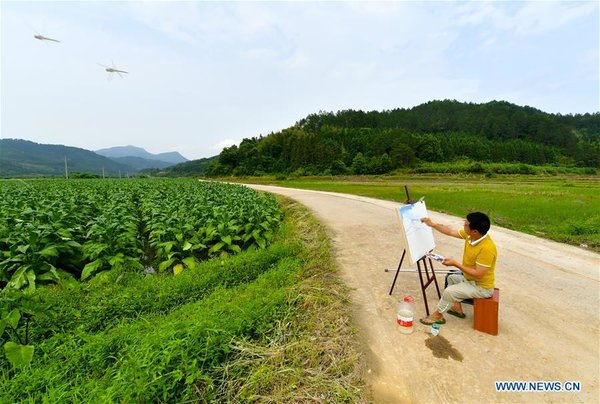 Lin Fusheng works on a painting at a road leading to Hualian Village of Huashan Township in Lichuan County, east China's Jiangxi Province, May 16, 2019. Lin suffers from physical disability because of infantile paralysis. As Lichuan County witnessed rapid development of oil painting industry in 2013, Lin returned to his hometown and became a professional painter with the help of local government. Now Lin has shaken off poverty and owns a studio at an oil painting creative industrial park. [Xinhua/Hu Chenhuan]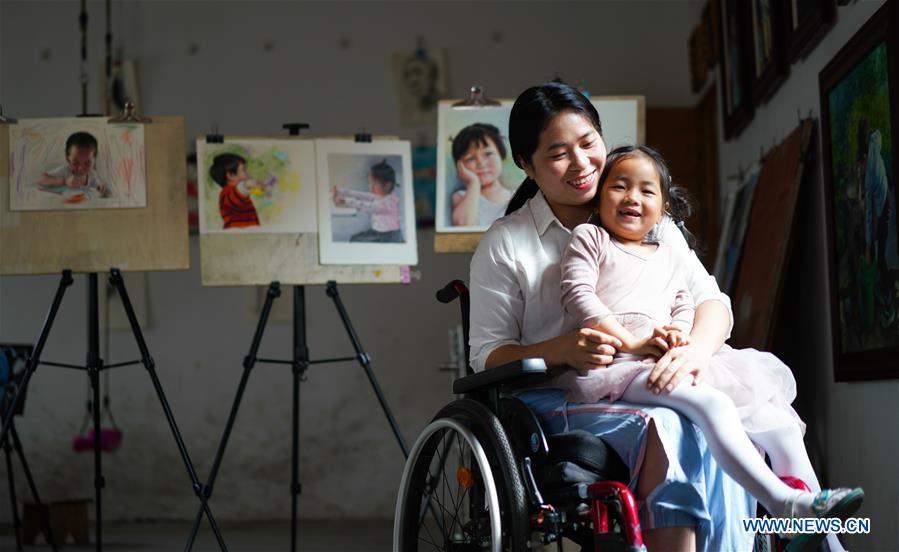 Zhang Haijing and her daughter pose for a photo at her painting room in Dagang Town of Duchang County, east China's Jiangxi Province, May 7, 2020. Zhang Haijing, 30, was left wheelchair-bound after an accident in 2008. With the help of local authorities, Zhang set up an art studio in Dagang Town a few years ago, teaching local children art skills and creating artworks for online sale. At present, the family has shaken off poverty as their financial situation greatly improved. [Xinhua/Hu Chenhuan]
(Source: Xinhua)
Please understand that womenofchina.cn,a non-profit, information-communication website, cannot reach every writer before using articles and images. For copyright issues, please contact us by emailing: website@womenofchina.cn. The articles published and opinions expressed on this website represent the opinions of writers and are not necessarily shared by womenofchina.cn.

Comments