Workshops at Doorstep Help Women Escape Poverty in NW China's Xinjiang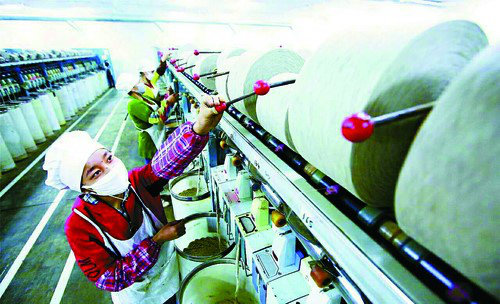 Women workers work in a workshop near their homes. Women's federations in Northwest China's Xinjiang Uygur Autonomous Region have organized vocational training for local women, turning them from farmers to skilled industrial workers. [China Women's News]
In a poverty alleviation workshop in a village located in Shache County, Northwest China's Xinjiang Uygur Autonomous Region, more than 630 workers are busy making components of electronic products.
"We are trying our best to make up time for a large order, as the production was delayed due to the novel coronavirus (COVID-19) epidemic," said an employee in the workshop.
Most of the women workers in the workshop come from nearby villages. They wear orange vests as they skillfully run the machines. Behind them hangs a slogan with local characteristics — "Diligent people eat lamb legs, and lazy ones drink cold water."
Among them, more than 410 workers are from registered impoverished households. "There are a large number of surplus labors in rural areas," said an official of the county. "The poverty alleviation workshops in the village facilitate the battle against poverty and boost residents' employment."
Since its settlement in Shache in 2018, Xinjiang Yanuo Electronic Technology Co. has employed more than 4,000 villagers nearby, to help the workers from registered impoverished households earn money while taking care of their family members.
"I would like to find a job near my home for I have to look after my children and parents," said Bilikezi Saimaier who works in the workshop. "Now it is a reality."
Shache is a state-level impoverished county with scattered residences and inconvenient transportation. In recent years, the county supported enterprises to build poverty alleviation workshops in the villages, which enabled the locals to find jobs nearby.
Compared with working in the industrial parks in the county, the villagers prefer to get jobs in the workshops due to the workshops' proximity to their homes. Many villagers have shaken off poverty at their doorstep and become industrial workers. In 2019, a total of more than 10,700 people were employed in rural production workshops in Shache, including 375 seasonal workers and 7,226 impoverished villagers.
In addition, with the help of the county's women's federation, impoverished women have been sponsored to open barber shops. The hairdressing equipment and articles were given out for free to more than 460 villages and communities in the county. Women were selected to be the operators of the barber shop, who did not need to pay for the rental fees for a period of time. They need to pass on their skills to two or three women nearby to be barbers or assistants, promoting employment of women in poverty.
Barber shop operator Reziwanguli are able to earn 2,000 to 3,000 yuan a month by serving a dozen of customers every day.
(Source: China Women's News/Translated and edited by Women of China)
Please understand that womenofchina.cn,a non-profit, information-communication website, cannot reach every writer before using articles and images. For copyright issues, please contact us by emailing: website@womenofchina.cn. The articles published and opinions expressed on this website represent the opinions of writers and are not necessarily shared by womenofchina.cn.

Comments