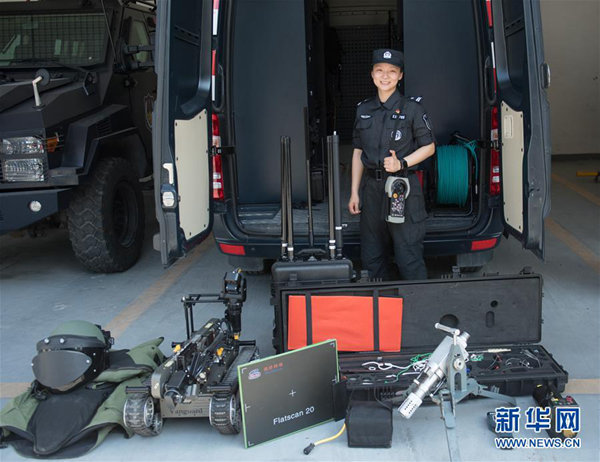 Shen Jinkan poses for a photo with her explosives-disposal equipment. [Xinhua]
It is commonplace for Shen Jinkan to dispose of waste shells and remove suspected explosives. Shen is a member of the special police detachment, under Hangzhou (capital of East China's Zhejiang Province) Municipal Public Security Bureau. She is the only woman on the 18-member team. Also, she is the only explosives-disposal woman in Zhejiang Province.
Tough Training
Before the detachment recruited her, in 2006, Shen had little knowledge about either the special police unit or the role it performed. "I undertook the entrance examination of Hangzhou Municipal Public Security Bureau with a friend, and became an explosives-disposal woman," recalls Shen.
To be physically and technically competent enough to take on the high-risk job, Shen and other members of the detachment receive regular training, including running in 35-kilogram work uniforms, threading six electric wires through pinholes, and cutting the wires of time bombs within the time limit.
"Our work uniforms are so heavy that we are soaked with sweat during the scorching summer," says Shen.
Courage and Care
As she has been an explosives-disposal woman for 13 years, Shen has come to believe time is the most precious gift in one's life. As such, she has always acted swiftly and resolutely. She understands the importance of her work, which can affect residents' safety. The work has helped her improve her "soft power," including her personality, care and courage. As a result, she has become more confident.
When asked about her feelings of being an explosives-disposal woman, Shen admitted she was nervous when she was a green hand (at the work). "Many of my teammates have helped me bolster my courage," says Shen. "I have realized only through a team effort can we fulfill our tasks."
Now, Shen always stays coolheaded and highly absorbed in her work. She always summarizes her work experience within a short time after she fulfills a task.
"We had many sweet, and bitter, experiences in conducting our work. For example, we all worked very hard during the G20 Hangzhou Summit (an international forum for the governments and central bank governors from the world's 20 major economies, held in September 2016). "Sleeping less than five hours every day, some of us lost weight, and some grew white hair during the event ... Despite the dangers and hardships, we believe all of our efforts have been worthwhile," says Shen.
Life, Mission
As the only explosives-disposal woman in Zhejiang Province, Shen has become the focus of many media outlets. She believes women tend to be more careful than men. She has used that advantage in her work.
When the detachment bought an explosives-disposal robot a few years ago, none of the detachment's members understood how to use the high-tech product, as the operation manual for the robot was written in English. Using an e-dictionary, Shen translated the manual word by word. Eventually, she became an expert in operating the robot.
"My little girl is very independent. I jokingly call her 'elder sister'," says Shen. "My daughter formerly believed a policeman or policewoman's job was to catch bad guys. Therefore, she considered me, who had never caught a bad guy, not a 'competent' policewoman. When I told her I often taught many policemen and policewomen how to examine bombs to protect residents, my girl said, 'Although Mom does not catch bad guys, you protect good people'."
Shen believes the fact that many residents know little about the profession of explosives-disposal men/women indicates Hangzhou people live in peace. However, she hopes more people will better understand the importance of her work.
"We explosives-disposal men/women try our best to protect residents' safety, even at the cost of our lives. As we face danger, all the time, we treasure our lives and peace ... Keeping my mission firmly in mind, I'll work harder to keep people and their properties safe," says Shen.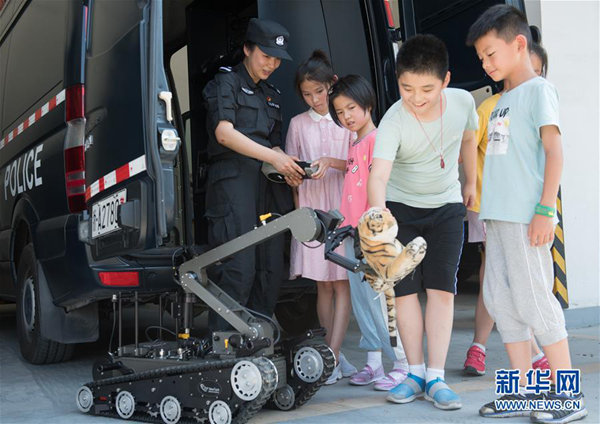 Shen Jinkan (1st, L) introduces the functions of an explosives-disposal robot to children on a open day of the police camp. [Xinhua]
(Women of China)