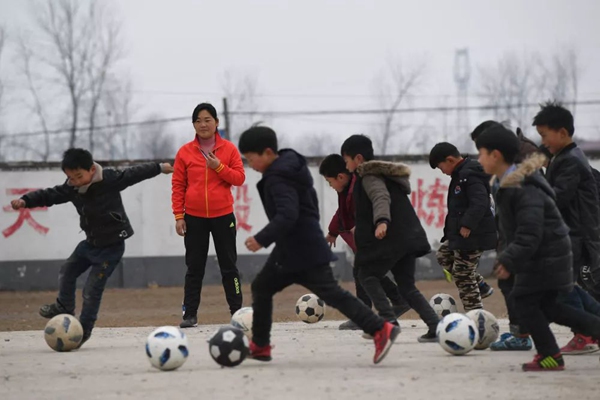 Wang Xia (2nd L) gives a football class at Sanyi School, in East China's Anhui Province. [Fuyang Education Bureau]
Wang Xia, in her 40s, is the only physical education teacher and the football coach in Sanyi School, Xingliu Town, Fuyang City, East China's Anhui Province. In 1994, Wang returned to her hometown and she worked as a teacher at Xingliu Middle School after graduating from the university. In 2006, she volunteered to transfer to the more remote Sanyi School, where she taught 18 physical education classes.
In 2014, the president of Sanyi School decided to establish football classes, so Wang took on the task of football coaching.
"Only when I can play football well, will I be qualified to train the school team," she said.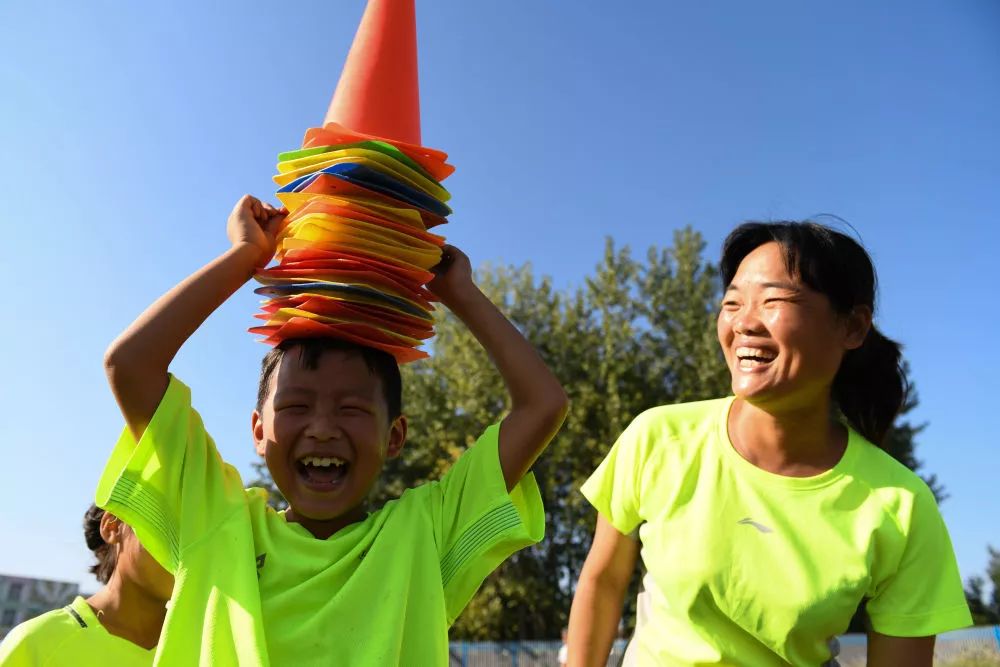 Wang Xia (R) and her students at a football class during the summer vacation. [Fuyang Education Bureau]
Football was something strange and difficult for Wang at that time when she was almost 40 years old. To acquire the skills of playing football quickly, she practiced at home, watched football teaching videos on the Internet, and consulted professional coaches, making use of almost every means to learn how to play and teach football.
Wang then began her football training, and the football team of Sanyi School has achieved good results in various competitions.
Wang Xia (2nd L) gives a football class during summer vacation at a wood of Sanyi Village, in East China's Anhui Province. [Fuyang Education Bureau]
Most of the students at Sanyi School are left-behind children and some students' families are in financial difficulties.
Wang cares about the lives of the left-behind children, and she provides them with psychological counseling and financial assistance.
When leading her team to participate in football competitions in other places, Wang helps her young players wash their clothes, so the children kindly call her their "football mother."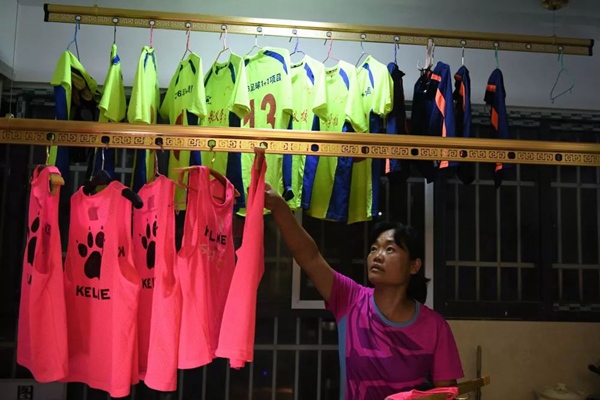 Wang Xia hangs out students' jerseys at her home. [Fuyang Education Bureau]
Wang thinks that lack of sports teachers is an obstacle for the development of the school's football team. To solve the problem, she takes part in football training for teachers at weekends.
With every class having its own football team, Sanyi School was approved as a National Teenager Campus Football School by the Ministry of Education in August 2015, which greatly encouraged the children at the remote rural school.
Though decades of physical education left Wang with waist and knees injuries, she said, "I want to do my best to let more children experience football and have fun from playing it."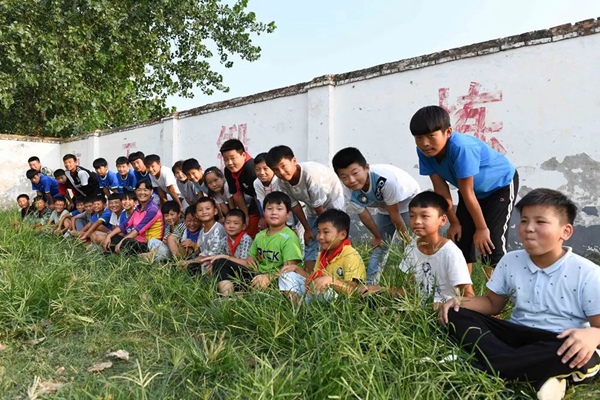 Wang Xia (Front, 9th L) in a group photo with her students at Sanyi School, in East China's Anhui Province. [Fuyang Education Bureau]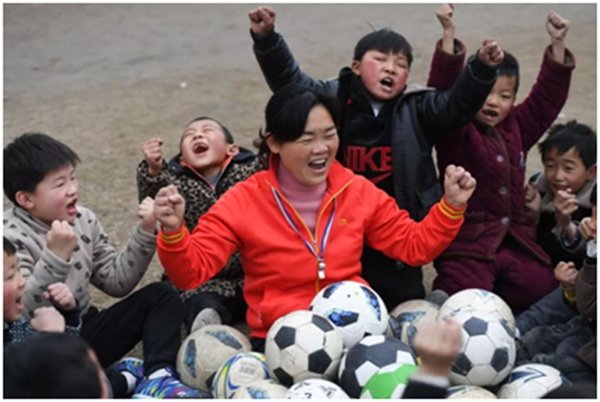 Wang Xia (M), a physical education teacher at Sanyi School in East China's Anhui Province, has a football class with her students. [Xinhua]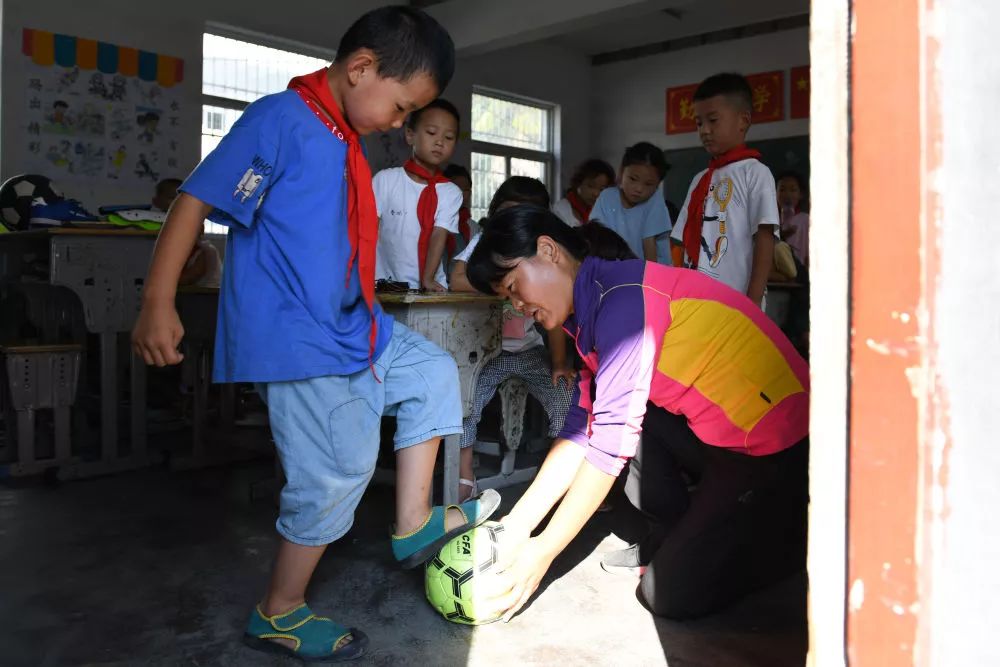 Wang Xia (R) has a football class with her first-grade students of Sanyi School in East China's Anhui Province. [Fuyang Education Bureau]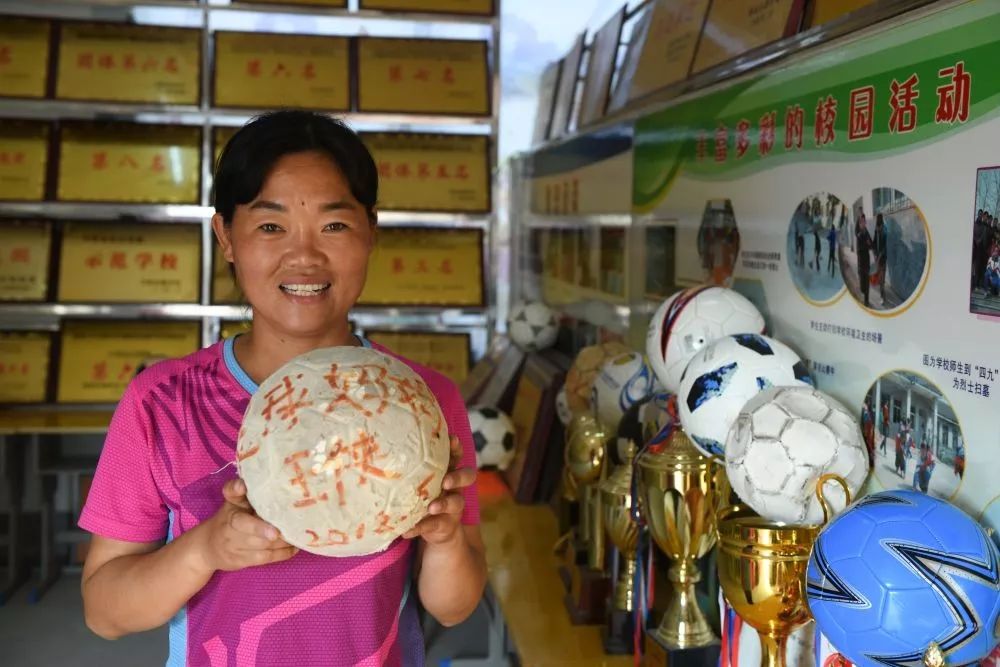 Wang Xia displays the first football she used. It has "football mother" written on it. [Fuyang Education Bureau]
(Source: sohu.com/Translated and edited by Women of China)