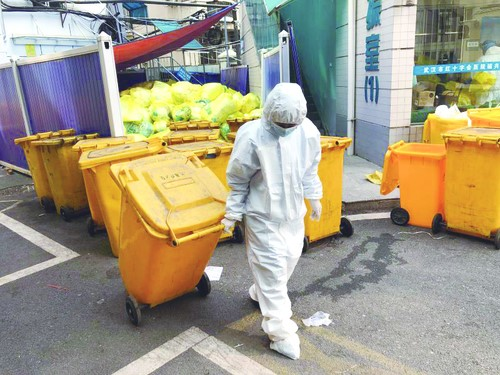 Man Caimei in protective gear transports medical waste. [China Women's News]
"There are few patients in the east zone where I clean these days. I'm so happy to see more and more patients being cured and discharged, for them and for myself," said Man Caimei on March 5.
Man is a cleaner in the Jianghan Cabin Hospital in Wuhan, capital city of Central China's Hubei Province and the epicenter of the novel coronavirus (COVID-19) outbreak.
She said she feel sincerely honored to have contributed her effort to virus prevention and control.
Before joining the battle against the COVID-19, the 35-year-old woman was a sanitary worker of a sanitation quality management center under the urban management and law enforcement bureau of the city's Jianghan District.
Despite some opposition from her husband, Man volunteered to sign up for the sanitation team set up by the center. She was arranged to clean the wards in a designated hospital for receiving patients. Since January 25, Man has devoted herself to her work in the hospital for more than 40 days without going back home.
She worked from 8:00 to 17:30 every day and had only one hour and a half to have lunch and rest.
When she first arrived, the hospital was crowded with patients and all the medical staff were working in full swing.
Man was immediately put to work cleaning the medical waste and rubbish in the ward.
One day, a patient's sudden vomiting stained the floor while nurses were busy taking care of patients in other wards. Man rushed to help the patient and clean the mess.
"I don't care who should do it or think about the danger at that time. I just saw the patient was in pain and I should lend him a hand," Man said.
On February 10, Man and her 17 colleagues accepted a new mission in the Jianghan Cabin Hospital. Before that, they received physical examinations and stayed in a designated venue for quarantine.
In the hospital, Man works from 13:00 to 19:00, cleaning the ward area and toilets and transporting waste.
In addition, she has to work an extra 30 plus minutes to put on and take off protective gear. She has to disinfect, bathe and eat in her room, and there is very little time for her to rest.
Though she is exhausted after consecutive hours of cleaning in heavy protective gear, she said she feels happy when patients and medical staff express their gratitude for her hard work.
As the suits have to be disposed of once taken off, she usually eats and drinks less or even not at all so she will not as often need to remove her suit to use the bathroom.
"All I know is that when I saw the medical staff coming to help Wuhan, I saw hope. They have traveled thousands of miles to support the city. If we shrink back, why should others help us?" Man said.
(Source: China Women's News/Translated and edited by Women of China)