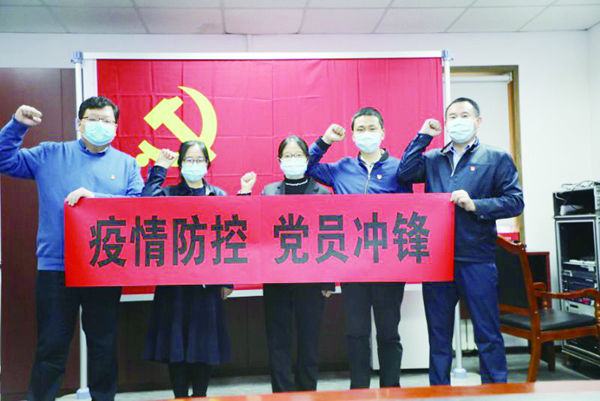 Wang Shufang (M) and other Party members in her team vow all-out efforts in the fight against COVID-19. [China Women's News]
Wang Shufang, Director and General Manager of the Transportation Information Department of the China Transport Telecommunication & Information Center, keeps a close eye on the ever-changing data of transport vehicles running on roads.
Wang is also a delegate to the 19th National Congress of the Communist Party of China and a National March 8th Red-banner Pacesetter, China's top honor for outstanding Chinese women granted by the All-China Women's Federation.
"Through the big data of freight and passenger transport displayed in the information system, we learn about the trends of industries and resumption of work in different regions," Wang said.
"Our job is to make use of the information to ensure the smooth flow of transportation and assist companies to resume work and production," she noted.
Since the outbreak of the novel coronavirus (COVID-19), Wang and her team members have been standing by to ensure problem-free road transport across the country.
New Online Service System Plays an Important Role
In response to the epidemic, many government services which originally needed to be handled on site, including the annual review and check-ups of cargo vehicles and replacement of qualification certificates, can now be done online, thanks to a government service system developed by Wang's team that started trial operation on December 31, 2019.
In addition to the online system, the team established a support team to offer offline coordination services and give consultation services through 24-hour hotline, QQ group and WeChat group. People can consult with the team members and ask for help to solve various problems.
As of February 16, the team members have dealt with more than 12,700 affairs, saving time and effort for people in need.
Service Hotline Facilitates Supplies' Transportation
The national transportation service supervision hotline "12328," developed and maintained by Wang's team, also plays an important role in facilitating the transportation and delivery of the medical and living supplies.
During the virus outbreak, many regions across the country have utilized the hotline to ensure smooth transportation of the supplies and donations for epidemic prevention and control.
As of February 16, the hotline had received a total of 220,700 phone calls related to the COVID-19 prevention and control.
"Since the COVID-19 outbreak, the hotline helped with the transportation of important medical, production and living supplies. Now, we are receiving many telephone calls consulting about updated road information as more people are going to resume work," Wang said.
Technical Support for Work and Production Resumption
As many provinces, municipalities and autonomous regions begin to resume work and production, passenger transportation volume is increasing nationwide.
Wang's team is busy providing technical support for road transport for work and production resumption.
At around 2 pm on February 10, the team was assigned an urgent task — to add a management function into the national key operating vehicle networking system to monitor migrant workers' customized vehicles — till 10 am, February 11. Wang and her team members worked overnight and successfully launched the management function at 10 am, the next day.
"The new function will ensure smooth travel of migrant workers' chartered vehicles during the COVID-19 prevention and control, and more importantly, makes it possible to trace the source if any infection occurs," Wang explained.
"Information technology has helped reduce contact and improve work efficiency during the epidemic. In the future, we will provide more services through the information system," she added.
(Source: China Women's News/Translated and edited by Women of China)