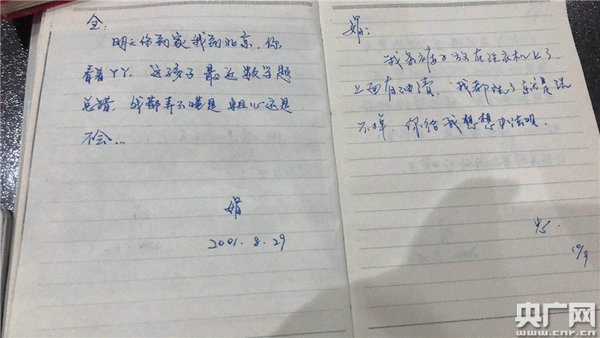 An extract of the couple's diary. [cri.cn]
An employee couple from the branch of China Railway Group in northwest China's Gansu Province have developed a habit of writing notes for each other for over two decades, since they seldom have a time-synchronized break from their busy work.
Ren Yajuan, 44, and her husband Li Quanzhong got married in 1995. Back then, she was a train attendant of the railway line from the city of Lanzhou in Gansu to Beijing while Li was on the line from the northwestern city to Guangzhou in south China's Guangdong Province.
The themes of their notes range from the expression of mutual love and encouragement to childcare and whereabouts about clothes as well as other daily necessities at home.
Their first note was written in May 1997 when Ren entrusted their newborn daughter to her elderly aunt in the city of Baoji in northwest China's Shaanxi Province after the conclusion of her maternity leave.
She discloses that Li never hesitated to express his love and care for her when leaving a message upon his departure, though he seldom showed his emotions in real life.
Therefore, Ren has been accustomed to checking the contents of Li's notes when she arrives home, even if they now have access to popular instant messaging apps that are so common.
Ren explains that her daughter Li Zhuowei also left notes for them when she was growing up.
So far, the couple have kept their notes in 23 diaries with a total of about 240,000 Chinese characters, which preserve the beautiful memories since they got married.
Both of them have come a long way. Ren has grown into the captain of a Lanzhou-Chongqing railway line, while her husband is the deputy head of a line from Lanzhou to Ningbo in east China's Zhejiang Province.
Ren and Li Quanzhong have emphasized the consistent improvement of the quality of their services and they placed the needs of passengers as top priority in their daily work.
To the couple's delight, their daughter has had a deeper understanding of the work and followed their example since she joined the rank as well last August.
Although the family cannot enjoy their reunion as usual during the upcoming Spring Festival, which falls on February 16, their hearts are still filled with happiness, since they are helping thousands of people smoothly return to hometowns.
Ren Yajuan (L1), Li Quanzhong (R1) and their daughter. [cri.cn]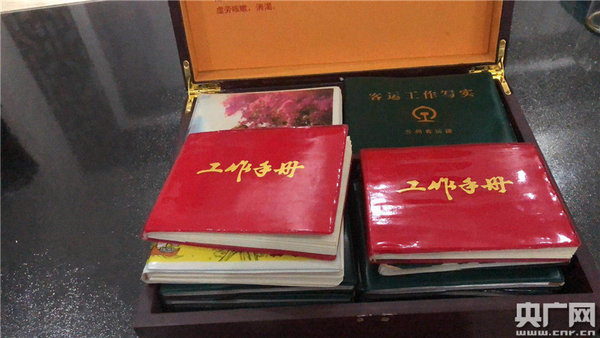 Several of the couple's diaries. [cri.cn]
(Source: news.cri.cn /Translated and edited by Women of China)