Multigenerational Family Turns Desert into Oasis
By
Han Yacong
August 13, 2021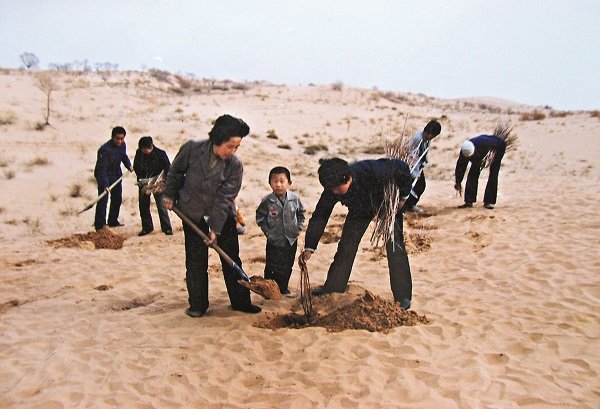 Niu Yuqin leads her family in combating desertification.
Niu Yuqin was born in 1949, the same year the People's Republic of China (PRC) was founded. The story of Niu's family is well-known throughout Jingbian County, Yulin, a city in Northwest China's Shaanxi Province. It all started 37 years ago, when Niu's family planted a tree in the desert. Now, they manage 110,000 mu (7,333 hectares) of forest, with more than 28 million trees.
Throughout the years, Niu's family has grown from just two people (Niu and her husband) into a four-generation family with 27 members. The family's "desertification-control team" has grown from two to six people. Despite the hardships involved, the family over the past several decades has tried their best to keep their promise to "turn the desert into an oasis."
Starting a Career
Niu's birthplace — Haotan Township, in Dingbian County, Yulin — used to be a poverty-stricken area, where frequent sandstorms injured villagers and devastated crops. In 1966, Niu married Zhang Jiawang, a poor resident in Jinjisha (a village in Jingbian County). For Niu, sandstorms were more terrifying than poverty.
In response to a call by Jingbian County's government and Party Committee to apply for land contracts, to plant trees, Niu and Zhang in January 1985 signed a contract with the county's government to plant trees on 10,000 mu (667 hectares) of barren land.
Battling Desertification
At first, the couple wanted to work with other families to plant trees in the desert. However, many residents had reservations: If the government's policy on desertification control changed, all their efforts would be in vain. Then, the couple made a shocking decision: To plant trees entirely by themselves.
Planting trees on 10,000 mu of desert is easier said than done. In the first year, the couple raised 4,500 yuan (US $692) to grow trees and grass on 6,600 mu (440 hectares) of desert. However, windstorms left the poplar seedlings scattered throughout the area. The couple's first attempt had ended in failure, as a mere 10 percent of trees had survived the storms.
Just when others thought she was about to give up hope, Niu wiped away her tears and walked into Jingbian Forestry Bureau. Under the guidance of the bureau's technical staff, Niu learned how to apply scientific and technological knowledge to desert afforestation. In April 1986, she led her hired laborers back to the desert to plant more trees. This time, though, she succeeded in afforesting 6,000 mu (400 hectares) of desert, and more than 70 percent of the trees survived. The next year, Niu and her laborers achieved their goal of afforesting 10,000 mu of barren land.
Though the saplings survived, Zhang fell ill. In 1986, he was diagnosed with bone cancer, and over the next three years, he received seven operations and had his left leg amputated. Despite it all, Zhang died in May 1988.
Some of the villagers advised Niu to sell the trees to make a living, but she refused. She said to her children, "We must try our best to stop desertification, and to fulfill your father's last wish."
Realizing Dream of Family, Country
Through the sweat of Niu and her laborers, the afforested area has increased by more than 2,000 mu (133 hectares) each year since 1989.
In June 1998, in cooperation with Northwest Electric Power Group Company, the Jiayu Forestry Farm (set up by Niu several months earlier) established Jingbian Lüyuan Desertification Control Co., Ltd., with Niu as its chairperson and general manager. Within a short period of time, the company established Lüyuan Desertification Control Breeding Farm, which provides multiple services (including the production, supply and marketing of farm animals). The company has helped nearly 100 households eradicate poverty and attain wealth by offering them employment.
Niu, who now lives a comfortable life, doesn't work just for the benefit of her own family. During the early 1990s, her forestry farm began turning a profit. She raised money to build Wangqin Primary School, which has provided an education to more than 60 children in Jingbian. Niu has also raised money to carry out projects aimed at improving residents' lives.
Given the promulgation and implementation of China's favorable laws and measures on desertification control, Jingbian plans to include Niu's sand-control and afforestation base among the county's scenic spots for "desert ecotourism."
Three Generations
Niu, the first woman Chinese farmer to win the Dr. Y. S. Rao Award, has been named an outstanding farmer by UNFAO (the Food and Agriculture Organization of the United Nations). She has received many titles and awards, including the National March 8th Red-banner Holder and the National Model Worker, throughout the years.
Since 2012, when the 18th CPC National Congress was held in Beijing, the CPC Central Committee, with Comrade Xi Jinping at its core, has introduced a whole series of new concepts, new ideas and new strategies to promote ecological civilization. Such strategic planning has given a new direction for, and infinite impetus to, Niu's family to make even greater efforts to combat desertification.
Zhang Liqiang, Niu's third son, has become a faithful assistant to his mother. He is exploring ways to achieve win-win results in terms of both the environment and the economy. He believes farmers can attain wealth by developing economic forests and a forestry and fruit economy.
Niu is pleased to see her offspring are keen on promoting desertification control as a career, and they are bold in pursuing technical innovation in desertification prevention and control. "I'm happy that my children and grandchildren are following in my footsteps, and they are making greater efforts to combat desertification. They outshine me, as they are better educated and more technologically literate. More importantly, Party committees and governments, at different levels across the country, and ordinary Chinese are attaching more and more importance to ecological management. If we stay true to our dream of afforesting the desert, we will surely see a better tomorrow," says Niu.
Zhang Liqiang has been quoted as saying, "I'm determined to put the idea of 'green mountains are gold mountains,' proposed by General Secretary Xi Jinping, into practice, and to strive to generate economic benefits as we try our best to combat desertification, so the trees will one day become cash cows."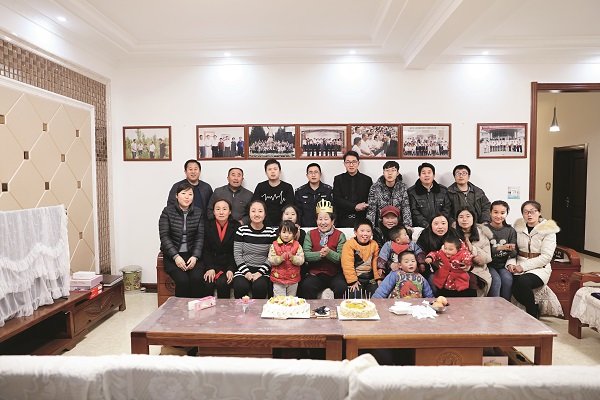 A photo of Niu Yuqin's family
Photos Supplied by Niu Yuqin
(Women of China English Monthly July 2021 issue)
Please understand that womenofchina.cn,a non-profit, information-communication website, cannot reach every writer before using articles and images. For copyright issues, please contact us by emailing: website@womenofchina.cn. The articles published and opinions expressed on this website represent the opinions of writers and are not necessarily shared by womenofchina.cn.

Comments