Gong Stays True to Original Aspiration, Keeps Eternal Faith
By
Fan Wenjun
June 10, 2021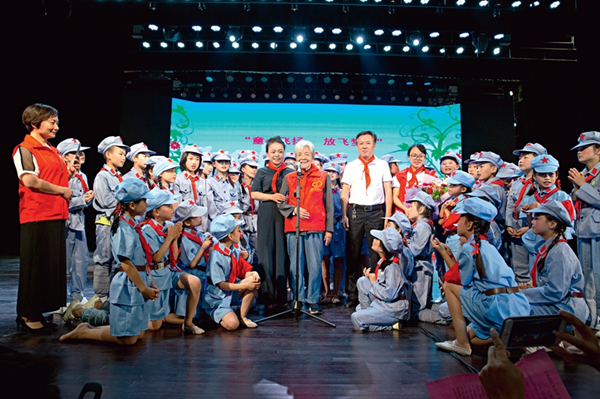 Gong Quanzhen participates in an activity of patriotism education. [For Women of China]
Gong Quanzhen, 98, has been a member of the Communist Party of China (CPC) since 1952. The widow of Gan Zuchang (1905-1986, the late major general), she has devoted herself to education in rural areas. Since her retirement, she has continued to help people in need, and she has cared about the healthy growth of teenagers. As such, Gong has demonstrated the true quality of a CPC member.
When Chinese President Xi Jinping met with national moral model nominees and recipients in Beijing on September 26, 2013, he showed respect for Gong, in part by sharing her stories with those in attendance. Xi called on current and future generations of Chinese to carry forward Gong's spirit of dedication and hard work.
Taking Root in Countryside
Gong was born in Yantai, East China's Shandong Province, in 1923. During the 1950s, after she graduated from Northwest University, in Xi'an, in Northwest China's Shaanxi Province, she began teaching at a school in Northwest China's Xinjiang Uygur Autonomous Region. During that period, she met Gan, then director of Xinjiang Military Area Command's logistics department. They eventually married.
Citing worsening symptoms from a brain injury he previously sustained, Gan asked permission to resign from his post and become a peasant. Gan's request was approved in 1957.
Gan and his family returned from Xinjiang to his hometown, Yanbei, a village in Lianhua County, in East China's Jiangxi Province, and they were determined to make a difference at China's grassroots level.
Gong understood and supported Gan's decision. She worked as a middle school teacher in the county. The school only had three teachers, and its conditions were not good. As the school was far from her home, Gong lived at the school and only returned home during weekends.
In 1961, Gong was named principal of Nanpo Primary School. She had worked there for 13 years. She was eventually hired as principal of Ganjia Primary School. No matter where she worked, and no matter what position she held, Gong always worked whole-heartedly.
Although his family lived modestly, Gan donated more than 85,000 yuan (US $13,077), or roughly 70 percent of his total salary, to help improve rural development. In his hometown, he is remembered for his contributions to the creation of three reservoirs, four power stations, three roads and 12 bridges.
Gan passed away in 1986. His three medals of honor, contained in a box, were the priceless spiritual wealth he left to his family. "Gan was a person who never cared about personal gain, and who always contributed to the Party and the people. If given another chance, I would still choose to accompany him," Gong says.
A Good Teacher
Gong has long been dedicated to educating students, which she thinks is the best way to carry forward her husband's spirit. "Teaching is a proud profession. It is not easy to cultivate a child," she says. The value of her life, she adds, is about teaching and caring for students, which she believes is her responsibility.
"When she taught at Fanglou Middle School, Gong noticed a student was often in low spirits. She later found out it was because the girl's family was impoverished. Gong talked to the girl and helped her pay her tuition fees. The girl graduated with a good academic performance," Zhu Fuhai, one of Gong's former colleagues, recalls.
"Gong always encouraged us to cherish our time, and to study hard. She was very good to us, and she often bought us stationery. If we fell ill, she would visit us and bring us good things to eat," Liu Genlan, one of Gong's students, recalls.
Despite her retirement, Gong has continued to care about the younger generation, and she has often delivered lectures at schools, factories and institutions to promote the revolutionary spirit and traditions.
When she lived in a nursing home, from 1992 to 1997, she and some of her students, who often visited her, formed an extra-curricular study group.
In 2004, with the help of her friends and family, Gong collected nearly 100 cartoons related to the moral education of minors. She then organized exhibitions of those cartoons at primary and middle schools in the county. She also explained the cartoons to students during those exhibitions.
"Although I have retired, I am still a teacher. As a CPC member, it is my duty to work for the Party. By caring about education, and by donating money to help students, I continue Gan's dream of building a beautiful hometown," Gong says.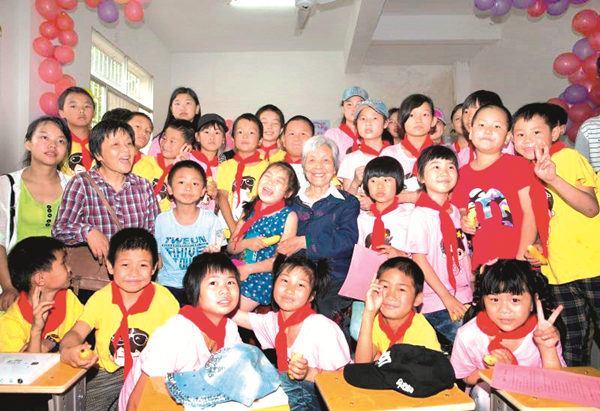 Gong Quanzhen poses for a photo with children. [For Women of China]
Helping Others
In 2003, Gong was invited to give a lecture, on the theme of patriotism education, at Fucun Middle School. After the lecture, she noticed the school's library only had a few books. So, she used her own money to buy and donate more than 1,000 books to the school.
A year later, during her visit to a village, Gong learned that a student, from an impoverished family, was about to drop out of school. Gong immediately decided to support the girl, to help her finish school.
Peng Yan feng, a teacher with Ping xiang Experimental School, regards Gong as her idol. "During the past 18 years, Granny Gong has offered much help to my family, both financially and spiritually. We see her as our family member. She has changed my life, and she has deeply influenced my view of life and my values," Peng says.
"I met Granny Gong when I was still a primary school student. My mother, physically challenged, had no job, and our family lived in poverty. Granny Gong encouraged my mother to be strong, and she helped my mother start her own business," Peng adds.
Influenced by Gong, Peng chose to study at a normal college, and to take a job as a teacher after her graduation. Peng has been honored as an excellent teacher in Pingxiang, a city in Jiangxi Province.
Gong has donated more than 100,000 yuan (US$15,384) to support students throughout the decades. "I am a Party member. There is not much time left for me. I must cherish my time and do more things that are good for society," Gong says.
Original Aspiration
In Lianhua County, the locals, whether Gong's students or not, always call her "Teacher Gong." Says Gong: "I don't think of myself as special. But I have a special responsibility — carrying out Gan's spirit."
In November 2011, Gong and cadres of Jincheng Community established Gong Quanzheng Studio. Gong used to visit the studio every week to communicate with people, and to help those in need. The studio continues to organize educational and volunteer activities.
Someone once asked Gong, "At such an old age, why don't you enjoy yourself at home? Why do you keep yourself so busy?" Gong replied, "I always remember Gan's words before he passed away. He said, 'After paying Party membership dues and keeping some (money for) living expenses, donate the rest … to support agricultural development.' Staying true to original aspiration actually means always remembering that we are Party members and that is our first identity."
Gong lives a modest life, but she never hesitates to offer help. When the massive earthquake hit Wenchuan, in Southwest China's Sichuan Province, in 2008, Gong donated more than 5,000 yuan (US $769) to quake-affected residents. She always spares no effort in trying to help people in need.
Gong's children have learned from her example, and they have worked hard in their ordinary posts and selflessly contributed to society and served the people. As a national model worker, Gan Gongrong, Gong's third daughter, always reminds her own children, "As descendants of Gan Zuchang and Gong Quanzhen, we should be honest and diligent, and we should help as many people as we can." In December 2016, Gong's family was honored as a national civilized family.
Gong keeps a diary. She once wrote, "I promise, when I am in good health, I will visit the nursing home each week, and I will do what I can to help the elderly people… The salary of the last month of my life should be given to the Party, as my last Party membership dues. The five impoverished students that I support should continue to receive support until they graduate."
To this day, Gong is still living up to her original aspiration — and the mission of the Party. She has been honored as a national outstanding CPC member, and as a most beautiful striver. Her spirit will surely influence generations of Chinese.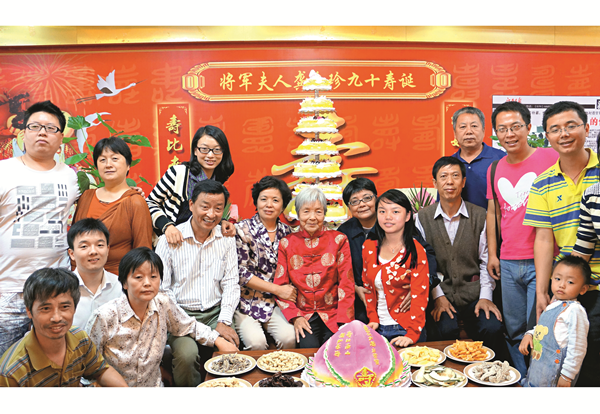 Gong Quanzhen celerates her 90th birthday with her family members. [For Women of China]
Photos supplied by Gan Gongrong
(Women of China English Monthly January 2021 issue)
Please understand that womenofchina.cn,a non-profit, information-communication website, cannot reach every writer before using articles and images. For copyright issues, please contact us by emailing: website@womenofchina.cn. The articles published and opinions expressed on this website represent the opinions of writers and are not necessarily shared by womenofchina.cn.

Comments