ACWF Launches Publicity and Education Campaign for Children to Mark CPC Centenary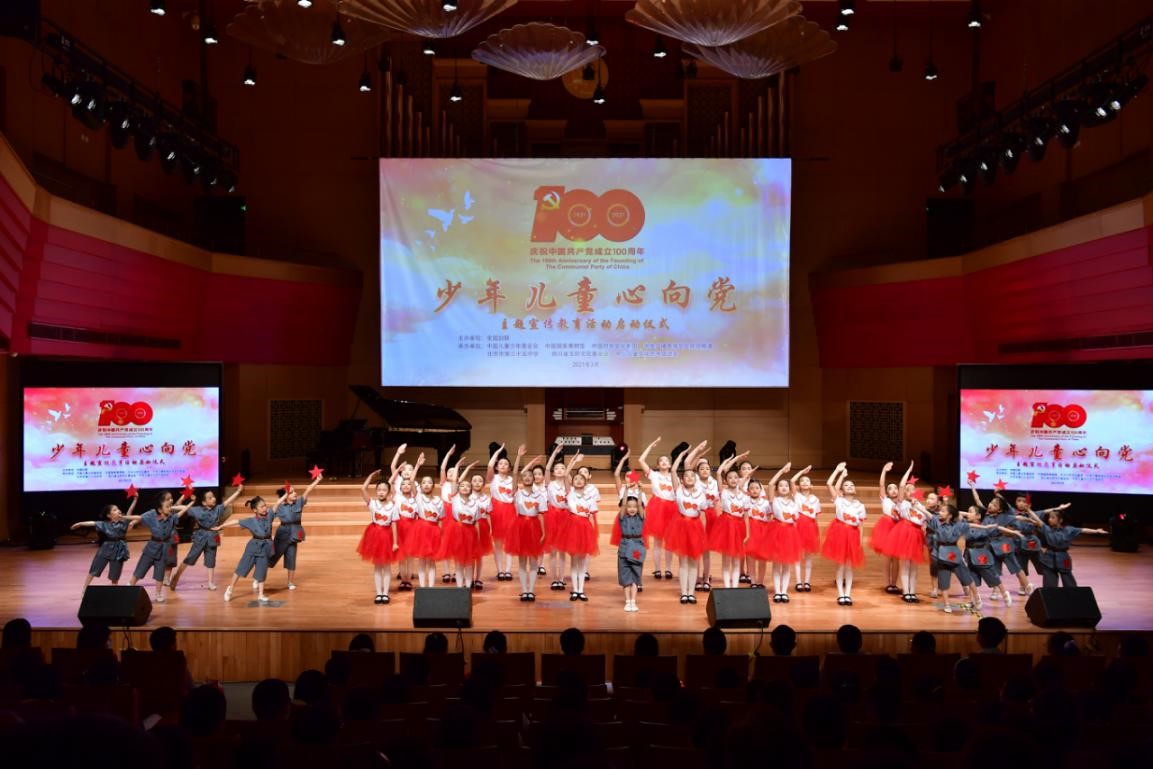 To celebrate the 100th anniversary of the founding of the Communist Party of China, the All-China Women's Federation launches a nation-wide publicity and education campaign for children in Beijing on March 29. [Women of China/Fan Wenjun]
To celebrate the 100th anniversary of the founding of the Communist Party of China (CPC), the All-China Women's Federation (ACWF) initiated a nation-wide publicity and education campaign for children in Beijing on March 29.
The campaign, themed with "Always Following the Party," was jointly organized by the China Children and Teenagers' Fund (CCTF), the National Museum of China, China Arts and Entertainment Group, CCTV-1, Beijing No. 35 High School, the Yujie Cultural Foundation in Sichuan Province, and the China Association for Promoting Children's Culture and Art.
To implement the fundamental task of fostering virtue through education, the campaign aims to guide children and teenagers to learn the century-old glorious history of the CPC and understand Chinese culture and the Chinese path, to boost their love for the Party and their patriotism, and to encourage them to become all-rounded socialist builders and successors.
Relevant publicity and education activities, including patriotic song choruses, trips to revolutionary bases, story-sharing, and speech and composition competitions will be held to help children and teenagers deepen their comprehension of Party history.
Children sing a patriotic song in chorus to express their love for the Party and the country during the launching ceremony on March 29. [Women of China/Fan Wenjun]
Starting from April, activities will be held consecutively in Shanghai, Zhejiang, Jiangxi, Guizhou, Shaanxi, Hebei, Hubei and Shenzhen, to help children learn the stories related to Party history, understand the important historical events that happened in their hometowns and appreciate the striving spirit of Party members.
The campaign is set to run throughout the year. Excellent works, including photos, articles and videos, will be solicited and displayed online.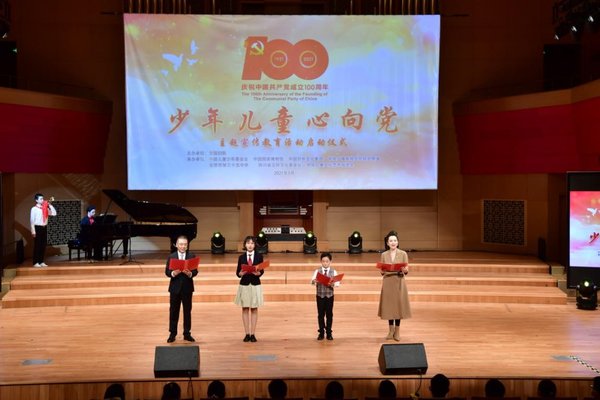 Children recite a poem during the launching ceremony on March 29. [Women of China/Fan Wenjun]
At the launching ceremony, children and teenagers from all over the country expressed their love for the Party and the country via micro-videos. Children and teenage representatives danced, sang, played the piano, recited poetry and shared stories, to sing the praises of the Party and outstanding Party members.
Chen Xiurong, former Vice-President and Member of the Secretariat of the ACWF and Director-General of the CCTF, Zhao Wen, Member of the Secretariat and Member of the Leading Party Members' Group of the ACWF, relevant leaders of the organizers, representatives from the press and people from all walks of life in Beijing including children representatives attended the ceremony.
(Women of China)
Please understand that womenofchina.cn,a non-profit, information-communication website, cannot reach every writer before using articles and images. For copyright issues, please contact us by emailing: website@womenofchina.cn. The articles published and opinions expressed on this website represent the opinions of writers and are not necessarily shared by womenofchina.cn.

Comments