Young Mother's Bond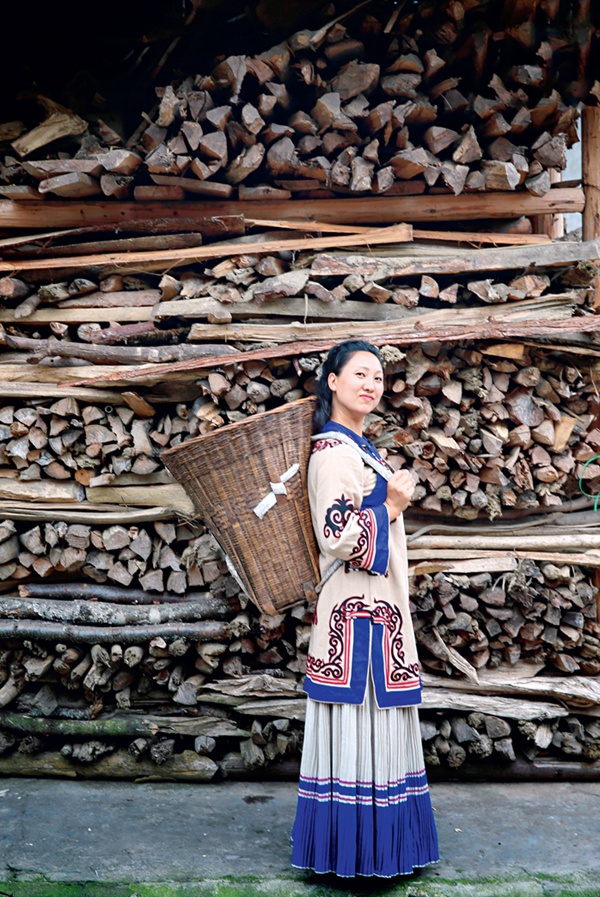 He Wenfang dressed in traditional costume [For Women of China]
He Wenfang, an ethnic Yi woman, was born in Mount Daliangshan, in Southwest China's Sichuan Province. (Her name in her native Yi dialect is Wugebujimo.) After she graduated from university, in 2006, He began working in Yingjing County, in the city of Ya'an, also in Sichuan. Since May 2018, she has been first secretary of the branch of the Communist Party of China (CPC) in Xingjia, a village in Yingjing County's Baofeng Town. During the past two years, He has led the villagers as they have developed tea production. As such, she has helped the villagers earn good incomes and live happy lives as they have escaped poverty and experienced — and enjoyed — booming rural revitalization.
"When I was dispatched from Yingjing County to work as first secretary of the Party branch in Xingjia Village, in May 2018, my husband was running a business in Xichang (a city in southwestern Sichuan Province). I asked my father to help look after our second child, who was less than two years old at that time," He recalls.
Despite all of the hardships the small family had to go through, He did not regret leaving her home to work in Xingjia. "The responsibility I have shouldered, at my post in Xingjia, has been closely related to the lives of dozens of households in the village. I have had to overcome difficulties, which I have had within my small family, so I could concentrate on my work in Xingjia, and so I could help lift my villagers out of poverty and ensure they would lead a more prosperous life," He says.
In less than a month of relocating to Xingjia, He had visited all of the households in the village. She noticed various problems, such as the imbalance in the development of the local industries, poor infrastructure construction, and villagers' lack of confidence in striving for a better life.
She reported those problems timely to the township-level Party committee, and she discussed possible methods to solve the problems with cadres of Xingjia's Party branch and village committee. She listened to villagers' needs to figure out how they could advance Xingjia's development.
Based on her comprehensive and careful field research and surveys, He led the Party branch in implementing several measures, including widening and improving roads, enhancing water and electricity supplies, developing the production of organic tea, providing education and training sessions, and teaching villagers how to create wealth.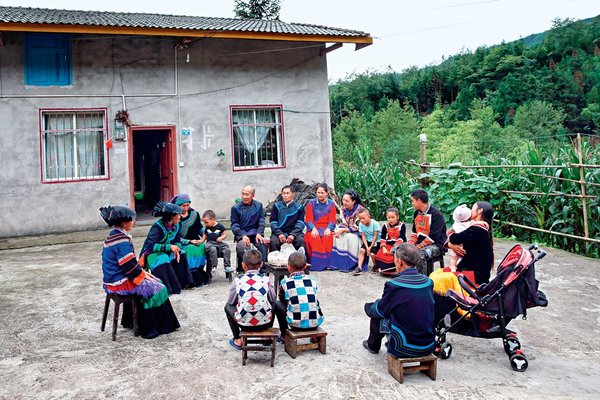 He

Wenfang

listens to villagers' needs. [For Women of China]
Xingjia is a village inhabited by ethnic Yi and Han people. He established a team to introduce and explain relevant policies and measures to help the ethnic Yi residents better understand the Party's poverty alleviation policies and efforts.
"For more than two years, I have visited households in our village, one by one, to learn about each household's difficulties. I have treated my villagers like (they are) members of my family, trying my best to solve their problems," He says.
She is especially concerned about children's education; in particular, she is concerned about the ethnic Yi children. "My maternal grandmother has told me women must study and receive education to one day realize economic independence, so we can live a life we truly want," she says. He has taught what she has learned from her grandmother to the Yi people in her village, and she has encouraged them to let their children — both boys and girls — receive an education.
Nowadays, the infrastructure in Xingjia is considerably better than it was. Villagers are leading better, more prosperous lives by growing good-quality tea, which is suitable to be planted at high elevations.
A new year has started. He recently shared with Women of China her best wishes for Xingjia Village: "I believe the year 2021, the first year of our 14th Five-Year Plan, will be a year full of challenges and hope. I will continue working as first secretary of the Party branch in Xingjia Village. I will continue to shoulder my responsibility of leading my villagers in fulfilling the sustainable development of our tea production. From lifting my villagers out of poverty to encouraging them to take an active role in rural revitalization, I hope my villagers will open a new chapter in striving for a promising future."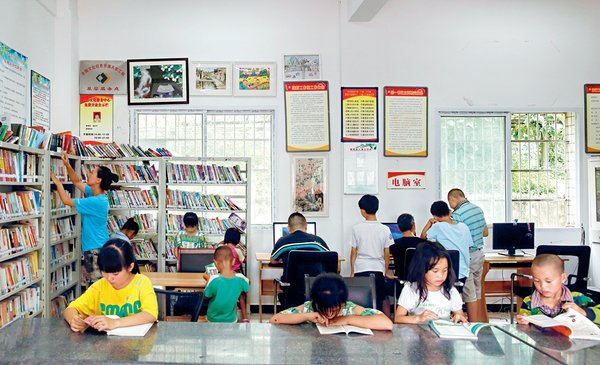 Children in Xingjia Village read books in a local library. [For Women of China]
Photos supplied by Mao Xiaochu
(Women of China English Monthly January 2021 issue)
Please understand that womenofchina.cn,a non-profit, information-communication website, cannot reach every writer before using articles and images. For copyright issues, please contact us by emailing: website@womenofchina.cn. The articles published and opinions expressed on this website represent the opinions of writers and are not necessarily shared by womenofchina.cn.

Comments