'Without the CPC, My Family Could Not Have Had a Better Life'
By
Zhou Liting
August 14, 2021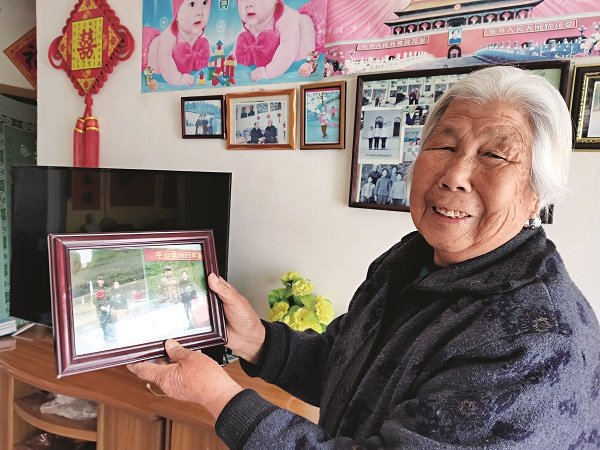 Han Huazhen introduces her family members shown in the photo.
Han Huazhen's home is located at the back of the site of the Second Plenary Session of the Seventh CPC Central Committee, at Xibaipo Memorial Hall, in Xibaipo, a village in Pingshan County, Shijiazhuang, in Central China's Hebei Province. Xibaipo, one of five major revolutionary bases of the CPC, was CPC's last rural command post before the founding of the People's Republic of China. Xibaipo, with much historical significance in China, has been inspiring Han since she was a young girl.
Marriage Law Changes Her Fate
Han was born in 1935 in Shipenyu, a village in Gangnan, a town in Pingshan County, about a dozen kilometers from Xibaipo. As she had a younger brother and an ailing mother, Han had to help support her family at a very young age. "In those days, it was hard to survive. Going to school was impossible, especially for a girl," says Han, with a long sigh.
In the autumn of 1948, the Women's Work Committee of the CPC Central Committee, led by Deng Yingchao, drafted the first marriage law of New China in the village, and, on May 1, 1950, the Central People's Government officially enacted the Marriage Law of the People's Republic of China, which stipulated a marriage must be based on the consent of both the man and the woman.
When she was 14, Han's parents wanted to arrange a marriage for her, without regard for her own feelings about marriage. So, she asked the local government for assistance. With help from government staff, Han was able to break off the engagement. Later, through a matchmaker, she was introduced to Yan Minsheng, from Xibaipo.
In those days, getting around was difficult, especially in mountainous areas. Han's parents thought Xibaipo was too far away, so they were reluctant to agree to the marriage. But Han persevered, and, in 1953, she married Yan. In 1958, Yan became the village's Party branch secretary.
First to Open a Stall
In 1989, Yan died of heart disease. To survive, Han, who had never attended school, started a small business, for the first time, at age 54. "At that time, my family had more than 1,000 yuan (US $154) in debt, and we had to find a way to make money," Han recalls.
On May 26, 1978, a memorial hall and the former site of the CPC Central Committee opened to the public. The tourists occasionally needed to take a break, drink some water and have a snack. So, Han set up a small stall near the memorial hall.
Han only sold water at first, but eventually began selling more items, such as eggs, wild jujubes, dried sweet potatoes and other local specialties.
Eventually, Han and her family began seeing major improvements in their lives. "The reform and opening-up policy, initiated by Deng Xiaoping, was such a grand thing! New paths to a better life opened up for those of us who had previously lived at the mercy of the elements. I felt that my life had improved, by leaps and bounds," Han says, enthusiastically.
First to Build High-Grade Hotel
In November 2002, Xibaipo Memorial Hall was recognized as a 4A-level tourist attraction by the National Tourism Administration. At that time, Yan Wencui, Han's eldest daughter, worked in the logistics department of the memorial hall. With the expansion of the hall to meet the standards of a 4A-level tourist attraction, Yan found herself faced with many business opportunities. In 2002, Han and Yan Wencui spent 700,000 yuan (US $107,692), from loans and their savings, to build a two-and-a-half-story, 20-room guesthouse adjacent their house.
"It looks good now, but things were tough in the beginning. Because there weren't many tourists, we earned 30,000 to 50,000 yuan (US $4,615 to $7,692) a year, at most," Yan Wencui, 66, recalls. "Maybe we got it from our parents, the ability to face challenges head-on and maintain a long-term vision in the face of adversity."
In 2005, Yan Erpeng, Han's grandson, returned home and began managing the guesthouse. The young man, born in the 1980s, applied what he had learned, made full use of his abilities, and established a career in the village.
"Everybody in Xibaipo is familiar with the village's revolutionary history, so we'd like to help visitors better understand the history and spirit of Xibaipo," says Yan Erpeng. "We learned from our grandmother's teachings to always pursue a happy life through hard work. At that time, we had a yearly income of more than 100,000 yuan (US $15,385). In 2010, we paid off the debt for the construction of our guesthouse."
Third Red Generation Continues to Forge Ahead
In Xibaipo, many hotels, such as Old Revolutionary Base Hotel and Eighth Route Army Hotel, are named in memory of the revolutionary years. The largest are owned and operated by Han's two grandsons.
In 2017, Yan Lipeng, one of Han's grandsons, invested more than 1 million yuan (US $153,846), in loans and his savings, from selling souvenirs and taking photos for tourists, to construct a 2,000-square-meter, four-story building — Xibaipo Shengdu Hotel.
Yan Erpeng's guesthouse has also been renovated and expanded into a four-story building, with more than 40 guest rooms, meeting rooms and a restaurant with the capacity to seat more than 600 people.
Yan Erpeng's wife, Feng Xiaoqin, graduated from Hebei Normal University with a major in tourism management and service education. As a tour guide, Feng has helped carry out patriotic education, promote the history of Xibaipo and pass on the spirit of Xibaipo to visitors.
"Without the CPC, my family could not have had a better life. We should all follow the leadership of the CPC, as they have liberated us and allowed us to live better lives," Han says.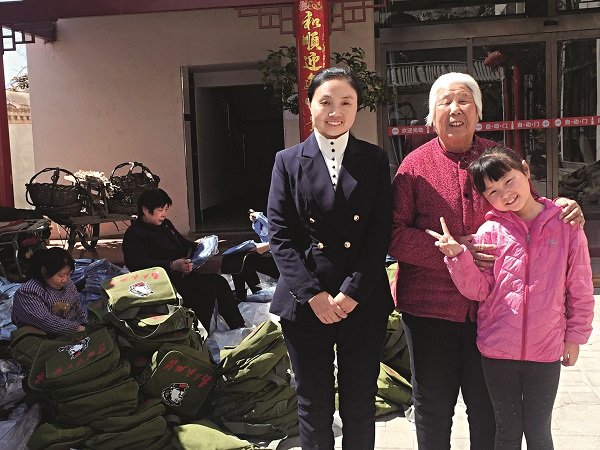 Han Huazhen with her family members
Photos Supplied by Zhou Liting
(Women of China English Monthly July 2021 issue)
Please understand that womenofchina.cn,a non-profit, information-communication website, cannot reach every writer before using articles and images. For copyright issues, please contact us by emailing: website@womenofchina.cn. The articles published and opinions expressed on this website represent the opinions of writers and are not necessarily shared by womenofchina.cn.

Comments