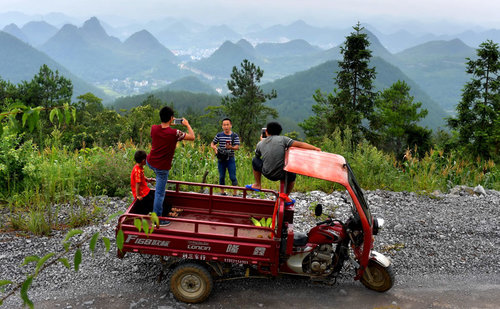 Local farmers in Songbai town, Hunan province, conduct online marketing via livestreaming platforms to lift themselves out of poverty. [China Daily/Guo Liliang]
In recent years, a number of internet enterprises, especially the large e-commerce platforms, have been actively participating in the country's poverty alleviation work, and they have made great achievements in promoting poverty relief.
Recently, the Ministry of Commerce, the Ministry of Finance, the State Council Leading Group for Poverty Alleviation and Development and China Central Television business channel jointly launched a Chinese e-commerce poverty alleviation campaign, which aims to help lift people out of poverty by enabling them to sell local agricultural products nationwide via the e-commerce platforms.
At the fifth World Internet Conference held in Wuzhen, Zhejiang province, from Nov 7 to 9, online discount platform Pinduoduo's founder Huang Zheng said that the platform has sold 5.05 billion kilograms of agricultural products over the past three years, which has achieved a total sales revenue of 51 billion yuan ($7.33 billion).
An innovation of the government's targeted poverty alleviation and Internet Plus strategies, e-commerce poverty alleviation supports impoverished people lifting themselves out of poverty.
The e-commerce platforms build bridges between buyers and sellers, connect the supply and demand sides and facilitate huge amounts of transactions, which is a multi-win arrangement that benefits all the parties involved.
And e-commerce poverty alleviation programs not only improve the livelihoods of impoverished people, they also contribute to the revitalization of rural areas.
(Source: China Daily)