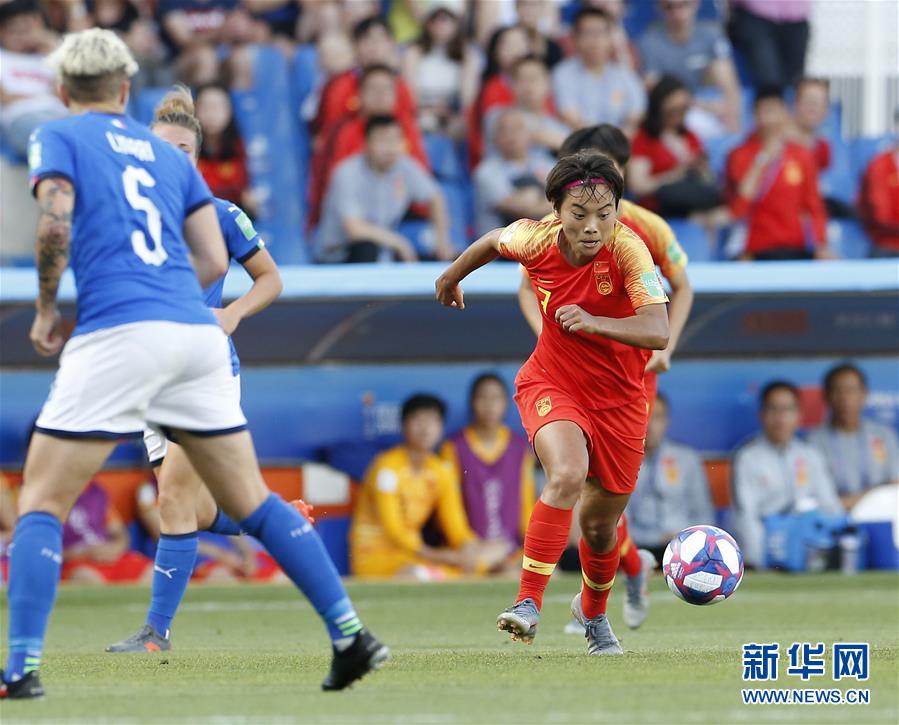 Star playmaker Wang Shuang is competing on the soccer pitch. [Xinhua]
True to their nickname, China's Steel Roses gave it all they had at the Women's World Cup, but it wasn't enough against technically superior Italy, which advanced to the quarterfinals with a 2-0 triumph in Montpellier on Wednesday.
Images of star playmaker Wang Shuang in tears at the full-time whistle left fans in no doubt as to how much wearing the red jersey means to these players.
Still, Wang was quick to point out that a gulf in quality was evident at Stade de la Mosson — and bridging it is now China's top priority.
"We all produced a good performance and showed our spirit, but we lacked power going forward," Wang said after the last-16 loss.
"The Italian squad showed great skill, while we were still a little nervous. We did not pass the ball effectively. We contributed to our own downfall."
Paris Saint-Germain star Wang looked the most likely to confound Italy's defense, but with teammates not quite on her wavelength at times and China defending in numbers against wave after wave of attack, she plowed a lonely furrow up front.
The 24-year-old's career at PSG has been clouded in uncertainty this summer, but she revealed after the match that talks with the European giant are planned to iron out her future.
Goalkeeper Peng Shimeng had heroically shut out Spain in the final Group B game to seal China's passage to the last 16, but despite another valiant effort between the sticks she surrendered strikes to Valentina Giacinti in the 15th minute and Aurora Galli in the 49th.
Like Wang, Peng shed tears but was keen to reflect on the positives of the campaign.
"We have made gains at the World Cup but there have also been shortcomings," said Peng.
"I hope through this World Cup trip that I can pinpoint my weak spots and keep improving."
Most observers agree there are no quick fixes for the Steel Roses and rediscovering the glory days, when China was runner-up at both the 1996 Olympics and the 1999 World Cup, will take some time.
"Chinese women's soccer enjoyed its zenith back in the 1980s and '90s, and that's because we had a really early start in the sport," said Chen Guoqiang, an associate professor at Shanghai University of Sport.
"We have no advantages now. Many other countries have started to focus on the women's game - especially certain European countries that boast a strong tradition in the men's game and professional leagues. They can use their experience to boost the development of their female teams.
"Especially in the past four years, women's soccer in Europe has grown so fast.
"The Steel Roses are growing, but not fast enough compared with others. We have to accept and recognize the position of our team in Asia and the world. They need some time."
Despite coming in for some criticism in France, head coach Jia Xiuquan can claim some progress after steering China to silver at last year's Asian Games.
That feat was far from his mind on Wednesday, however, as the 56-year-old wondered what might have been.
"This was our best shot to reach the quarterfinals but we could not make it," said Jia.
"Playing a top international tournament is always a good opportunity for us to see the gap between us and the world's powerhouses.
"During this year there were ups and downs, but I can see all of the players tried their best to make a difference.
"I have not thought about if I want to quit the role or not.
"We should not just remember the old glory days. After the World Cup, the only thing we can do is to try harder.
"It will take generations to level up the strength of Chinese women's soccer. I cannot finish the job all by myself."
Many critics argue that only by making fundamental changes to how women's soccer is organized and coached can China hope to return to the elite ranks.
"We have to be fair — the Steel Roses tried their best and showed their spirit, but it's very obvious that our players' skill levels have huge room for improvement," said Gao Yuan, director of the soccer education and research department at Capital University of Physical Education and Sports in Beijing.
"The players' problems can be traced back to youth training. Especially, in women's soccer, there still are many challenges. In many cases, the trainers themselves are not professional enough.
"Also, there are not enough quality matches for all levels of women's soccer.
"Some university teams maybe train a whole year, and they only have one tournament to play every 12 months."
The Chinese Football Association has acknowledged that such changes are needed and is rolling out a number of initiatives to give women's soccer a jolt — including making it mandatory for all Chinese Super League clubs to have an affiliated female team, starting in 2020.
(Source: China Daily)