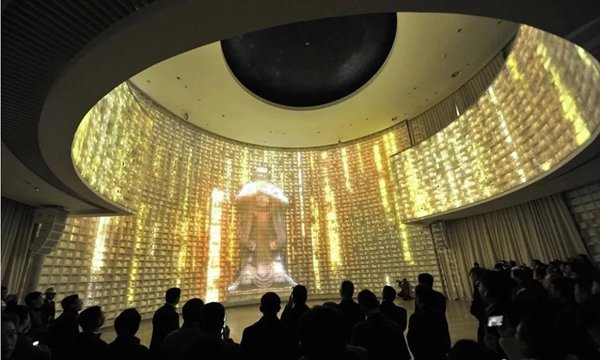 People visit Confucius Museum during its trail operation, which started on Nov 26, 2018. [Photo/WeChat account: Jiningfabu]
A survey showed that most Chinese children and adolescents hold a positive impression of Confucius, the China Youth Daily reported Thursday.
The survey, made by the Chinese National Academy of Arts, polled 1,248 students from 12 primary schools and middle schools in Beijing and Hebei Province.
Ren Hui, who is in charge of the survey, said that most respondents held positive views on both the excellent traditional Chinese culture and Confucius. They also showed a keen interest in the ancient sage, which indicates the shaping of Confucius' image is successful.
More than 50 percent of the respondents said Confucius-themed videos and audio works should be serious while about 30 percent wanted more humorous works. About 10 percent of those interviewed wished to see Confucius-themed works about time travel.
About 20 films, television and stage works themed on Confucius have been shown to the public over the past four decades, the survey said.
The survey also revealed that adolescents have a high demand for audiovisual materials about traditional culture, and they are more likely to learn about Confucius via audiovisual works than books.
About 40 percent of the respondents are most interested in stories about Confucius' life and childhood, the survey said.
Ren called on arts workers to produce more innovative works about Confucius on the basis of thorough research into his experience at a young age and in consideration of children's needs.
(Source: China Daily)
Please understand that womenofchina.cn,a non-profit, information-communication website, cannot reach every writer before using articles and images. For copyright issues, please contact us by emailing: website@womenofchina.cn. The articles published and opinions expressed on this website represent the opinions of writers and are not necessarily shared by womenofchina.cn.