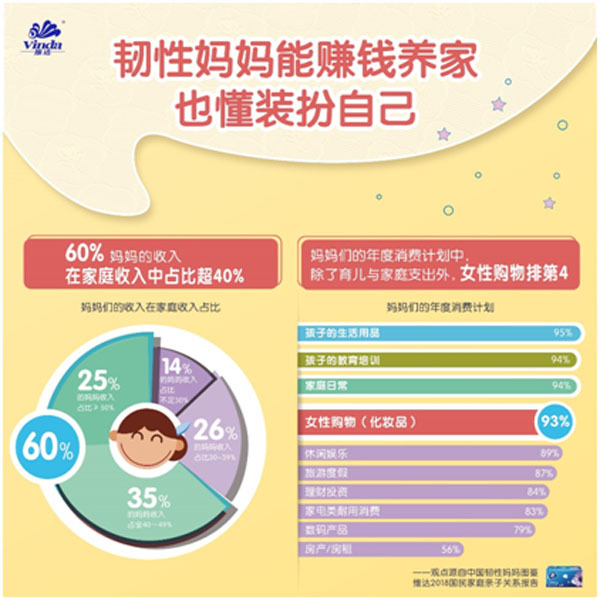 The Chinese Academy of Social Sciences (CASS) and Vinda Group jointly releases the 2018 Chinese Parent-Child Relationship Report. [cnwomen.com]
The Chinese Academy of Social Sciences (CASS) and Vinda Group jointly released the 2018 Chinese Parent-Child Relationship Report in Beijing on September 4.
The study focuses on the new generation of parents and the challenges they face today by collecting a total of 4,300 samples from mothers aged between 20 and 45 with children under 13.
The report analyzes the tenacity of the new generation in four aspects: parental education, life balance, family relationships and consumption.
The report indicates that after the country implemented its universal two-child policy, 73 percent said regardless of the policy and cost, it is ideal to have two children.
Keeping a stable income, having someone to help with childcare and achieving an improvement in overall education fairness and quality are the most important prerequisites for mothers to have a second child, say mothers.
Meanwhile, only 12 percent of mothers do not want to bear the pressure of having a second child.
Some 65 percent of moms have multiple roles in their lives, with food preparation and family finance being the most common. Two-thirds of women have more financial experience than men.
Some 25 percent of mothers earn more than their husbands. Their children's living goods, education and daily household expenses are the top three items in their spending plans.
After having a child, 60 percent of mothers want to learn more, and parenting and nutrition are their favorite courses.
In terms of parenting, younger mothers have a stronger sense of companionship.
Only 21 percent particularly value the idea that "children should not lose at the starting line", suggesting the formerly prevailing worries are fading.
Another 41 percent of mothers avoid only giving their children compliments, while over half give their children both praise and punishment.
Wang Guangzhou, a researcher at the Institute of Population of CASS, who led the report, said in an interpretation, "This year's report focuses on mothers because mothers born in the 80s and 90s are facing pressures of parenting, family and career amid widespread social anxiety."
"Mothers have multiple identities in the family which means their values affect their children, and their quality of life affects their family life. Therefore, young mothers have to be resilient to find balance between family, work and themselves," Wang added.
(Source: cnwomen.com/Translated and edited by Women of China)