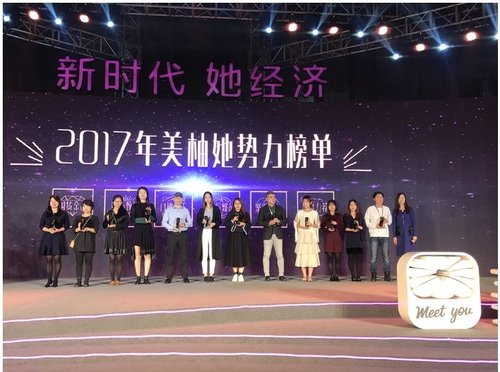 Attendees at the summit with the theme of 'New Era, She Economy' [China Women's News]
According to the Report on Urban Chinese Women's Consumption (2016), women are nowadays the main driving force in the growth of national consumption.
The report coincided with a 2017 summit with the theme of "New Era, She Economy", which was held on December 14 in Xiamen, a city in southeast China's Fujian Province.
During the event, entrepreneurs, investors and market researchers analyzed the characteristics and entrepreneurial opportunities concerning the so-called "womenomics".
Rising of 'She Economy'
In the past five years, among those aged 15 to 64, the number of women with a college-level education or higher has increased by 25 percent.
Meanwhile, the number of female middle-senior managers jumped nearly fourfold; women's average monthly income grew by 74 percent; and, women's average annual online spending rose by 246 percent during the past five years, a report says.
Pan Jiancheng, deputy director of the China Economic Monitoring Center, said Chinese women's economic status holds a leading position in the world and Chinese people's consumption patterns are becoming more advanced.
Data indicate that women are willing to spend more on discretionary products and services in line with their rising educational level, social status and amount of disposable income.
On average, Chinese female consumers spent 13,254 yuan (U.S.$ 2,071) online in 2017, which is over three times the amount that women spent in 2013.
"Women account for 52 percent of those who study in China's higher institutes. They have a clear understanding of what they need and what they want to buy," a female business manager said.
Female consumers aged between 18 and 25, mainly university students and fresh graduates, are likely to imitate the consumption pattern of people around them. Women aged from 25 to 40 prefer branded and personalized products.
Driving Forces for Consumption
According to the report, among all female respondents, 61 percent of income is spent on consumption, 23 percent goes toward savings and 16 percent is put in investments, indicating a rise in consumption.
And when it comes to consumption, women are shopping from different regions of the country and globally, truly becoming a force to be reckoned with.
Experts noted that with women entering a mature and independent phase, they would prefer to pay for high-quality products and superior services. At the same time, women's requirements for personal safety and food safety, as well as their pursuit of beauty, may upgrade the nation's consumption structure.
As Chinese women's spending power increases, the popularity of online shopping among women has provided plenty of business opportunities for Chinese startups. More and more businesses have started to identify consumer groups and develop new products from the perspective of women.
In addition, the emergence and application of new technologies and products allow women users to have more consumption choices. While material consumption is on the rise, more market opportunities for service consumption have sprung up.
Some economic experts believe that women's economic independence, strong consumption demands and capacity have ushered in a new economic growth point.
Among 175 corporate financing cases concerning the She Economy from 2010-2016, over 80 are related to e-commerce, accounting for 45 percent of the total. Some 17 percent of the cases involve healthcare, and 14 percent deal with household life.
Subdivision
Entrepreneurs and investors should explore methods to transfer large numbers of users into sustainable sources of income, experts proposed. An increasing number of startups have provided women-oriented services in various industries including e-commerce, medical treatment, local life, social network and entertainment.
The explosive growth of women's consumption has brought about sweeping economic change and social transformation. Entrepreneurs should find the right direction and take the development space into consideration when they decide to start a business, an expert said.
(Source: China Women's News/Translated and edited by Women of China)