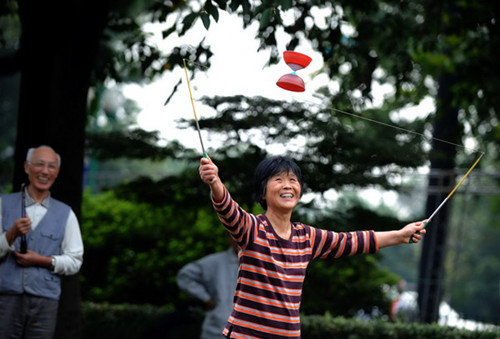 According to Zhu Hongwen, vice-dean of the College of Philosophy and Sociology at Beijing Normal University, with social development, parents are supposed to learn new things to gain happiness. [File Photo]
According to a recent survey, a majority of young people say parents place much too focus on them, and they wished they would explore novel things to gain happiness instead.
Around 2,000 people between 18-35 took part in the survey conducted by the Social Survey Center of China Youth Daily.
The findings showed that nearly seven in 10 respondents said parents have put all their focus on children. Confronted with the situation, about 86.7 percent said parents should have their own interests.
"This will make parents stay young at heart and also make children feel more relaxed," said Huang Jing, a doctor who has been working in a public hospital in Zhengzhou, capital of central China's Henan Province.
Sun Jun, 52, a middle school teacher in Shangqiu, Henan Province, has two daughters in other cities. "On weekends, I will go to the supermarket with my wife or chat and play cards with my old friends," he said.
Parents' positive lifestyle can be regarded as a support for children, Sun added.
"As parents, we of course care for our babies. However, when they grow up, we should let them have their own lives. If we interfere too much, they may feel uncomfortable."
Regarding parents' over-concern for children, nearly 59 percent cited that "it can bring strain on them" whereas about 20 percent had no such feeling.
When asked why parents pay so much attention to children, about half (50.6 percent) pointed to "a lack of curiosity for life and unwillingness to explore novel things".
Other reasons included their "unwillingness to change long-term living habits" (46.2 percent), "regarding the internet as a time-wasting and money-consuming thing" (40.6 percent), "failing to find someone to help them know new things" (37.7 percent) and "failing to keep up with the rapid development of the information era" (33.9 percent).
Facing the issue, about 73.8 percent of young people surveyed believed that they should shoulder a part of responsibilities on their parents' "boring life".
Huang noted that children should spend more time chatting with parents and encouraging them to participate in some entertainment activities depending on their hobbies.
The survey found that about 71.3 percent of the respondents noted that they plan to assist parents in seeking for new interests thereby enriching their lives, while 41.2 percent said they have done so. Meanwhile, 57.3 percent hoped for more communication with parents and 57.1 percent stated that parents should integrate into society and raise awareness of subjectivity.
Zhu Hongwen, vice-dean of the College of Philosophy and Sociology at Beijing Normal University, said the previous implementation of China's one-child policy and the traditional kinship system lead to parents' excessive interference with children's lives, which may have a negative impact on their growth.
"With parents' over-protection, children are afraid of making choices in employment and other aspects."
Zhu suggested that parents should show "sensible" care to children and provide them with an independent space to grow up and deal with their relationship with society.
Apart from this, with social development, parents are also supposed to learn new things to gain happiness, Zhu said.
(Source: China Youth Daily/Translated and edited by Women of China)