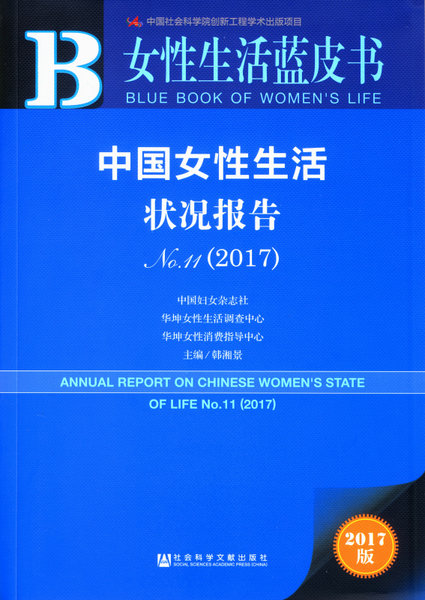 The Blue Book of Women's Life: Annual Report on Chinese Women's State of Life No. 10 (2016) [Women of China/Zhang Ping]
Chinese officials released the latest report into female spending habits on June 28 at the 12th Chinese Women Consumption Forum in Beijing, highlighting the increasing role of women in personal and domestic consumption.
The Blue Book of Women's Life was jointly produced by the China Family Culture Research Society (CFCRS); Chinese Consumers Association; Chinese Women's Magazine; Huakun Women Consumption Guiding Center (HWCGC); and, Huakun Women's Life Survey Center.
This year it took "Promoting Green Consumption, Facilitating Family Consumption's Transformation and Upgrade" as its theme.
Hong Tianhui, chairperson of the CFCRS, presided over the accompanying forum at the launch event.
Gu Xiulian, vice-chairperson of the Standing Committee of the 10th National People's Congress, director of the China National Committee for the Well-being of the Youth and general consultant of HWCGC, delivered a speech.
Liu Qing, deputy-secretary general of the China Consumers' Association, also spoke at the event, highlighting the vital role of online spending for pushing sustainable economic growth and speeding up the transformation of transformation models.
Gu Xiulian's Remarks
Gu spoke highly of the forum and said it has already become a significant platform to study female consumption. The first-hand data from the grassroots level provides valuable references for the government authorities, scholars and enterprises.
In particular, she highlighted four related issues.
China has witnessed historic social and economic achievements since the reform and opening up period while rapid development has also left the country with environmental issues that need to be remedied.
Gu noted that realizing green development is not only an urgent demand for the country but also needed for the well-being of all women and families.
Gu pointed to female consumers' increasing tendency to purchase green, environmentally friendly and energy-saving products with joint efforts made by the whole society. Meanwhile, their sense of accountability on the construction of ecological civilization and the awareness of green consumption has been continuously enhanced.
In addition, she highlighted three problems during the process of transformation and upgrading – namely focusing on high quality instead of large quantity; boosting "spirit consumption" in aspects such as education, culture and tourism instead of material-oriented products; and, promoting "gradient consumption" in social welfare activities to reduce waste and help needy families.
Furthermore, since diligence and thrift is regarded as a positive Chinese tradition, a majority of women and families identified strongly with the notion of "moderate and green consumption".
Gu further called on officials to strengthen publicity and education on the concept, thereby encouraging positive social trends and carrying forward President Xi's remarks on "pushing for economical, green and healthy lifestyles and consumption patterns."
Liu Qing's Remarks
In terms of the forum topic, Liu proposed that for women, they should raise the awareness of green consumption and stress cultivating their scientific consumption capacity. For producers and operators, measures should be taken to motivate women to purchase more high-quality cultural products.
Meanwhile, the whole society should safeguard women's rights and interests of consumption, Liu added.
Findings of 'Chinese Urban Women's Consumption Conditions, Consumption Expectations Report'
At the gathering, Shang Shaohua, president of the Huakun Women's Consumption Guiding Center, released the 2016 Chinese Urban Women's Consumption Conditions and 2017 Consumption Expectations Report.
The findings showed that the ratio of household income distribution for consumption, savings and investments in 2016 was 59:24:17.
Among 10 cities surveyed, the data varied from region to region.
Specifically, families in Guiyang, southwest China's Guizhou Province, averagely distributed 79 percent of their income for consumption, ranking top. Guangzhou, south China's Guangdong Province, had the highest proportion for savings (34 percent) while families in Shanghai assigned a quarter for investments, accounting for the largest percentage.
The report also found that the majority of female respondents spent most expenditure on clothing, accounting for 47.1 percent of their total income on average while the largest domestic expense was for child-rearing and education, accounting for 30.6 percent.
About 95.2 percent women surveyed shopped online and averagely spent 23.8 percent of the household expenditure via such means. Meanwhile, 60.5 percent utilized mobile payments.
The report indicated that in 2016 women's personal consumption patterns commonly featured the characteristics of being thrifty, eco-friendly, protecting the environment and following the concept of "Internet Plus".
With the implementation of the Internet Plus strategy, women spent more money online on digital gift money (89.9 percent), paying utility bills (86.7 percent), mobile payment (84.3 percent), booking travel and hotels (77.7 percent) and taxis (68.1 percent).
Other services included subscribing to reading materials or videos, online hospital appointment registration and financing.
In 2016, 74.6 percent of urban women have tried various investment products.
In terms of spending on self-improvement, the report said women who took part in skill training sessions accounted for 61.8 percent with the average cost of 4,000 yuan (U.S.$ 588) and 74 percent of urban women have traveled, with the annual cost of 11,500 yuan (U.S.$ 1,691).
The report, however, showed a large number of women still lacked confidence in consumption safety, the average score of which rated by them was 53 points out of 100.
Regarding the respondents' consuming expectations, about 44 percent of families expressed the willingness to purchase new energy automobiles and over half (53 percent) had plans related to travel. A large number of women said they would arrange finance by fixed deposit or wealth management products in banks in 2017.
To boost spending, female respondents suggested the authorities increase their personal and domestic income; advance consumption on high-quality products and services; and, strengthen the management and supervision of online commodities and services to create a safe environment.
Findings of the '12th Urban Chinese Women's Quality of Life Report'
Han Xiangjing, president of the Huakun Women's Life Survey Center, released the 12th Urban Chinese Women's Quality of Life Report.
According to the findings, women surveyed felt optimistic and satisfied about their current life, rating an average score on the life quality of 65.9 points (out of 100).
The most important source of joy for them were "harmonious family and the health and safety of family members"; "children's healthy growth and academic success"; "couple's harmonious relationship"; "great mental and physical conditions"; and, "working smoothly with promising career development and getting along well with colleagues".
The report also indicated that 42.6 percent of female respondents' salary increased and 27.8 percent felt satisfied about their current income. Meanwhile, their average monthly income reached 6,936 yuan (U.S.$ 1,020) in 2016 and nearly 70 percent had properties. The proportion of their contributions to family incomes was 38 percent.
In addition, some 55.4 percent had "five insurances (endowment, medical, unemployment, employment injury, and maternity) and a housing fund" and 51.9 percent have enjoyed paid leave.
Generally, about 42.6 percent of all women surveyed were content with their employment, citing that it resulted in "having opportunities to develop their potential and fulfill their life values", "rising family status" and "independence", despite 86.1 percent pointing to heavy work strains.
When it comes to health conditions, 61.4 percent of women polled believed that they were healthy and 37.6 percent frequently took exercise. Over half thought they were in positive and optimistic mental status.
The reported further indicated women averagely spent 2.6 hours on household chores per day and 65 percent of the respondents said they still played a role as the main one doing housework.
Findings of 'Intimacy in Marriage Relationship Report'
Yuan Xiaofeng, chairperson of the 38Fule Company, released main findings of the survey on intimacy in marital relations.
A majority of the respondents believed that effective communication (84.6 percent), sexual fidelity (83 percent) and personality and morality (82 percent) are the three most vital factors to strengthen marital relationships while "cold violence" (56.4 percent), "lack of trustworthy" (53.9 percent) and "infidelity" (52.4 percent) were top three factors to harm the relationship.
In particular, male respondents prioritized "a lack of trust" as the fatal factor to impact on a couple's relationship whereas women thought "neglect (cold violence)" ranked top.
Besides, about 41 percent of people surveyed believed appearance and figure do matter in marriage.
In terms of the perceptions of women's values, the report implied a gender disparity. Precisely, men highlighted family-related aspects including child education (58.5 percent), care-giving and household chores (51.6 percent) and "good employment and marrying a good man" (37.3 percent).
As for women, they also focused on self-fulfillment and define "values" as "cultivating promising children" (58 percent), "economic independence" (48.1 percent) and "good household arrangement" (44.1 percent).
Those in attendance at the forum also included: Gao Boyan, editor-in-chief of Chinese Women Magazine; Wang Fei, director of branch office in society, politics and law of the Social Sciences Academic Press Society; senior officials of the ACWF, and other organizations; and, directors and journalists from media and websites.
Gu Xiulian delivers a speech at the 11th Women's Consumption Forum in Beijing on June 28. [Women of China/Zhang Ping]
Hong Tianhui presides over the press conference. [Women of China/Zhang Ping]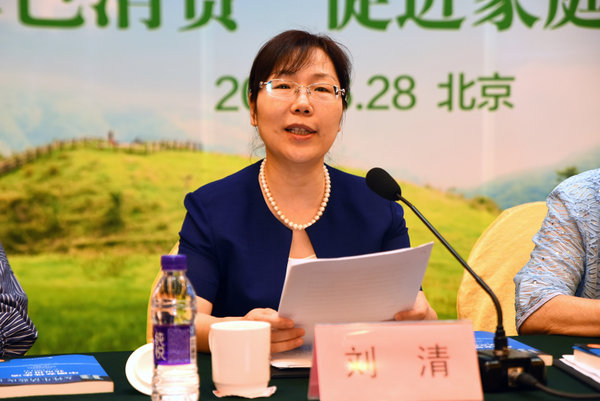 Liu Qing, president of China Consumers' Association, delivers a speech. [Women of China/Zhang Ping]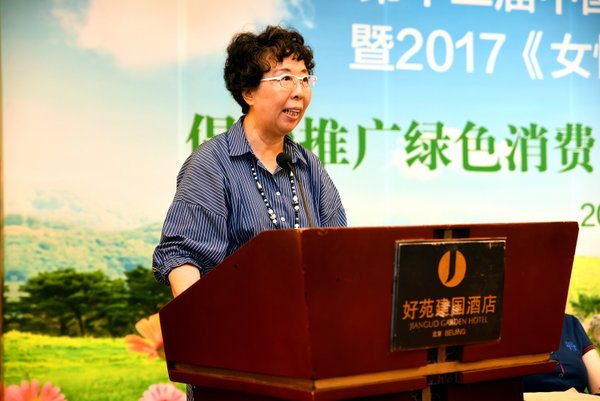 Shang Shaohua releases the '2016 Chinese Urban Women's Consumption Conditions and 2017 Consumption Expectations Report'. [Women of China/Zhang Ping]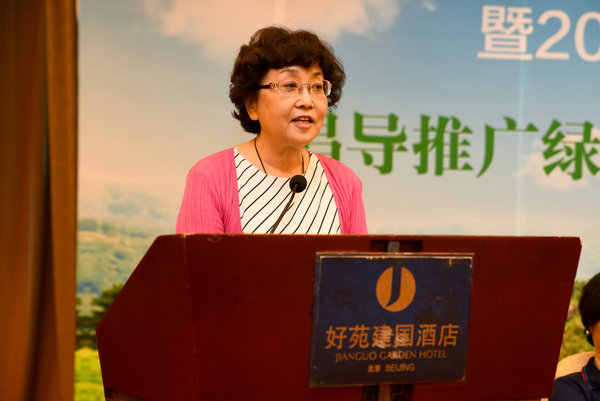 Han Xiangjing releases the report on urban women's life quality. [Women of China/Zhang Ping]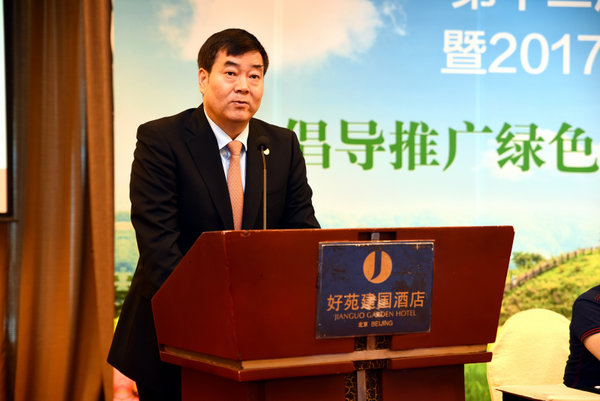 Yuan Xiaofeng issues the 'Intimacy in Marriage Relationship Report' [Women of China/Zhang Ping]