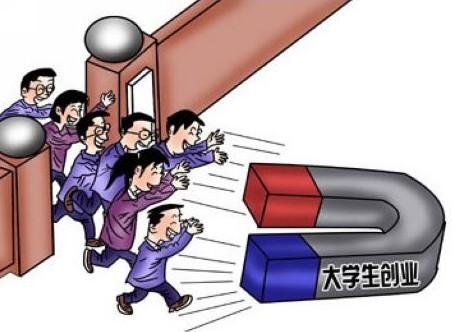 Authorities in China's up-and-coming so-called "new first-tier" cities have recently taken multiple measures and preferential policies to encourage college grads to start their own businesses. [File Photo]
Authorities in China's up-and-coming so-called "new first-tier" cities have recently taken multiple measures and preferential policies to encourage college grads to start their own businesses.
Graduates' Increasing Passion on Entrepreneurship
Latest findings say students in the country have displayed a rising passion for entrepreneurship over the past several years.
The 2017 Chinese College Graduates' Employment Report, jointly issued by the MyCOS Research Institute and the Chinese Academy of Social Sciences, found that among 7.95 million students who graduated in 2017, more than 200,000 chose to start their own businesses, accounting for 3 percent of the total.
Compared to the proportion of 1.6 percent in 2011, the percentage has almost doubled, according to the figures.
Meanwhile, the 2015-2016 Chinese College Students' Employment, Entrepreneurship Development Report released by Northeast Normal University at the end of 2016, found that over nine out of 10 respondents chose to start their own businesses out of choice, rather than because they perceived difficulties in finding a job.
In September last year, the G20 2016 Innovation Action Plan, issued at the Hangzhou Summit, pointed to China's early entrepreneurship activity index of 12.84 percent, higher than the U.S, Britain, Germany and Japan.
In particular, youth are the main force driving such numbers, accounting for 41.67 percent of Chinese entrepreneurs.
Indeed, China has witnessed a boom in successful business starters graduating from prestigious universities, such as a leading drone manufacturer Wang Tao from Hong Kong University of Science and Technology; and, Zhang Xuhao, founder of Eleme, one of the largest food-delivery websites in China, who graduated from Shanghai Jiao Tong University.
Returning to Hometown for Entrepreneurship
Besides, the reports point to a tendency that more students are giving up on staying in traditional first-tier cities (Beijing, Shanghai and Guangzhou) due to heavy living strains and considering more opportunities in other regions.
In 2008, Liao Zhengjun gave up his high-salary job in Shanghai and decided to step into the poultry industry after investigation. Now, Liao is the director of Junman Turkey Company in east China's Jiangsu Province. The enterprise's annual sales have reached some 83 million yuan (U.S.$ 12.2 million) and the products also sell to the U.S and European countries.
According to officials from Jiangsu Human Resources and Social Security Department, the government has supported nearly 90,000 college students in business since 2014.
Statistics in east China's Zhejiang Province further showed that some 95,000 college graduates chose to go back to their hometowns to start up enterprises.
In Ningde, southeast China's Fujian Province, the number of college graduates who returned home for entrepreneurship increased from 600 in 2013 to more than 2,000 in 2017. Accordingly, business projects totaled around 1,800, with an increase of about 1,300 in those years.
Policies to Woo Graduates for Entrepreneurship
Compared to Beijing, Shanghai and Guangzhou, "new first-tier" cities such as Chongqing and Wuhan seemed more appealing owing to policies fostered to encourage talents to stay.
According to Chongqing Employment Service Management Bureau in southwest China, the local government has supported 595 startup projects since 2015, granting 16.65 million yuan (U.S.$ 2.45 million) and reducing guarantee fees of over 30 million yuan (U.S.$ 4.41 million).
Born in Handan, north China's Hebei Province, Bu Zhiguo graduated from Sichuan Fine Arts Institute and chose to stay at the college as a teacher.
Meanwhile, he set up the Manda Cultural Company. With the support of the institute, Bu spent less than 1,000 yuan (U.S.$ 147) in renting offices and found outstanding cooperative partners.
Benefiting from preferential tax policies enacted by local authorities, Bu's business has successfully been operating on the right track.
Apart from Chongqing, cities including Chengdu, in southwest China's Sichuan Province; and, Wuhan, in central China's Hubei Province, also implemented multiple measures in finance and policies to create a quality environment for early entrepreneurs.
(Source: Women Voice/Translated and edited by Women of China)