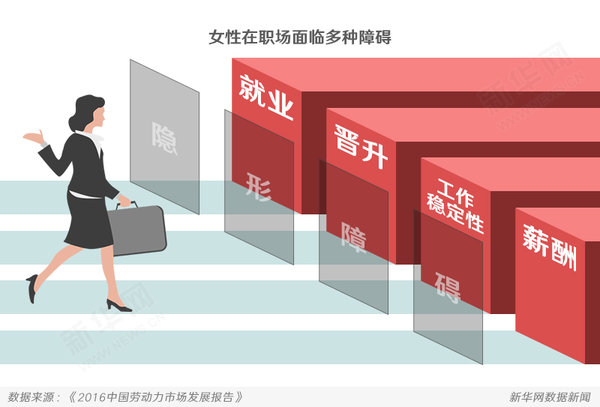 Modern career women in China are still confronted with various invisible gender barriers in job-hunting, promotion, work stability and income. [news.xinhuanet.com]
A recent report indicates that career women in China are facing more severe pressures in job hunting due to the new family planning policy and the increasing number of female college graduates.
With the traditional Chinese Spring Festival around the corner, now is the first so-called "employment peak season" after the universal two-child policy came into effect.
Sun Zhongzhen, director of the Employment Department of China's National Development and Reform Commission, predicted that, in the future, the country's career women will be in a more complicated and grim situation in regards to the already-stretched labor market.
More Female College Graduates
According to the China Labor Market Report 2016 by the Labor Market Research Center of Beijing Normal University, there has been a continuous rise in graduates in China over the past 15 years, with a faster average pace at 3.1 percent increase for women than men (2.7 percent).
In the past three years, the number of female college graduates has been nearly the same as the number for men. However, in last two years, the employment rate for men has been about 10.1 percent higher than for women.
Adoption of Universal Two-Child Policy
Many career women are worried that the new family planning policy may further aggravate their employment situation. The report indicates that 50.98 percent of young urban moms with two children had to make sacrifices in their career for their family, much higher than that for women with only one youngster.
Invisible Gender Bias
In regard to better development and implementation of the basic State policy of gender equality, employers have introduced some regulations to eliminate overt gender bias. However, the covert barriers tend to be reinforced, which makes the issue even more difficult to tackle.
Women nowadays are facing glass ceilings in multiple aspects including job hunting, interviews, promotion and salary levels, noted Yang Yinglin, the head of the Employment Planning Department in the Ministry of Human Resources and Social Security.
Since eliminating gender bias in the workplace plays a vital role in realizing women's all-round development, the whole of society needs to join forces to tackle women's career issues, say experts.
Firstly, they urged authorities to improve the legal system in terms of gender equality and to formulate a unified Anti-Employment Discrimination Law as soon as possible.
The government should also establish a public employment service system and improve the service standards to provide more equal working opportunities for women and to assistant them in maintaining the adequate work-family balance.
In addition, since the preference for male employees is still common among employers, it is urgent and necessary for employers to change the stereotyping gender norms and to realize the advantages of recruiting women.
To achieve this, the State should put emphasis on strengthening responsibilities to create gender equality in the work environment. Financial subsidies should be granted to ease the pressure of enterprises and encourage women's employment and entrepreneurship.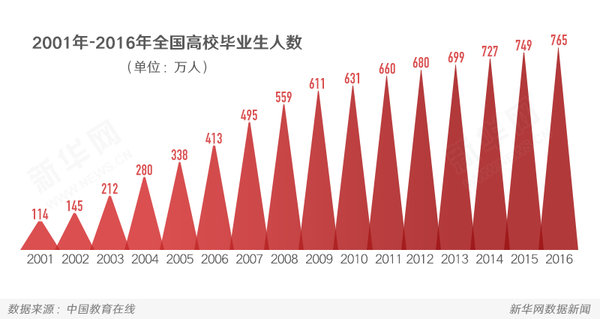 The chart shows how college graduates in China have increased during the last 15 years. [news.xinhuanet.com]
Only 5.11 percent of women believed that pregnancy and motherhood have no influence on their career development, according to a recent report. [news.xinhuanet.com]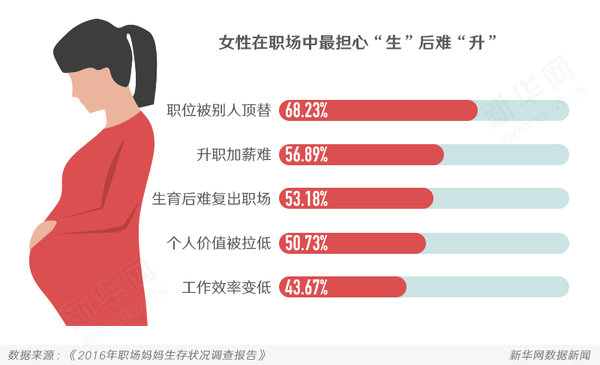 The report shows that the most concerning issue for women in the job market is that there are few promotion opportunities after having a child. [news.xinhuanet.com]
Experts proposes six relevant policies to facilitate gender equality in terms of employment. [news.xinhuanet.com]
(Source: Xinhua/Translated and edited by Women of China)