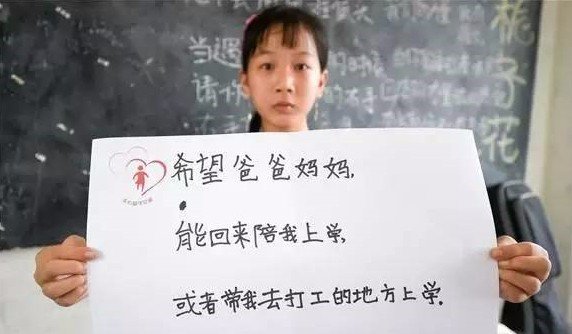 A 'left-behind' child expresses her wish to see her parents return or to attend school in the city where her parents work. [Women Voice]
The Ministry of Civil Affairs has released figures indicating that in China there are around 9.02 million children who have been left behind in rural areas whilst their parents seek work in cities.
The announcement on Wednesday coincided with the release of further plans to ease the plight of so-called "left-behind" kids through the provision of more widespread social resources.
Left-behind children are currently defined as under-16s who live with no supervision from either parent.
In March, the first national-level census on the issue was carried out by the high-level department along with other official bodies including the Ministry of Education and the Ministry of Public Security.
According to data from the door-to-door survey, over 60 percent are aged between 6-13 years, accounting for nearly 5.6 million.
Over 90 percent are from central-western parts of China, whereas less than 10 percent live in the east of the country, a more economically developed area.
Findings further indicated that nearly 90 percent are in the care of grandparents and 360,000 children have no guardian at all.
Confronted with the latest data from the survey, many people expressed surprise that the number of such children recorded is so much lower than that of the 6th Population Census in 2010, when the figure stood at 61 million.
What results in the sharp fall?
Experts claim that the differences mainly lie in how left-behind children are defined. For instance, the previous survey included under-18s, while the latest survey only takes account of under-16s.
Experts say lack of parental care and safety protection can lead to child development issues, including injuries, human trafficking, mental health problems such as depression, and low self-esteem.
Left-behind babies may fail to get enough breast milk and school children might not attend compulsory education.
Previous reports have implied that the biggest hope for left-behind children is for them to have more frequent visits from their parents.
Pilot policies have already been enacted in some areas, such as east China's Anhui Province, to address the problems.
By analyzing data from the latest survey, targeted policies on protection and services are more likely to be enacted and implemented on those left-children who need help, experts stated. They say that it is only the start for governments to enact policies and to build a targeted care system.
Efforts should be made by effectively linking every department, and providing social assistance, added officials.
For example, before 2017, the Ministry of Civil Affairs, the Central Comprehensive Management of Public, the Supreme People's Court and the Health and Family Planning Commission will jointly set to launch the Left-behind Children's Guardianship and Protection Specific Project.
According to the latest national-level census on left-behind children conducted by the Ministry of Civil Affairs, nearly 90 percent are growing up without either parent and are in the care of grandparents and 360,000 children have no guardian. [Women Voice]
Three children eat a meal in a rural area. [Women Voice]
(Source: Women Voice/Translated and edited by Women of China)