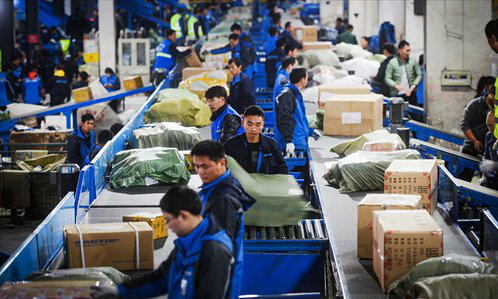 Online shopping flourishes in China—employees from ZTO Express work overtime to sort packages on Singles' Day in November 2015. [Global Times/Yang Hui]
Online shoppers in China have tripled to 410 million in number over the past five years, according to a recent report into the nation's consumer spending habits.
The report by Ali Research and the Boston Consulting Group shows that online consumption has boomed from merely 3 percent of sales back in 2010 to 15 percent in 2015. Also, it is estimated that online transactions will grow at an annual rate of 21 percent, to account for 24 percent of all personal consumptions, totaling some U.S. $6.5 trillion, by 2020.
During the nationwide shopping spree on November 11, 2015, also known as the Singles' Day shopping festival or Double 11, the total online sales revenue reached some 123 billion yuan (U.S.$ 19 billion). Over 1.4 million yuan (U.S.$210,000) per second was spent and there was a consumption of 88 yuan (U.S. $13) per capita across the nation.
Three major driving forces have been pointed out to expand consumption in the country. The growing middle class and wealthy citizens combined are expected to contribute an 81 percent of rise in urban consumption. The younger generations, aged 18-35, are emerging as leading consumers, overtaking those born in the 1950s-1970s. Furthermore, e-commerce will flourish to reach levels of around U.S. $1.9 trillion in annual sales by 2020, representing 42 percent of consumption growth, experts predict.
In the near future, services will surpass products to dominate people's consumption habits, as Chinese people have been gradually changing their attitudes of consumption from "daily necessities" to "improving life quality."
"Online shopping is promoting transformation in China's consumer field. We find that online shops can provide various products and services which may not be available in physical stores, hence stimulating new customer needs," said Gao Hongbing, president of Ali Research.
Statistics from overseas businesses show that Chinese people have brought products from at least 68 countries and regions, with the U.S. the first choice, taking 20 percent of foreign consumption, followed by Japan, Germany and South Korea, each representing over 10 percent.
(Source: Nanfang Daily/Translated and edited by Women of China)