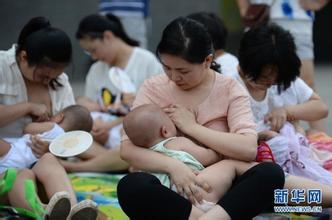 Breastfeeding in public [Xinhua]
More than a third of women in England are embarrassed about breast feeding their babies in public, a survey published by health officials revealed on November 2.
Parenting officials encourage mothers to breastfeed because of the positive impact it has on new-borns.
Laws in the country make it illegal to ask a breastfeeding woman to leave a public place, with official polls showing 72 percent of the population support public breastfeeding.
The results of the new survey were published by Start4Life, a branch of Public Health England (PHE).
"Our poll shows more than a third of breastfeeding mothers shy away from doing so in public. One in five (21 percent) feel people do not want them to breastfeed in public," said Star4Life.
The agency released its findings to raise awareness of the issue, alongside the launch of new animated short films supporting the campaign for breastfeeding in public to help break down the barriers and stigma that prevent many mothers doing so themselves.
Six out of 10 mothers who breastfeed take steps to hide it in public and more than a third (34 percent) feel embarrassed or uncomfortable, the survey shows.
"Breast milk has a positive impact on both baby's and mother's health. It provides babies with the nutrients they need to make the best start in life," said Start4Life, adding for mothers, breastfeeding may lower the risk of getting breast and ovarian cancer.
While 74 percent of British women start breastfeeding their children from birth, only 47 percent still do so six to eight weeks later.
In the Start4Life poll, one in 10 of women who chose not to breastfeed said the worry of doing so in public influenced their decision.
Dr. Ann Hoskins, a deputy director at Public Health England, said: "Anxiety about breastfeeding in public certainly shouldn't be a barrier to breastfeeding in general."
"While the majority of people believe breastfeeding in public is acceptable, there is more to be done to make it more accepted and welcomed by all," she said.
(Source: Xinhua)