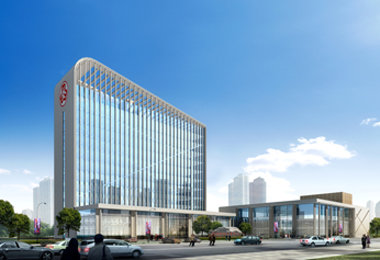 Women and Children's Activity Center [Yinchuan Women's Federation]
Many residents during the past year have witnessed the construction of the Women and Children's Activity Center on Ning'an Street, in downtown Yinchuan. The center, which is called "women's spiritual home and children's amusement park," will be open before June 2014. The center has a children's theater and a 2,000-square-meter emergency shelter for women victims of domestic violence, both of which are first of its kind in Northwest China. The National Development and Reform Commission allocated 30 million yuan (US $5 million) to the Yinchuan Women's Federation to build the center, and that set a precedent for the use of national project funding to promote women and children's development in a region.
Li Yongmei, President of Yinchuan Women's Federation, recently told media the center had the largest women's training and communications base in Northwest China, and it has a well-equipped children's activity base and an early childhood education center.
Li also noted the center will offer educational and professional training courses to 20,000 women from Yinchuan, and neighboring areas each year. It will also provide a platform for women and children, from all over the world, to participate in cultural exchanges.
(Provided by Yinchuan Women's Federation)