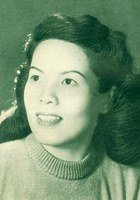 Shu Xiuwen (1915-1969) was one of China's outstanding performing artists and the first voice actress in the country's film industry. [File photo]
Shu Xiuwen (1915-1969) was one of China's outstanding performing artists and the first voice actress in the country's film industry. Fully devoted to the performing arts during the War of Resistance against Japanese Aggression (1937-1945), she has decisively imprinted her name in people's mind.
Shu was born to an impoverished family in Anqing, east China's Anhui Province, in 1915. She migrated to Beijing at the age of 6 with her parents who were both teachers but dropped out of middle school in 1929 due to abject poverty.
In the chilly spring of 1931, the teenager went to Shanghai by herself to seek a living. She taught Mandarin at a film company and served as a voice actress for "Sing-song Girl Red Peony." Later she worked for different drama clubs as an actress, where she joined the famous drama activist, playwright and poet Tian Han and other talented compatriots, and engaged in progressive drama activities. The dramas she acted in exerted a positive influence upon the public in Shanghai and adjacent Hangzhou.
Meanwhile, she signed a contract with Shanghai-based Yihua Film Company, where she took part in "Existence of the Nation" created by Tian Han and "Raging Waves of China Sea" by prestigious dramatist and scriptwriter Yang Hansheng. Shu joined Shanghai Star Film Corporation in 1934. During the following three years, she starred in "Night Blossom" and "New and Old Shanghai," and appeared in "The Classics for Girls," "Down-trodden Peach Blossom," "Big Family," "Brothers," "Ardent," "Loyal Souls" and "A Time of Pure Brightness," among many others.
Since 1937 when the war broke out, Shu continued her artistic career in southwest China's Chongqing and Chengdu, rendering memorable performances in well-known stage plays by widely acclaimed playwrights Guo Moruo, Cao Yu, Lao She, Ma Yanxiang and Song Zhidi. She quickly rose to become one of the four greatest actresses in Chongqing's drama circle. During this time, she also shot films including "Defend Our Land," "Good Husband," "Storm on the Border," and "Bloodshed on the Oriental Cherry."
The eight years of brutal warfare was the golden age for Shu's performing career as well as a key period for the development of her progressive thoughts as she linked her career closely with the destiny of the country.
After the end of WWII, she returned to Shanghai and got involved in the shooting of the most celebrated production ever in her profession – "The Spring River Flows East" – together with renowned artists Bai Yang, Tao Jin and Shangguan Yunzhu. Her successful performance in the movie was a symbol of her increasingly mature performing skills, wielding enormous influence upon generations of actors and actresses.
"One must get to thoroughly understand the life and career of the character if he or she wants to act well." After the founding of the People's Republic of China in 1949, she returned to Shanghai Film Group from Hong Kong, starring in and dubbing for several influential films. She was transferred to Beijing People's Art Theater in 1957, where she not only shaped vivid characters in famous plays like "Rickshaw Boy" and "Aesop" but also participated in small plays.
Shu was deputy director of the art commission of the Beijing People's Art Theater, member of the national committee of the 1st Chinese People's Political Consultative Conference, deputy to the 2nd and 3rd National People's Congress, member of the 3rd executive committee of the All-China Women's Federation, member of the China Federation of Literary and Art Circles as well as managing director of China Theater Association and China Film Association.
Shu passed away in 1969 amid the turbulent age of the Cultural Revolution (1966-1976), ending her lifelong performing career. Her extraordinary contribution to the stage and screen industry has left an indelible impression on audiences.
"What I leave behind is no money, honor or social status, but a selfless and fighting spirit," Shu said to her son before she departed.