Women show their embroidery works. [Tibet.cn]
In recent years, the local government has been promoting poverty alleviation for women by developing Tibetan embroidery industry in Kangding City, a mountainous area of Garze Tibetan Autonomous Prefecture in southwest China's Sichuan Province.
As one of the local poverty-stricken villages, its impoverished population accounts for 13.2 percent in Ershenxiao village, Kangding.
Guiqiong Tibetan Embroidery is a kind of handicraft technique which was formed by women living in the village and surrounding townships during the long-term process of production and life.
It is mostly used in the decoration of clothing and accessories, with bright colors and exquisite patterns.
After many investigations, Kangding Women's Federation put forward an idea of "integrating poverty alleviation and Guiqiong Tibetan Embroidery" with support from the local government and the Party committee, which led to the establishment of Kangding Embroidery Base and has also brought many new opportunities for women to escape poverty.
Moreover, the Embroidery Base was also listed as Sichuan Provincial Women's Employment Demonstration Base, which integrates e-commerce, handicrafts, skills training, and products display, with an investment of one million yuan.
Villager Yang Jinhua said: "The Kangding Embroidery Base is of great help to women, as we can earn money by embroidering here, while at the same time taking our kids to the children's activity park, which has solved many of our worries."
Female official Li Xiujuan introduced: "It takes three days to embroider a pair of insoles, whist the traditional colorful hats for children take longer, and therefore are sold at a higher price accordingly."
"It has drawn the active participation of women in the village and up to now there have been more than 200 embroiders engaged in the line of work," Li said.
An official from the local women's federation said that for the next move, they would continue to strive for the support of all parties and conduct systematic and professional training for the embroiders, with an aim to provide opportunities for women to shake off poverty.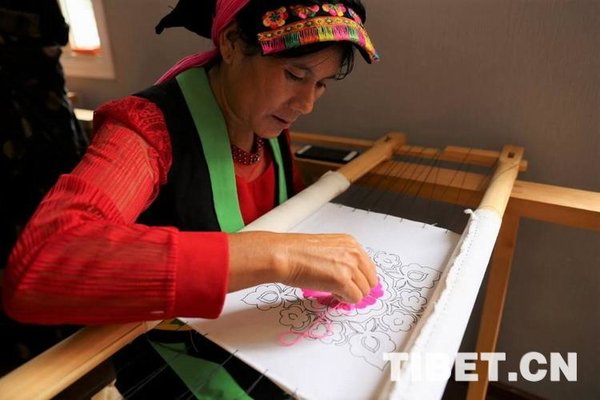 An elderly woman embroiders. [Tibet.cn]
(Source: Tibet.cn/Translated and edited by Women of China)