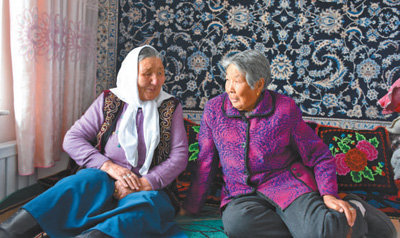 Yisihan Boliekebai (L) [People's Daily]
An elderly woman from Altay Prefecture, northwest China's Xinjiang Uygur Autonomous Region, has voluntarily provided a foster home for 30 children from four different ethnic groups over the past six decades.
Yisihan Boliekebai's home is situated on state-owned pasture in Altay. There, she has offered free lodging to children from the local Han, Kazak, Mongolian and Uygur ethnicities whose own families were unable to take care of them.
Childhood
Yisihan's father died when she was five. At that time, her brother was eight. Totally supported by her mother, the family lived a hard life.
Seeing their situation, herdsmen around often lent them a hand, such as by giving her a pancake, a bucket of milk or a bowl of rice.
Keeping their kindness in mind, Yisihan decided to give back to the community.
Foster Child: 'I Will Never Fully Repay Her Kindness'
Nu'ertai was the first child to come to Yisihan's home.
In 1956 when Nu'ertai was two, his mother suffered a serious illness and was unable to take care of him anymore. His father, who herded cattle through the year, also could not carry the youngster by his side.
After learning of the situation, Yisihan volunteered to help bring up Nu'ertai.
"Don't worry! As long as there is food for my own children, I will not let him starve," she said to Nu'ertai's mother as she took him back home.
"Grandma never let us go with an empty stomach. If there were not enough pancakes, she would put crumbs into milk for us to eat. It was delicious!" Nu'ertai recalled, full of gratitude in his eyes.
In 1960, the only school in the region opened near Yisihan's home.
Herdsmen who wanted their children to attend found her one after the other.
Herding cattle through the year, they were unable to provide their children with a stable study environment. So, they begged Yisihan for lodging for the youngsters.
"I still feel extremely thankful today that Apa (grandma) did not refuse my parents' request," said Yeranguli who had stayed at Yisihan's home for three years after primary school graduation in 1981.
"My home was too far. It took two days by horse. The snow was heavy in winter, so I could only go back in summer."
In 1983, she was admitted by a vocational school in the prefecture.
"It has offered a new opportunity to my life that Apa took me in during those years. I will never fully pay back her kindness," added Yeranguli, now deputy-director of the pasture.
Son: 'My Mother Said We Are the Same'
"When I was born, there were nearly 20 children in my home. We ate, slept and went to school together every day, and many could hardly tell who of them were my siblings," said Muheiti, Yisihan's oldest son.
Yisihan often told her sons that there was no difference between them and other children living at their home. In Muheiti's eyes, the parent sometimes even treated children from other families better.
Each time he had some squabble with his adopted siblings, Yisihan educated him first: "They are far away from their parents. As an elder brother, you should take good care of them!"
In 1985, Yisihan's husband passed away. Since then, she has supported her warm nest for children on her own.
Burenjiafu, a middle school classmate of Tianjiahan, Yisihan's youngest son, went to live with the family in 1997 because the Mongolian child's own family was unable to look after him.
"At the beginning, he looked shy and nervous, and was afraid to dine with us," Yisihan recalled.
Yisihan took food to his room, patiently comforting him. Soon, Burenjiafu became part of the big family.
In 2000, before he left the family to go to school in the downtown area, Yisihan made for Burenjiafu a quilt which he still carefully keeps at his home.
"Each time when I see it, I would remember the three years' happy time that I have spent at Apa's home," he said.
Yisihan's foster children have grown up and have their own children and grandchildren now.
"These children are making contributions to society in various fields, and they all live a good life. I feel satisfied," she concluded.
(Source: People's Daily/Translated and edited by Women of China)